Is Couchsurfing legal? Will I be able to find a host? How long before my arrival should I request a stay? Is it safe for solo girls? …. And the questions continued to barge into my mind. Planning an 83 Days of solo backpacking journey in Europe was more like solving a puzzle while considering a number of possibilities and impossibilities. I have answered your most common questions in this blog and have also added some personal examples for your better understanding.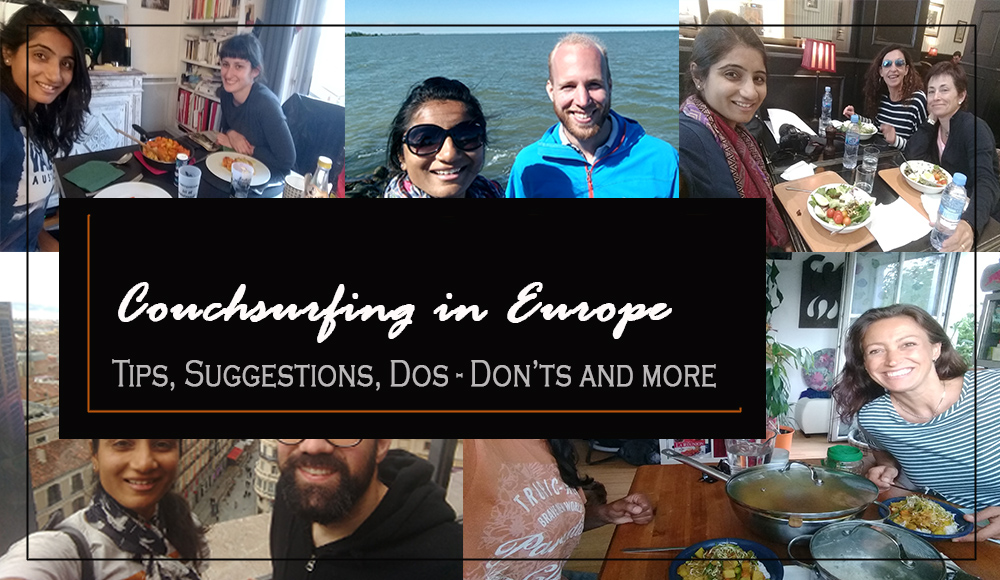 For all those who need help in planning, I have put up my complete itinerary and guide for Backpacking to Europe here.  You can also go through my Budget Travel Tips.


How to Score a Schengen Visa on an Indian Passport; An Ultimate Visa Guide

Backpacking to Europe: Where to Go & How to Plan

Europe Trip on a Budget!! How to Make it Possible

Europe Food Guide for (Non/) Vegetarians and Budget Travelers
Let me start with a basic question first.
What is Couchsurfing?
Couchsurfing is an online community of traveller/travel enthusiasts who voluntarily host other travellers/ accompany them in exploration / join then for a meal/drink. It is true that there is no cash involved, however, there is still an existence of a give and take system. You may call it a barter system in a way. It is almost like visiting a friend you never knew.
How to become a member of Couchsurfing Community?
You just need to download the Couchsurfing App and make a presentable account of yourself. Just to understand the basic concept of Couchsurfing, you can start hosting people at your place. Or join the regular Couchsurfing Meet-ups in your city. This is also a great way to meet other travellers and Couch Surfers without being a host.
Couchsurfing and Visa Application
Unfortunately, Couchsurfing doesn't give any proof of a confirmed stay. You must be booking a refundable/no-prepayment hostels instead. These bookings would also come handy if you are unable to get any host.  This way, you will have an option of cancelling the hostel at the last moment and also a safe backup of a booked hostel.
How to Choose a Host?
Finding a host isn't that difficult most of the time if you search for like-minded humans. You can read their bio, interests and their hobbies. It is quite easy to be friends with a person with similar traits. On the other hand, any unique trait of yours/host's can also be focused on. People love the guest who shows interest in their talents. However, being genuine is the most important. If you are genuinely interested in knowing more about something or some skills, people would be more than happy to host you and you will also love a host who is social, friendly, and open for discussions. For an instance, one of my hosts, Tamara, was a vegan traveller crazy about herbs. And guess what, she was one of the most interesting hosts who took me to a forest and made me taste some wild herbs.
If you are on a budget, also check the location of the person in the city. If the home is too far from the city centre, it would take a lot of time for you to commute and you will spend a lot on public transport unless you have opted for a City Card.
Read as many reviews as possible. This will help you understand your host and thus would help you send a relevant request. For the girls, it would also be a way to know if it would be safe or not.
Moreover, a wrong host can also affect your experience in the city, anyone with the wrong attitude or with no idea about the concept of Couchsurfing may make you feel uncomfortable/unwelcome. For an instance, one of my hosts invited me to his place by himself but when I went there he said he was quite tired with Couchsurfing and would like to have some lone time. After that, it was like a lavish hotel stay with none to talk to, which I did not expect. I don't blame the host either, the experiences may have led him to react in a particular way.
How to send a request?
Okay, so despite clearly being a hosting app, it isn't so plain as booking a hotel. Remember that you would NOT be requesting to occupy somebody's property, but would send a request to be a part of their home for a while. So, just requesting for a stay to save some bucks will only bring a shrewd  'NO' from the hosts. I would be giving a few examples of some requests sent by me later in this blog.
Apparently, considering the European countries there are a few criteria which can bring you some success in Couchsurfing. Here are some pointers which you would like to consider.
Believe it or not, most people really take every information in your profile in consideration. They will be getting an idea about your persona, likes and dislikes on the basis on your profile. On the other hand, a host's profile info would also help you know whether s/he is your kind of a persona or not. In most case, people with the same likings tend to respond positively. Adding pictures of yours or your Instagram account link may also work to your advantage.
Get your profile verified
While hosting an unknown person, anyone would prefer a verified person who is genuine enough to share one's home with. And thus, your verified account will fetch you a more positive response. There are two ways to do the same. Either pay for a one-time subscription of Couchsurfing membership along with the submission of an ID proof or host people at your home and get a free verification tick for 3 months.
Get Reviews about yourself
It is almost impossible to have reviews without being hosted even once. And thus, you can first start with meeting people and writing/receiving personal reviews from/about them. Once you will be hosted by a few people, it would be easy for you to get a more positive response from the hosts.
Read the host's profile before requesting a stay
This is the most important thing if you don't want to get back to back rejections. One of the fellow Couchsurfers from Ukraine had to send 71 requests to hosts in Paris just to received rejection from all of them. The only reason being he had just opted for a format and was pasting the same to everyone. This totally shows your mindset and thus the hosts may reject. However, there is no complete right/wrong about this. There are cases where copy-pasted requests have also brought some positive response luck-by-chance.
Moreover, there are many Couchsurfers who put hidden questions and specifications to ensure that the requesting person has read the profile. For an instance, one of the surfers had added a line in between his profile asking the guests to start their stay request message with 'Heya, trin-trin' to prove that s/he has read his profile.
Compose a Sane and Genuine Request
First and Foremost introduce yourself (It doesn't mean just the name). Add more of what you can offer the host: Question yourself, what you can offer them as per their interest., be it travel stories, a healthy conversation on a specific topic, a skill, a meal, a cup of coffee/tea. Then ask if they would be interested in hosting you for "mention no. of days". Remember to end your message with a greeting or regards. If at all the host has mentioned any specifications about his schedule or his home conditions, it would be good to ensure them that you are fine with the same.
Following are some of my requests which got a positive response at an instance.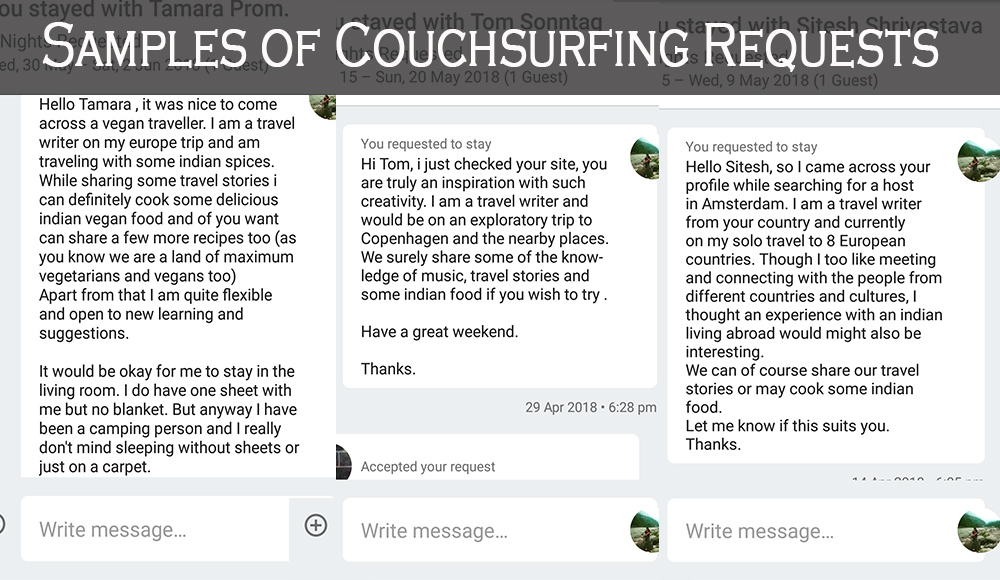 Other Tips:
Put your trip to a specific city as a 'public trip'. Couchsurfing notifies the citizens about your arrival and many of them might be interested in hosting you (If your profile is interesting enough)
Be polite and formal with the usage of words.
A stay request should be sent as preferred by the host. Please read their profile to know how much in advance s/he accepts a request. Some people accept request only a week in advance while others preferred 15 days prior.
Don't be disappointed with denials. Most of the time the host would give you a genuine reason for the rejections.
Keep writing till you succeed. There have been times when I had to write to each and every surfer in a city named Cordoba just to get 'no response' as I had to send last minute requests because by the previous host rejected at the last minute. However, I succeeded and got an amazing host in Cordoba just before an hour of reaching there.
Do's and Don'ts of Couchsurfing
Don't treat your couchsurfer's home like a hotel. Avoid tantrums, and be adjustable.
Read the sleeping condition carefully. Don't be a fussy guest if you are supposed to sleep on the floor or in a common area. Couchsurfing isn't about getting the most comfortable place.
Interact with your host, share something about your experiences but also be a good listener. Don't bore your host.
If you are cooking for them ask their preferences.
Carry something for your host, preferably, something from your country. For an Indian or a South East Asian, I can suggest the following things which would be appreciated by your host.

Incenses (Of Good Quality) especially for the French
A Cotton Scarf or stole
Tea powder
Some special healing herbs or spices
Small Ganesh idols
Natural soaps
Small diaries/creative notepad
Fridge Magnets
All the above items are gender neutral as wells as easy to carry. When you are on a long journey, it might not be possible to carry too many gifts. In such cases, you can also contribute in a different way, for an instance, through your skills or helping in any way they need.
Tips for Solo Girls Opting for Couchsurfing
Read each review properly. If you don't find the person reliable enough, please skip.
Avoid sharing the bed just for safety if you are not confident enough.
Keep a safety pin with you ('Coz it's legal) and target the eyes in case of an emergency.
Keep some contacts in the same city as an emergency backup. Please do help in need an emergency.
Don't sleep in fear or wait for something to happen. Leave the same day if you are not comfortable. Don't be harsh and give a reason that sounds genuine. (Of course, you don't want to enrage a psycho)
Talk to the person normally prior to your stay, you will easily come to know their intentions.
Most of the people who desperately want you at their place might not have the right intention all the time. You must read the reviews carefully. Being vigilant is the key.
Flag the account immediately.
Remember that there are good and bad people everywhere. There are many experiences shared by girls almost every day about their horrible Couchsurfing experience. However, they would still continue with this wonderful experience. I would advise you to stay positive and attract positivity. In the end, opting for Couchsurfing is your personal choice.
My experience with Couchsurfing
Go and explore this amazing world of Couchsurfing and meet those friends who have been strangers till now. I have met some of the beautiful souls on this platform. I shall always be thankful to Couchsurfing to restore my faith in humanity and genuine travellers who wish to connect. I have also come across some perverts whom I could thankfully recognize and avoid.
Have More Questions? Comment below and you will get your answer…….
Useful? Pin it now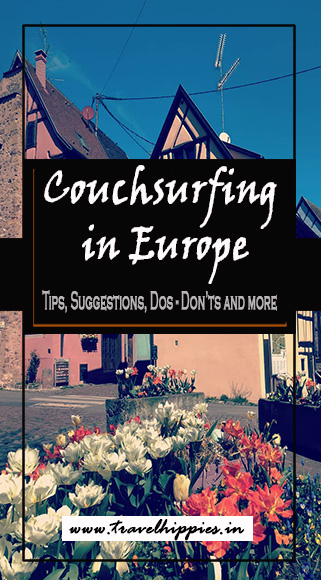 Follow me on