Applying for my first visa ever and that too on an Indian Passport, I was worried a bit about its approval and had many questions in mind before applying. My worry was obvious as I was unemployed and was on a travel break, working just as a freelance travel writer.  It took me about 3-4 months to plan my Europe Trip of 83 days to around 8 countries. Arranging all the stays, internal transports, collaboration with tourism boards and with a few hostels/hotels was another task. And finally, after an entire preparation when I got my visa in hand (in 2 minutes after my interview), my excitement knew no bounds.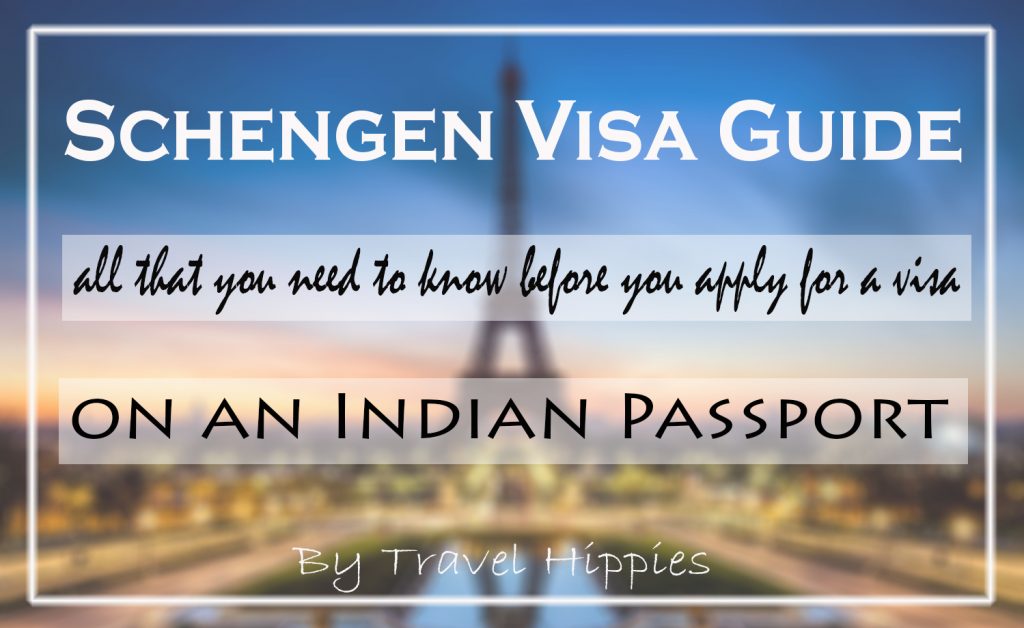 Schengen Visa allows you an unrestricted entry to 26 countries that fall under the Schengen territory. So, you don't have to apply separately for each country but all together for a Schengen visa. The European countries like Croatia, Cyprus, Ireland or the UK that don't fall under the Schengen Treaty have to be approached separately.
I had applied to German Consulate through VFS global (an agency that handles visa applications on behalf of German Consulate) as per the rule that you need to apply to the consulate of a country of your maximum stay.
How Do You Decide Where to Apply?
It's as simple as the MCQ answers in our school exams.
If you are staying for the same number of days in different countries then you need to apply to the country of your entry. So, first check the entry port (the country you are entering through or landing in), usually, your first port of entry decides your visa review agency.
Supposedly, if you are staying for a long duration in a country different from your entry port then that would decide the consulate for your application. For an instance, In my case, I had to enter in Spain but stayed for the maximum number of days in Germany and thus German Consulate was entitled to review my visa application.
Now comes another trick. There are a few countries that are quite strict about the visa approvals and tend to reject more of the applications. Switzerland, France, and Spain are a few of those countries which you would like to avoid applying for your first ever visa. Though Germany, Italy, Czech Republic, Slovakia, Slovenia are easy to get through, any kind of forgery or lies would lead to a clear rejection.
Each country has its own set of rules and requirements of documents for Schengen Visa. Please go through it before moving ahead. For e.g. the process/documents or the checklist for German Visa can be checked here on a VFS website. And in a similar way, for…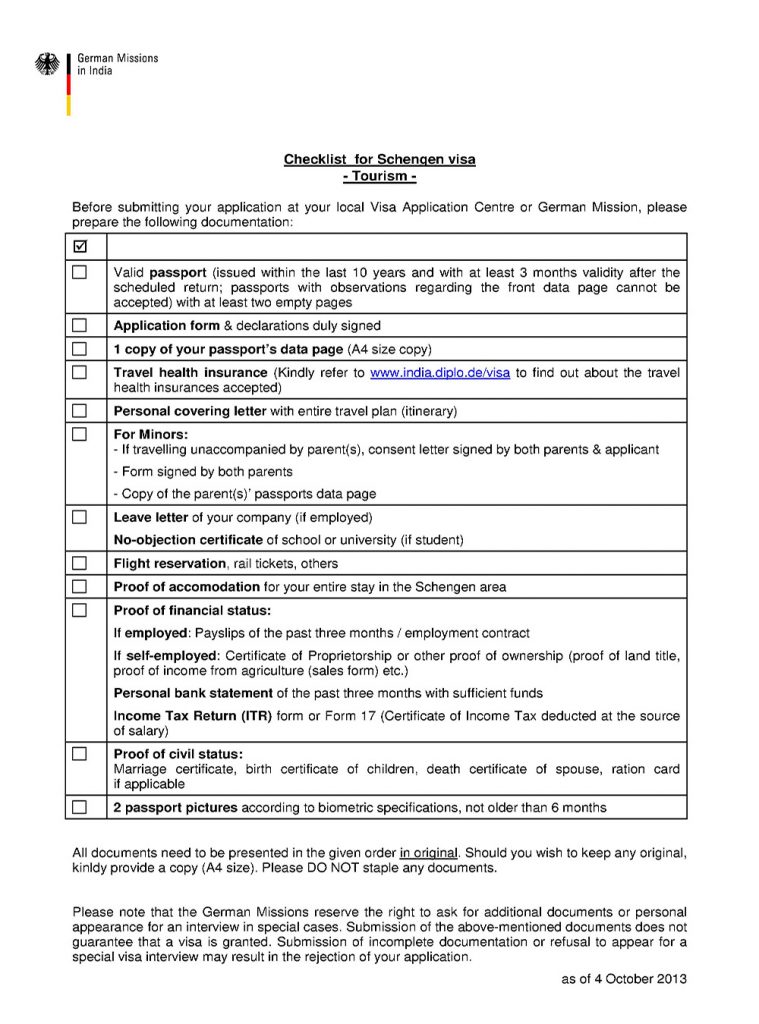 Note that this checklist is only for Schengen Visa in German Embassy. You need to find your own checklist in the VFS website of your destination country.
Your application would first be submitted to a VFS centre only (if VFS handles the process for the country of your application) and BLS Centre for Spain. France embassy has recently started taking the applications online.
Application Form
VFS and BLS both provide the facility to fill the form online and then once hit the print button, you would be able to download the form. Check each detail carefully before submitting. The VFS website also allows downloading a user guide to fill the application form. In case your doubt still persists, you can call up their helpline number.
VFS also provides a facility to download a blank application form that can be filled with a blue pen.
Do not worry about the mistakes in the form. When you go to the VFS counter with your application, inform them that you have done it by yourself. And they would check the whole form, do the corrections and print it again for you in case of any change.
What are the common essentials that you need to produce?
Travel Insurance
Travel insurance is one of the top most essential things that you need to produce no matter where you apply. The minimum requirement is of an insurance cover worth 50,000$ or 30,000 Euros. I came across two good companies that can provide you the required coverage at cheap rates.
ICICI Lombard and Religare are the two companies that you can check online. The moment you would ask for a call back they would assist you with everything (Including a purchase) on call. Religare is cheap and covers most of the risks. It costed 2500 for 83 days (In my case).
The prices vary depending on the number of days. ICICI has Gold. Platinum and normal plans for you, covering different things, but as per my analysis, their basic plan covers all the necessities. It is useless to go for any more expensive plans.
I opted for the basic Insurance from ICICI Lombard.
To and Fro Flight Tickets
Book either during the sales and ensure that you get the visa because most of the tickets bought during sales are NOT refundable.
On a safer side, I would advise you to book refundable tickets in case of any cancellation, change in plan or visa disapproval.
Cover Letter
A cover letter is basically your non-verbal conversation with the Visa officer. It should be addressed to the consulate. If you are unsure about who to address the letter, please call the helpline number and ask. I had called VFS Helpline almost hundred times (Ok this is exaggeration 😛 )  before finally submitting my application.
Use respectful and professional language.
Include your introduction and your profession. If you are unemployed, please state how you are going to finance your trip. And also mention the reason to opt for traveling while being unemployed. You can say that you are on a travel break or have changed your profession to travel writing/blogging (Mention your website/published work).
If you are employed, you need to produce NOC from your employer, 6 months of salary slips and ITR of past 3 years.
And if self-employed then produce a proof of proprietorship.
In case you are not able to produce any of the above documents, you need to mention an apt reason for the same in your cover letter.
As a Freelancer
Recommendation/Invite letters from the Tourism Boards should be procured in case you are being sponsored by any. This would also help your case become stronger. Remember that even if they provide a confirmed stay receipt with 0.00 Euros, you can request a recommendation letter for an easy/quick visa process. But, do not show the collaborations with too many boards or else your visa might fall in business category an would be rejected. For a very long trip (60-80 days) , 4-5 collaborations can be shown. Hotel vouchers/receipts can just be added along with the printed receipts of other bookings.
Apart from this, you can attach your business card too.
Stating about your previous travels (if any) to the countries like the UK, US or Canada may also be helpful.
Travel Itinerary
The itinerary of entire journey (day to day planning) has to be included in the cover letter. Your itinerary can be in a tabular form for better understanding. Here is an example of an itinerary that I had submitted.

Confirmed Booking of your Entire Stay in the Schengen Territory
Now comes the most important part. How can you spend on the expensive hotel bookings when you are going on a shoestring budget? Well, you need to show some confirmed bookings for the satisfaction of the visa officers.
The best thing is to book the cheapest hostel for the first stay. And use booking.com, hostelworld.com, and similar sites to find the hostels/hotels that allow you to book with 'No Prepayment Needed' and 'Free Cancellation' options. Please understand that many hotels on booking.com might have a 'Free Cancellation upto a date'. That day shouldn't fall before the expected arrival of your visa. Once you get the visa, you may cancel/alter the bookings. However, on a safer side, you should cancel it only after the immigration process in the arrival country.
Once you enter the country, you are free to go in search of the cheapest accommodation or a couch surfer.
Bank Balance and Statements
Most of the consulates would be asking for your bank statements for past 3-6 months. Don't deposit a bulk amount at a stretch, because if found fishy, they can run a check on your bank history. Any FD/RD in your name would absolutely work. They don't really look for just the bank balance. The main purpose of asking for bank statements is to know whether you can afford to pay for the stay and food in Europe.
They 'might' count the expenses of your entire stay (So book cheaper stays so that they are convinced that you can pay), a rough estimation of food and internal travel would also be calculated. Though there is no fixed amount to be shown, most of the embassies estimate 4k INR/50 Euros per day as a normal expense.
Apart from this, you should also procure IT Returns of past 3 Years and Pay Slips of last 3-6 months in case you are an employee.
So, what if you don't have so much amount of money to show?
Option 1: You can show a relative's/friend's bank statements with a written note that she/he would also be sponsoring the trip.
Option 2: Take help of your friends, ask them to lend you money to show in your account for a certain time period. Don't be a fool to ask just one friend to transfer entire amount of 4 lakhs(Example) for this you might need to show that the friend is sponsoring(However, it differs based on the consulates)  Small amounts from different people look more genuine and reasonable.
After all the documents are set, you shall take an appointment with VFS Global for the submission of your application.
Take an Appointment for the Submission of Your Application
You need to apply to the nearest centre in case your visa is handled by VFS. MAny countries accept the application online. However, the first-timers' physical presence is required for Bio-metric data.
Option 1: Call the respective VFS helpline number for appointment booking and he would set a convenient/available date for you on the phone itself. You would receive a mail stating the booking no. of your appointment. Once you have that number, you can cancel/reschedule the appointment either on call/ online.
And how do you get their contact number? It's always there on their Contact page.
Option 2: Take an appointment online. For this process, you need to give your basic details and register yourself as a new user. After that, it would allow you to choose your nearest centre (It was Ahmedabad for me, you can choose your own centre from the dropdown list). Click here to book your appointment with VFS Global.
Visa Interview??
Well, if you are a first timer and your documents don't convince them, they would definitely call you for an interview. Be honest (not too much) and sound genuine. This is the key. You need to give them a confidence that your sole purpose is travelling, you would be able to manage it and would return on a due date.
Here are a few questions asked to me in my interview…
He: A travel blogger? And has never been out of India?
Me: Yeah, I always wished to explore my country first and then move on to the other countries. And especially for Europe, I didn't wish to go just to hop around the famous places in 10-15 days time.
He: Yeah. Fair enough. So what do you write about? Only India? Have you been to all the parts of India?
Me: yes. Most of the states.
He: Oh! Have you been to Andamans, did you like it? Have you written any blogs on Andaman, if I wish to check it on the internet?
Me: Andaman is one of my favorites. I had been there for island hopping and they are really beautiful. You must visit. You can also refer to a few of my blogs for the same.
He: That's great. So What is your Itinerary?
Me: I had to describe to him all the places that I had mentioned in my cover letter until my last day of return.
He: Oh!! This is quite long. No doubt you are covering a few of the least explored places, but it is going to be quite expensive, I don't know how you would manage it. (Scrolling through my cover letter) Oh! You are covering Bamberg too! That is my native region. So what are you going to explore in Bamberg?
Me: I showed him the list of places I had prepared for each city/region I was exploring. And surprisingly, he added a few more places to it and almost prepared a new itinerary with a number of day trips for me. (This doesn't happen usually with all, but he seemed to be quite free as I had applied during offseason).
Other questions asked
Date of your departure?
Date of Arrival?
Who is sponsoring you? (Ans: Myself)
Which airlines have you booked?
Are your hotel booking already paid? (Ans: Yes, a few)
In the end of the interview, he asked if I had opted for courier service or counter collection. When I said that it is a counter collection, he asked me to wait for 2 minutes.
And, in less than a few minutes, my name was announced again. I was handed over my passport with a visa right there and then.
So, don't always think that a visa interview might lead to rejection. However, research well about the possible questions before applying or going for the visa interview.
All the Best…
Other Guide that Might be Useful for Your Backpacking Trip to Europe
Planning Your First Europe Trip: Where to Go & How to Plan
Europe Trip on a Budget!! How to Make it Possible
Europe Food Guide for (Non/) Vegetarians and Budget Travelers
Pin It Now, Refer It when You Plan