Road trips are the best and probably the only way to explore Karnatak interiors. My initial plan was to start by road from Bangalore to Jog Falls via Mangalore, Udupi, Gokarna, Yana and Vibhuti Falls. However, the plan had to be changed owing to incessant rains even in the month of October. Thus was planned this road trip to Gokarna from Bangalore through an alternative route.
From the backwaters that look like an art to the serpentine roads of Western Ghats, this route is a delight for the beach and nature admirers. The changed plan which was more suitable for the ever showering clouds started with a bus ride from Majestic in Bangalore to Udupi. After renting the car in Udupi we directly hit the road and our first destination was Karkala near Udupi. The whole route is dotted by some of the most beautiful and less explored places.
The best places to be covered on the way to Gokarna from Udupi are: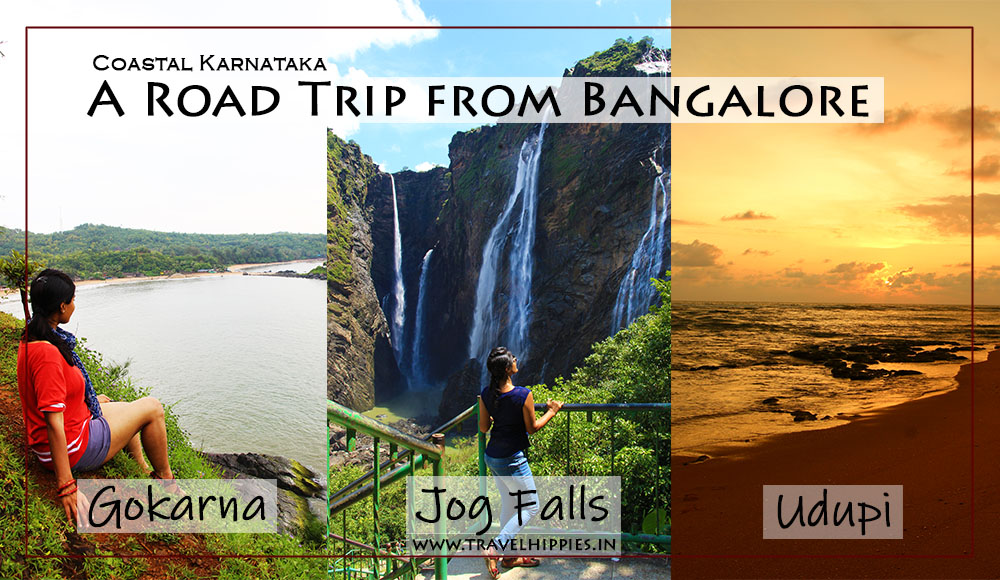 Hanging Bridge, Herur
Delta Beach, Kodibengare
Byndoor, Someshwara Beach
Brahmavar
Maravanthe Beach
Honavar
Murudeshwar
Nirvana Beach
Before I go-ahead for the 5 Days Road Trip Itinerary from Bangalore to Gokarna and Jog Falls, let me answer the question that you might have in your head by now. alternatively, you can also plan a road trip from to Gokarna from Mangalore.
Renting a Car in Udupi
There are an end number of car rental companies in Udupi and Manipal for those who find Zoom and similar companies expensive. Usually, 1000-1500 per day is a normal charge wherein you get 250-300 km per day without fuel. (This whole journey covers not more than 700-750 Kilometers.)
How is the Road Condition from Udupi to Gokarna and towards Jog Falls?
Udupi-Gokarna Highway is in a very good condition except for a few kilometres in between where the construction and repairing is a permanent situation. The roads within Gokarna are a bit narrow and in average condition. The road towards Yana and Jog Falls passes through the ghats and are a bit risky to drive in the night. So, plan your journey accordingly.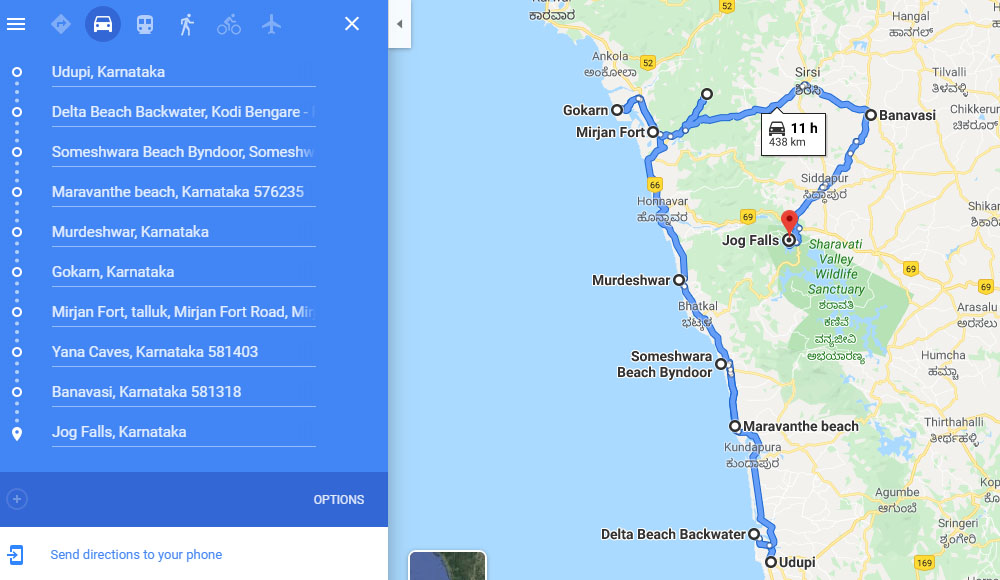 Day 1: Bangalore- Udupi- Karkala – Maravanthe Beach – Murudeshwar – Gokarna
We started a bit late underestimating the time needed to reach Gokarna. Starting with the St. Lawrence Church of Karkala, we briefly explored the Gomateshwara Statue and the Chaturmukh Jain Basadi. This would take you around 2-3 hours depending on your exploration speed and your interest in photography. Then head back to Udupi and take the main Highway towards Gokarna-Murudeshwar. You may be reaching Maravanthe by noon and the sun would be shining too bright to enjoy this place. It totally depends on you whether to stay or keep it for the return journey. Plan your trip in a way that you reach Murudeshwar before sunset. The charismatic sunset over the giant Shiva statue is a must-have experience at Murudeshwar. From here, the driving speed may slow down due to the bad condition of roads and diversions. You may expect to reach Gokarna by 10:30 if you don't make stops anywhere on the way.
Where to Eat: If you are a foodie then it would be better to stop for a brunch in Udupi/Manipal to avoid any disappointment in terms of food. There are not many good restaurants anywhere on the way to Gokarna. So, plan your journey accordingly.  If you are travelling in offseason, it would be advisable to have an early dinner at Murudeshwar. Gokarna closes early except a few hotels in the town which remain open till 11 pm.
Where to Stay: Overnight stay for us was at Surya Café (All cafes in Gokarna have cottages/lodges) at Gokarna Main Beach. This is an ideal accommodation if you don't want to trek in order to reach your hotel every time you go out on an exploration. Other stay options can be Kudle Beach or Om beach. You can read the Complete  Gokarna Travel Guide here.
Day 2: Gokarna Exploration
Gokarna has this really peaceful and spiritual vibes. The beauty lies in its beaches crowned by the hills. Almost all the places have to be covered by a little descend down the hills. This easy to moderate trekking trail defines the beauty and fun of Gokarna. Read about the most interesting things to do in Gokarna. One day is surely not enough for you to explore this hippie paradise and feel the vibe of it. You can extend the time based on your interest at Gokarna.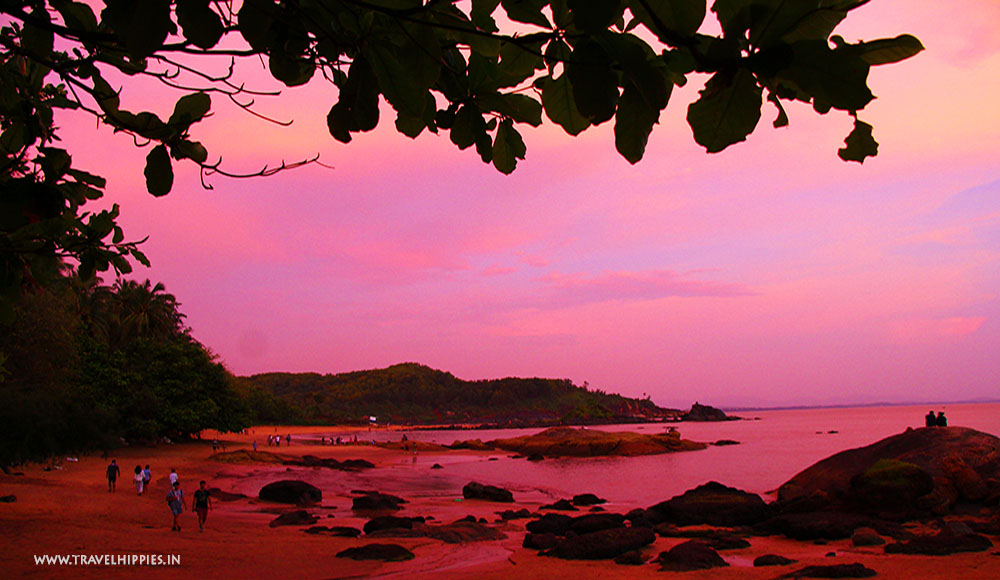 Where to Eat: Namaste Café, Surya Café
Where to Stay: Surya Cafe
Day 3 : Gokarna – Mirjan – Yana – Banavasi via Sahasralinga in Sirsi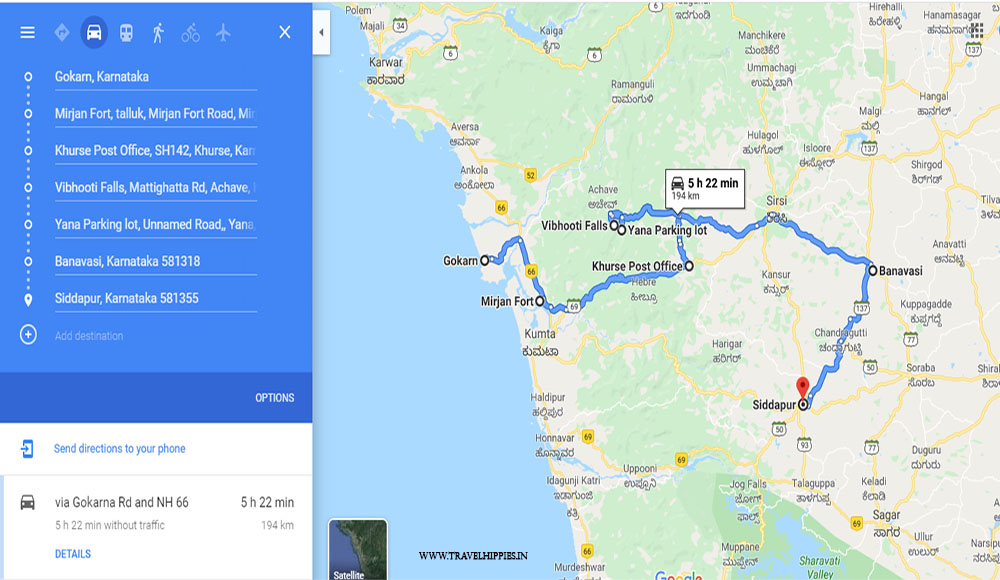 This day you must leave as early as possible because the beauty of this route would make you stop almost at every turn. Explore some historic ruins at the Mirjan Fort and then head off to Yana Caves. A 2 kilometre of a trek from this route may consume a bit of time but it is definitely worth it. There is a possibility where you can skip this route and take the next diversion to access Yana from the opposite side. This also gives you an opportunity to cover Vibhooti Falls which is a 9 km of diversion from the road towards Yana.
In order to cover Yana and Vibhuti Falls from Gokarna, you can take Sirsi-Kumta Road and then take left from Khurse Post Office towardsManjaguni/Devanahalli.
For Madhukeshwara Temple of Banavasi, the oldest temple of Karnataka, head back to the Sirsi-Kumta Road and follow the Google Map to Banavasi. From Banavasi you would follow the most beautiful road to Siddapur. This road leads you half-way to Jog Falls.
Where to Eat: Eat at any small Dhaba or stalls on Sirsi Kumta Road for that is the only option available to you. Devanahalli may be your next option for lunch.
Where to Stay: Stay at this very beautiful homestay run by a local family at Ibbani Homestay. (Call : 82773 25701)  Everything that you eat at this homestay surrounded by lush green farms comes from the very same farm. The warmth of the family can definitely surpass your experience of any 5-star hotel. We felt so amazing that it is now on our list of city escapes from Bangalore. Considering its vicinity from Jog Falls, it is the best and the most comfortable stay options after a long tiring journey.
Day 4: Siddapur – Jog Falls – Udupi
From Ibbani Homestay, Jog Falls is just half an hour away. Enjoy the view of the falls early in the morning. If you are planning to climb down the steps, it is important to start before the sun gets too fiery. From Jog Falls, take the route towards Bhatkal and now most probably, you may reach Maravanthe or Byndoor Beach during the sunset time. The sunset would be amazing from any of these beaches.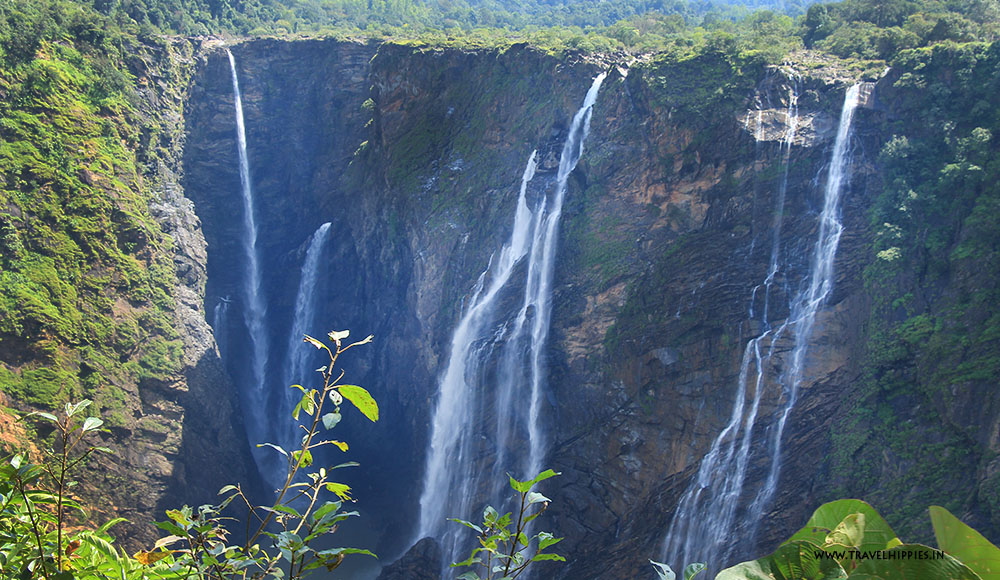 Reach Udupi, dump your luggage in the hotel and straightway head to Manipal.
Where to Eat: Dollups near Manipal Bus Stand
Where to Stay: We stayed at Hotel Karthik on Gokarna-Udupi Highway, it was worth the price as we were allowed 24 hours checkout.
Day 5 : Exploration in Udupi
Exploration in Udupi may take a day or even a week. It all depends on your interest. The places that you must not miss are the Delta Beach, Hanging Bridge, Kodibegre Beach, St. Mary's Island and Kapu Beach. For more details on how to reach and what to do in Udupi, scroll through this blog.
Where to Eat: Try any restaurant in Udupi or Manipal, the best food is ensured for every kind of taste buds. Don't miss the famous Mitra Samaj near Sri Krishna Temple for some Goli Bhajje and other varieties at Manipal's main road.
Where to Stay: This night we travelled overnight to Bangalore from Udupi, however, you can either head to Mangalore or Dharmsthla if you wish to continue with your journey.
Travel Tips
Plan your lunch and dinner timings well because there are not many good food joints on the way.
Download the map from Gokarna to Banavasi-Siddapur as there might be no network in the ghat section.
Carry a big refillable Bisllery bottle in your car as buying small bottles is not affordable financially as well as environmentally.
Carry an umbrella for unpredicted rains and sunlight.
Pin it Now, Read it Later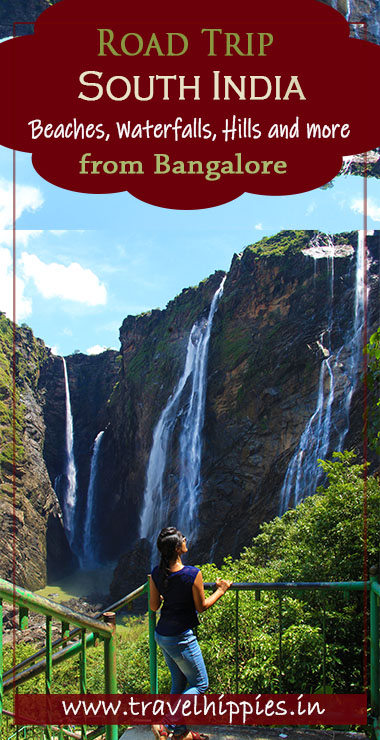 Follow me on