While I have explored for 83 days Europe Trip in around 56,000 INR, my maximum expenditure was on food. I couldn't resist when they advertised veg Ravioli and sushi. :-p Learning from my mistakes and expenditures on food, I have come up with this detailed Europe food guide for vegetarians and budget travelers. The guide also contains some suggestions for the nonvegetarians.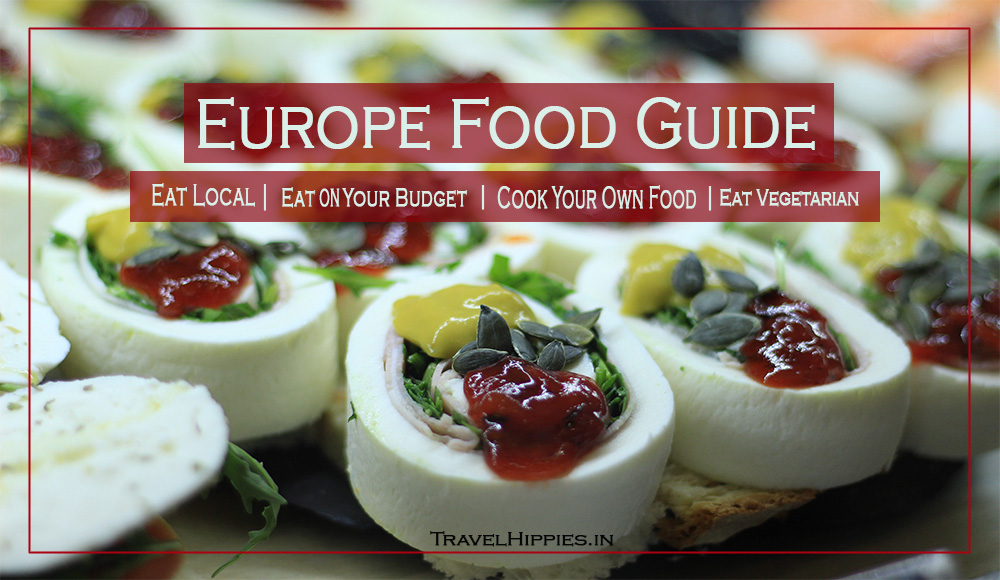 For the ease of understanding, I have divided my guide country-wise. But before that, you must be aware of a few facts.
Though milk and milk-products cost almost similar to any Indian products, the fruits and vegetables aren't that cheap.
In any Indian/Pakistani/Bangladeshi/middle-eastern shop you will find cheap rice packets, spices and everything that you need. But be aware that many of them might not accept card payments.
Pastries in a few countries were really a cheap option with good taste and fresh berries on its top. All perishable items go for sale frequently due to strict laws. (And most of those items are good for immediate consumption).
Stay away from the supermarkets located in the basements of metro stations. Most of the time they have stale food. (I have had the worst experience in 3 cities).
Brown bread is also cheap and can be eaten with mayo/ flavored cream sauces available in the supermarkets.
Out of all the fruits, bananas were the cheapest.
Takeaway food is always cheaper than 'Have it here' food.
Turkish Restaurants and the chains like Doner Kebabs always have tasty yet reasonable food.
Once in a while, you can always treat yourself with some good restaurants. Most of them have meal options ranging from 8-10 Euros.
Ready to Eat Food Packets
Well, they have been a boon. I carried a number of packets including poha, upma, pasta, noodles, Paneer Butter Masala, Dal Makhni, Bisi Bele Bhat, Pongal, Sambar Mix and Puliyogare paste powder. This helped me in cutting down my expenses to almost 1/4th.
While most of the packets from Mother's Recipe and other brands turned out to be pathetic, MTR and Haldiram food were the best.
They have been at rescue during my cravings for some spicy food or hot Indian food (Most European Food is bland and cold, and even Europeans have agreed to it).
However, carrying them on a long journey can be a tedious task.
Spain
Apparently, the cheapest country that I visited during my visit (Don't argue on this before seeing my itinerary and the places I had covered).
In the city of Barcelona, Cordoba, Seville, Madrid, and Granada, I have solely survived on the self-cooked food at my couch-surfers' place. However, for the mid-day munchies, I highly relied on supermarkets and flea markets.
Any supermarket in Spain have the salads (veg/non) for around 2 Euros. A liter of beer in the supermarkets ranged from 90 cents to 1.5 Euros. If you have the facility for heating (an oven), then you can also try pasta, noodles, tortillas, and pizzas.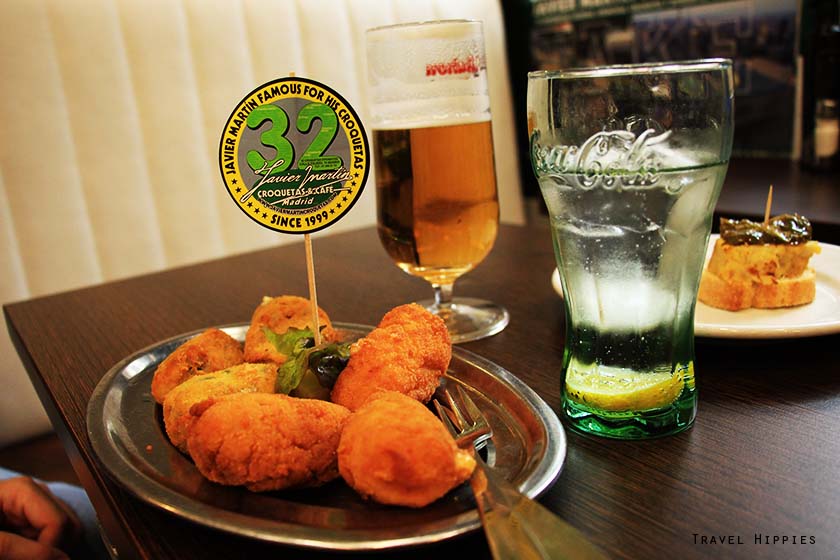 All the restaurants in Spain put-up their menus out on display, so before choosing any, please have a look at the menu. A personal advice would be to go at a restaurant away from the tourist areas. How do you get to know about a local restaurant? Put up a specific question in the Facebook Group "Backpacking Europe" or in the Couchsurfing Platform.
What to Try: Paella, Tapas, Gazpacho, Spanish Breakfast (Bread with tomato puree and olive oil), croquettes.
Supermarkets: Lidl, Carrefour, Mercadona
France
In the city like Paris, you might have to depend solely on supermarkets. Proxy and Monoprix are two of the main supermarkets for cheap food. Even the roadside stalls in Paris don't sell anything at a normal rate.
(And please don't ask for any French Toast anywhere, hahaha, that's available only in India)
What to Try: Nothing so interesting as such, but do try pastries and ice-creams from famous bakeries. I had once tried their onion tarts but turned out to be pathetic.
Supermarkets: Proxy and Mono Prix
Belgium
Near midi-station in Brussels, you will find a number of shops and Turkish Restaurants where you can get everything at cheaper rates. I used to buy berry yoghurt (400 gm) for just 0.59 cents. And take some chips/strawberries/bread to have along with that.
In Brussels, farther you move from the main square, cheaper your food turns.
There are also a few veg restaurants that sell food based on weight. (Eg. 1.5 Euros per 100 gm)
In Brugge, subway or the restaurants at the railway station serve quite cheap food with a variety of options.
In Ghent, you can try the fries and burgers from any restaurants.
In Antwerp, you can try an Indian Buffet at Aahar Restaurant for 10 Euros, or else, supermarkets/ Doner Kebabs will always be at your rescue.
What to Try: Belgian Waffles, Fries and chocolates from Neuhaus/Leonidas. I personally did not like the most famous brand Marcolini.
Supermarkets: Express, Alber Heijn and Hema
Netherlands
The city of Amsterdam has a variety of food for all kinds of travelers. Thai to Turkish and Japanese to Indian, all stalls are available.
However, I never felt the need to going to any restaurant anywhere in the Netherlands.
The supermarket named Albert Heijn really has a good option for cheap food. The store located in the city center, near the Dam Square, gives you hot, yummy pizza (Medium sized) for just 4 Euros. You can also try their Pasta, Noodles, Sushi or other food packets. The best thing is that it would be freshly cooked just like in a restaurant.
I don't think you would want anything else if you found one Albert Heijn Store anywhere.
What to Try:  Hash Brownies from Bull Dog (They aren't so strong in any stall).
Supermarkets: Albert Heijn Forever
Denmark
 If you plan to visit Denmark, only God can save you from spending less than 150 Krones in a day. However, on the main shopping streets from the city hall, there are a few Chinese restaurants that give takeaway noodle box for 30 Krones (1 Danish Krone = 10 INR) and that is the cheapest you can find. The Burger King had an offer on a HamBurger for only 10 Krones.
The Tex-Max Grill Restaurant had an unlimited Buffet lunch option for 69 Krones (Again the cheapest in the city).
Even the supermarkets in Denmark don't have much of good food.
What to Try: Cheese Pastries
Supermarkets: Netto
Germany
The best thing about Germany is that the food isn't so bland. Even the McDonalds in Germany serves quite tasty and spicy burgers.  In fact, their basic menu starts from 1 Euro for a burger.
Apart from that most cities in Germany have Food flea markets. You can buy different delicious dips and can have it with bread or fries.
Germany also has many Turkish restaurants that serve reasonable yet delicious varieties.
Berlin: McDonald's, noodle boxes and sausages(Only non-veg)
Munich: Viktualienmarkt (You get superb spicy tofus, paneer, cheese, olives and mayo dips)
Frankfurt: YHAI Café and canteen, a wholesome buffet meal for all at just 6 Euros
Cologne: Must Try any of the River Side Café
What to Try: German Beers ;), Spatzle
Supermarkets: Rewe, Lidl (The cheapest market in Germany, and even the best one)
Austria
Vienna and Salzburg both have amazing options for those who wish to try something local. Especially, wurstel available at Bitzinger is a must try. While in Vienna, I even chanced upon trying out at Glacis Beisl which is more frequented by the locals. And even if you don't eat much, do go there for the ambience of sitting in the middle of a beautiful patio. Do try Viennese Schnitzel if you are a non-vegetarian.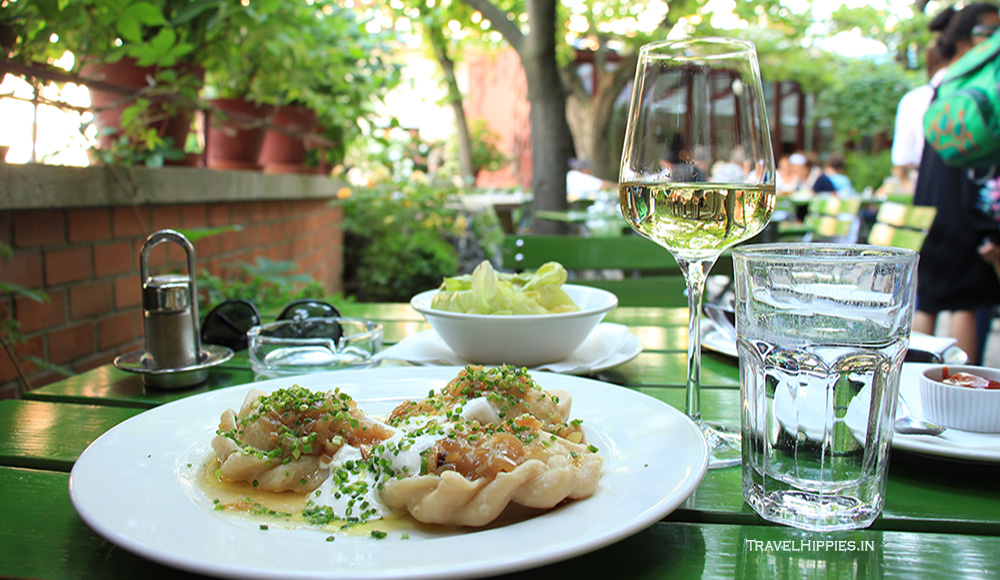 Veg Ravioli at Glacis Beisl in Vienna
Even coffee culture is quite famous in Vienna, you can try at any café in the old town.
What to try: Tafelspitz (non-veg) and for the people who eat only veg, you can try out the usual options at the restaurants.
Supermarkets: Spar and Penny
Czech Republic
Prague is the only city that I had covered in the Czech Republic and I mostly survived with self-cooked food as no stalls or even McDonalds doesn't have an option for the vegetarians. No doubt there are a few vegetarian restaurants which you can try but the supermarkets and shops have better options to try.
Nothing in Prague is too expensive and thus you may want to try different restaurants near the Castle.
Also, note that most of the shops and restaurants in Prague do not accept cards.
Supermarkets: DM, Albert (Not so great)
If you have any inputs or suggestions for this post don't hesitate to comment and help other readers.
You can also put forth your questions in case any.
Pin it Now, Read it Later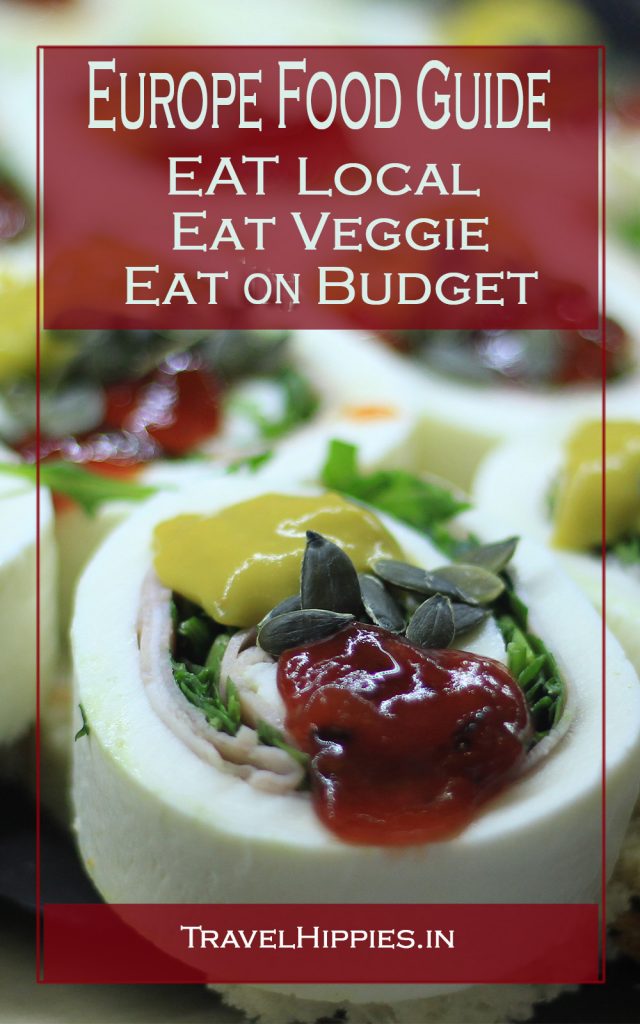 Follow me on
This might also be some helpful Europe Travel Guides
How to Score a Schengen Visa; An Ultimate Visa Guide for You
Planning Your First Europe Trip: Where to Go & How to Plan
Europe Trip on a Budget!! How to Make it Possible
Europe Food on Budget for travelers
Budget Food in Europe