"Chirping of birds, sparkling waves of the river, clean and cosy rooms, staff from all around the world and most importantly free breakfast & cheap meals.. This is how I enjoyed my stay in Frankfurt Youth Hostel. Youth hostels have always been a boon for a budget backpacker and DJH Youth Hostel in Frankfurt truly proved to be one for me."  
For all those who still don't know about the Youth Hostel Movement, let me put a brief preset for you. In the year 1909 Richard Shirrmann, an elementary school teacher living in the industrial center of Germany, initiated the idea of hostels for the travelling youth. He created a "wandering school" on weekends by taking students on field trips to the nearby places.  Students spread their bedding each night in school buildings in the respective area. This way the concept of student "youth hostels" was developed.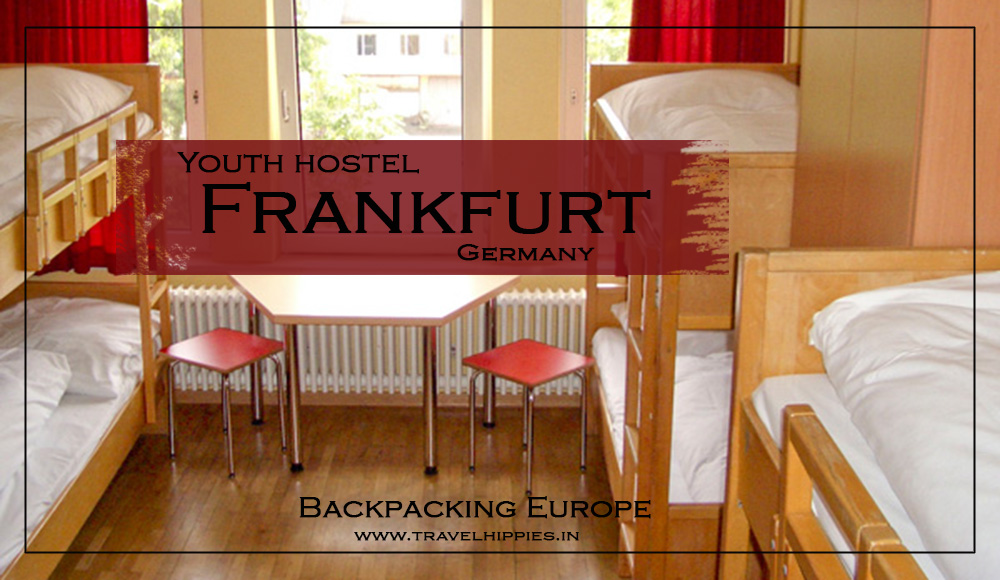 The movement flourished in Germany and permanent hostels were established. Germany had more than 2000 youth hostels with more than 4.5 million overnight stays by 1932. In the meantime, Switzerland, Poland, Netherlands, Norway, Denmark, the British Isles, Ireland, France and Belgium had joined the movement and had built another 600 hostels in Europe.
In 1932 the first international meeting was held in Amsterdam to develop some common standards for the hostels worldwide. The International Youth Hostel Federation was formed.
DJH Youth hostel is one of those initial hostel established in the early years(1951) of its development.
Why should you opt for a Youth Hostel and what was my experience DJH Youth Hostel?
Clean & still Cheap Dorms
At the time of any fair or even in the summers, the prices of other hostels soar up to the sky(A few hotels even go till 375 Euros). Youth Hostels, being a non-profit body managed by the government of respective countries always have a stagnant price. Moreover, if your age is below 26, you fall under the category of a junior member and would automatically be given a discount. Isn't that really an advantage!!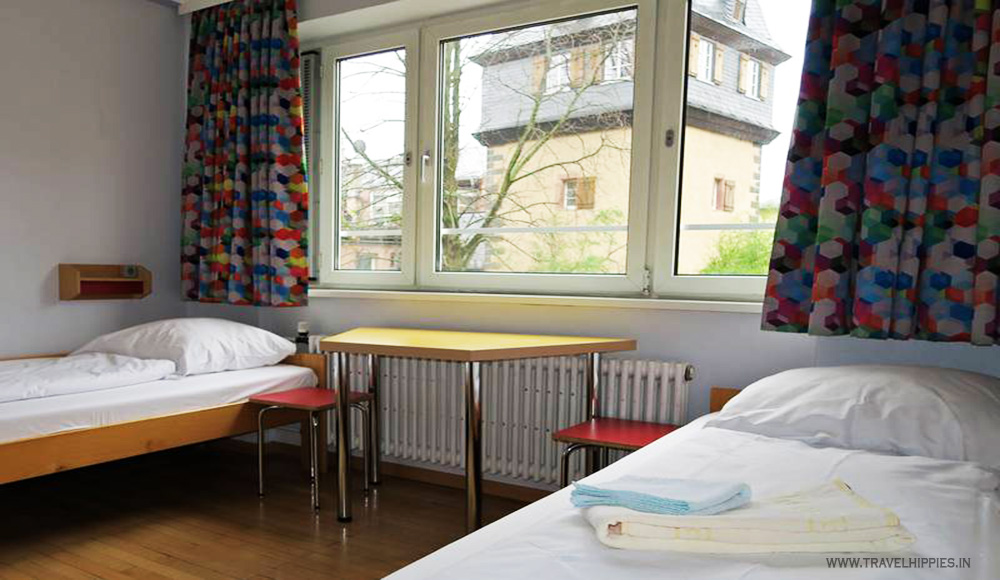 Clean room, a bed sheet and a towel is what I got during my stay at DJH Youth Hostel in Frankfurt. As per my observation, the cleaners ensured the best service each day. The ambience was quite pleasant apart from some bit noisy hours owing to Friday night parties in the nearby bar district and the celebration of school trip kids.
For all those who look for a cheap private room and don't prefer a dormitory, probably youth hostel would provide you with the cheapest one in the city.
The Enchanting View
Well, on the first day of my stay, I was upgraded to a double-seater room with a view of the river at the price of a dormitory! (And guys, this keeps happening all the time, so be ready for some pleasant surprises 😉 )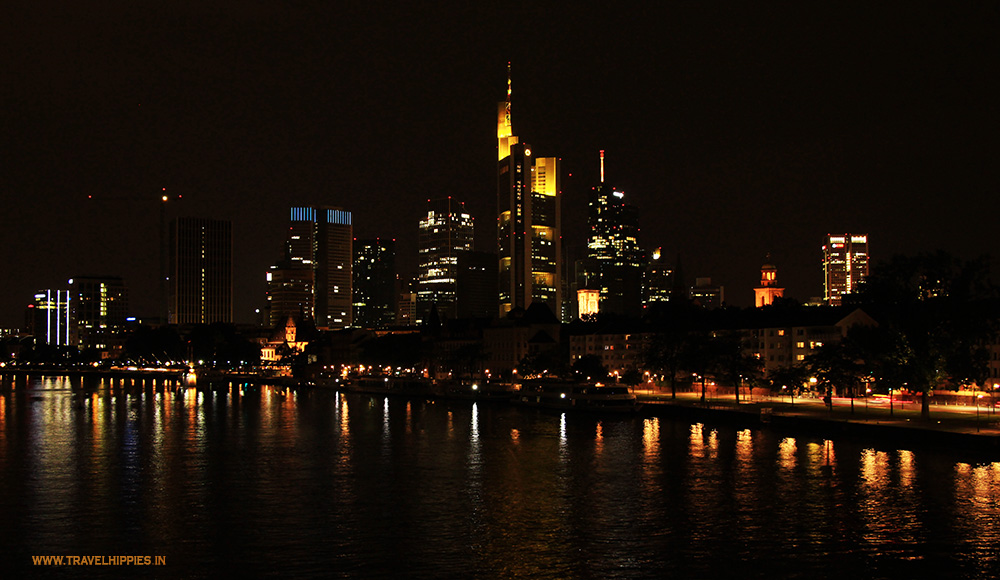 Night View from Frankfurt Youth Hostel
While all the rooms might not give you the same view, the balconies on each floor are the best areas to enjoy a relaxed evening sipping on a cup of a coffee or a chilled beer.
Best Location
The hostel is located in the heart of the touristic area on the Museum lane. So, if you walk to the left, you will be passing by the historic buildings converted into museums. And if you just cross the river,  you will reach the famous Old Town square and the cathedral.

View from the common area of Youth Hostel Frankfurt
Free Scrumptious Breakfast
Though free breakfast is common in most of the European hostels, I haven't seen any breakfast as good and healthy as in DJH Youth Hostel. There is a range of options for vegetarians along with fresh fruits, fruit juices, hot chocolate, tea or coffee and some jams for the sweet tooth.  Also, don't forget to try those varieties of cheese slices.
Super Cheap Unlimited meals- Open for all
When I heard that the lunch/dinner is just for 6 Euros, I was sure that the quantity would be limited and it might not be a great idea to have a cheap meal.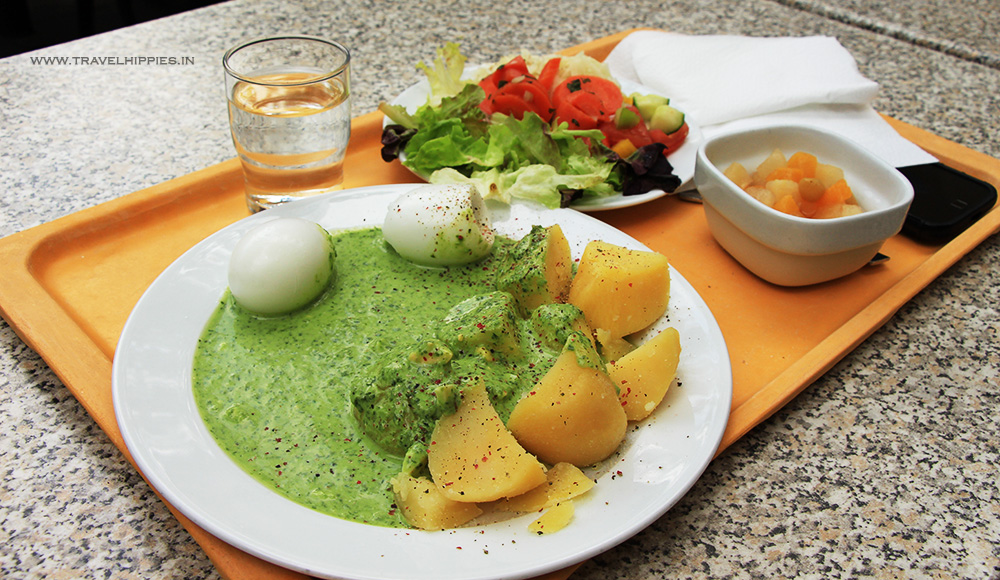 My assumption was busted when I was allowed to serve as much pasta as I wished. Mixed with vegetables, freshly made tomato sauce and a lot of cheese 😛 , the pasta was super yum. However, you should check their menu of the day before buying a coupon.
(There are enough options for both non-vegetarians as well as vegetarians)
Proximity to Airport, Best for Layovers
When I was looking for a return flight to India, Frankfurt seemed to be a good option with a direct flight to Delhi and then to Mumbai. And of course, you can also choose Frankfurt to be your last stop before heading to India. Even if it is your business trip, you or your employees can opt for DJH Youth Hostel as it doesn't make any sense to spend on a hotel just for a night.
Suitable for families & Heavy Discount for the Groups
Group discounts have always been a major feature of the Youth Hostels. If you are a family of 4-7, the kids and adult both would be paying the junior group price. The family would thus have a separate bed for each member without paying any high charges. When a family is allotted a dorm, it remains a private area only of that particular family.
Thus, your family would have the luxury at a price lesser than in any hotel.
Perfect for Students
Whether you come for an exam or a competition, Youth Hostel can always be your priority with a cheap dormitory. The students can stay upto 2 weeks at a stretch.
Cafeteria with a view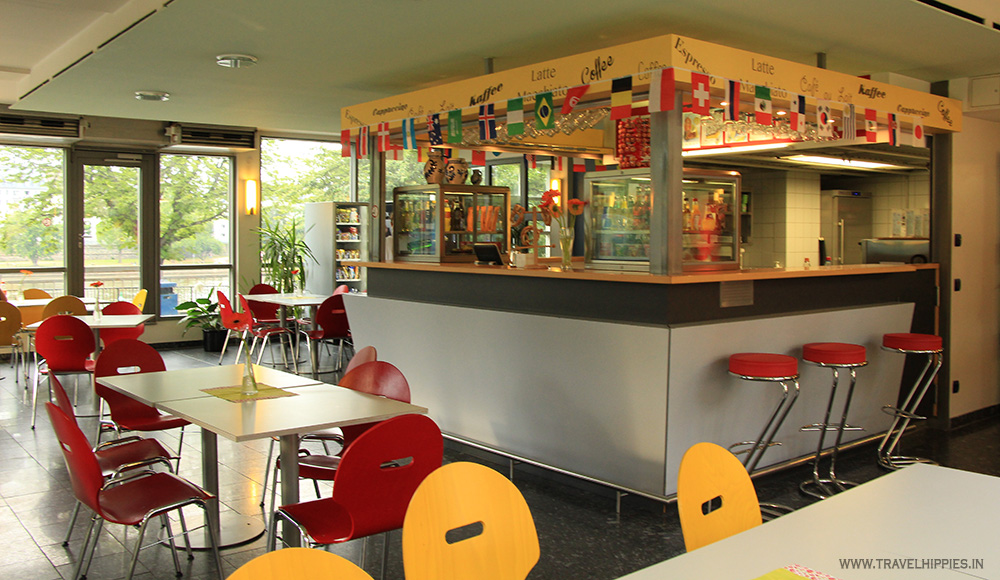 Like all other modern hostels, DJH Youth Hostel Frankfurt also has a cafeteria that remains open till late night. The café is also equipped with a coffee machine and a vending machine for some soft drinks and snacks.
Most Suitable even for a huge group of 50-100 People 
The hostel has around 350 beds, along with a special area equipped for wheelchair users. This makes the hostel a perfect place for school trips, workshops and education trip. The huge conference rooms are available to conduct a program, performances or any business programs.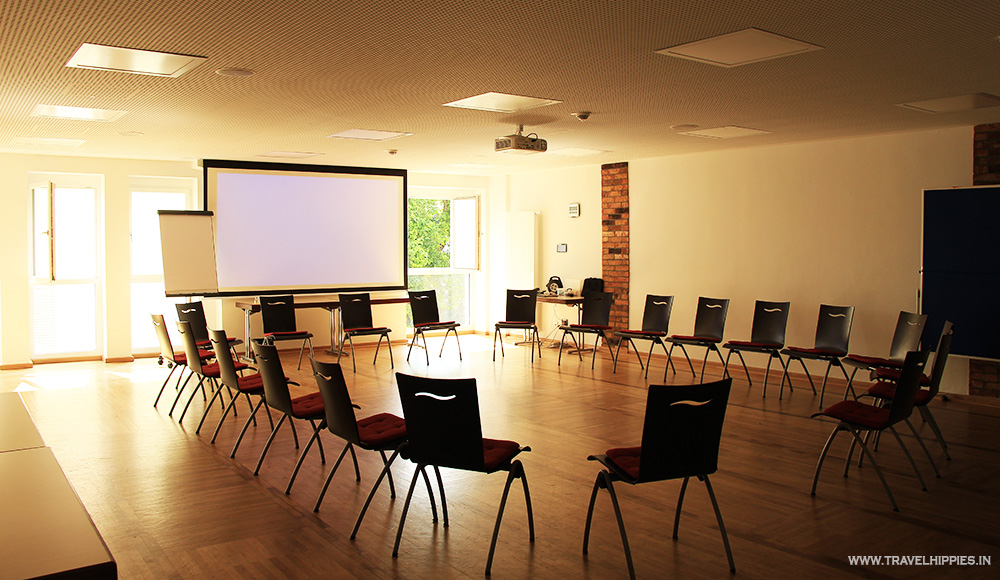 Volunteering Opportunity
If you can speak German, you can have a working/volunteering year in DJH Youth Hostel, with a basic stipend. You can apply directly to the DJH Youth Hostel for the same.  You may be chosen based on your qualification and availability.
For any more information about DJH Youth Hostel, you can visit their website and can also book it directly.
Note: This post is written in collaboration with the DJH Youth Hostel – Frankfurt. However, the views are of my own.
Pin it now, Refer to it later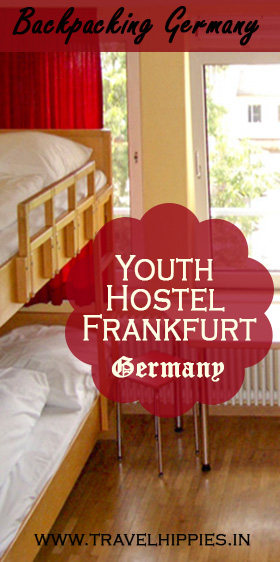 Follow me on