I have travelled the Asian Countries on a shoe-string budget without much hassle. Of course, the Indian Rupee isn't that weak in the continent.
It was really a headache when I had to realise my much-awaited dream of solo Backpacking to Europe on a budget. From hostels, transportation to food everything that I had found was cheap as per European standards. However, when it was converted into INR, it was a burden on my pocket for sure.
So, the sole reason that Europe is expensive for Indian travellers is mainly the ever degrading position of the Indian Rupee.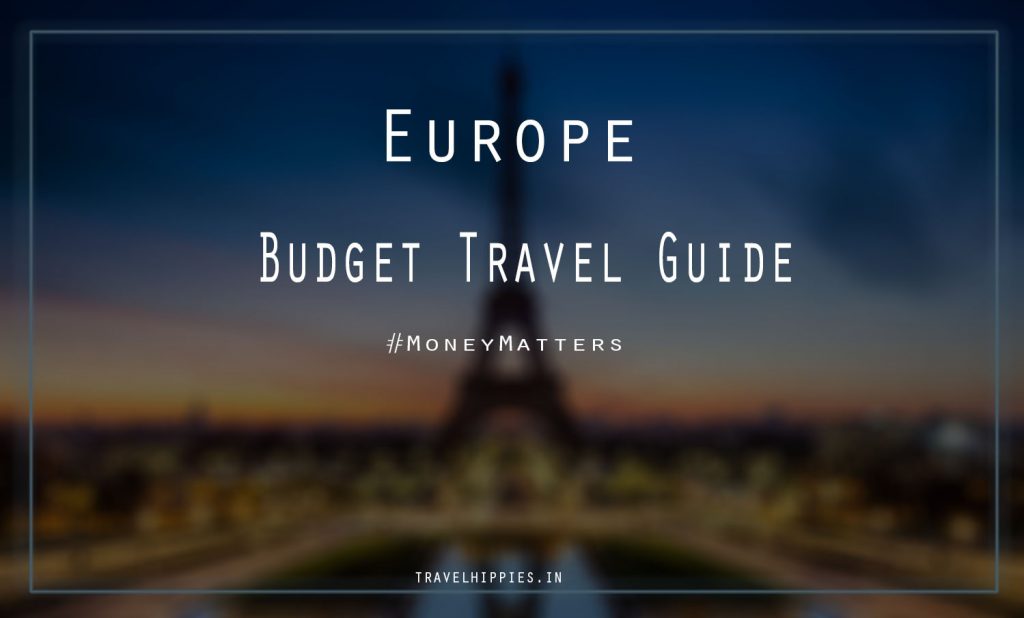 Thus, understand the fact that unless some miracle happens and the value of the rupee goes up, the minimum budget for an 80-90 days Europe trip has to be 1-2 lakhs INR. (Coz there is much more than just food, travel and stay in Europe)
However, currently, as per the calculation, I am easily able to manage daily expense in 6-7 Euros per day. But if you are a non-vegetarian, you would certainly want to try some delicacies here that would add to your cost.
Here are a few ways in which you can save something while on a Europe Trip.
My Total Expense while doing Europe on a Budget
Accommodation: 10k INR (How? Hostel + Couchsurfing)
Internal Transport: 14K INR (How? ALSA + OUI + FLIX Pass + Hitchhiking)
Food + SIM Card Recharges + other minor expenses = 32K INR (How? I cooked + Ready to eat food from India + Street Food)
So Total 56K is what I spent in Europe for 83 Days
Understand that whether you go for 90 days or 15 days, your flight and Visa expenses would be the same. And thus, longterm and slow travel helps you cut down more.
Then..?  How to Travel in Europe on Budget? Here are your tips on 'Backpacking Europe on a Budget'
Flight Tickets
Just a bit of alert, technological awareness and research is needed to grab the cheapest available flight rates to Europe. The flights through Middle East countries are way cheaper than direct flights. Moreover, airline agencies run sales from time to time. Though I spent a little too much on my flight, I came to know an Indian girl who got a return flight (to & fro) to Paris just is 27k INR.
Moreover, off-season would also help you get cheaper rates. Mid-March to May is usually cheaper than from June to August. The rates again go down from October onwards once the winter sets.
Internal Commutes
While you think that flying to Europe is the main expense, you would realize that traveling from one city to another in Europe is another huge burden.
Most of the time buses are the cheapest options in Europe and flights/trains are the costliest. I would recommend you to download the Go Euro app that compares the prices for you.
I would advise the road journey that would expose you to the beautiful verdant vistas and sleepy hamlets on the way. The roads are smooth and most of the time there are zero chances of traffic.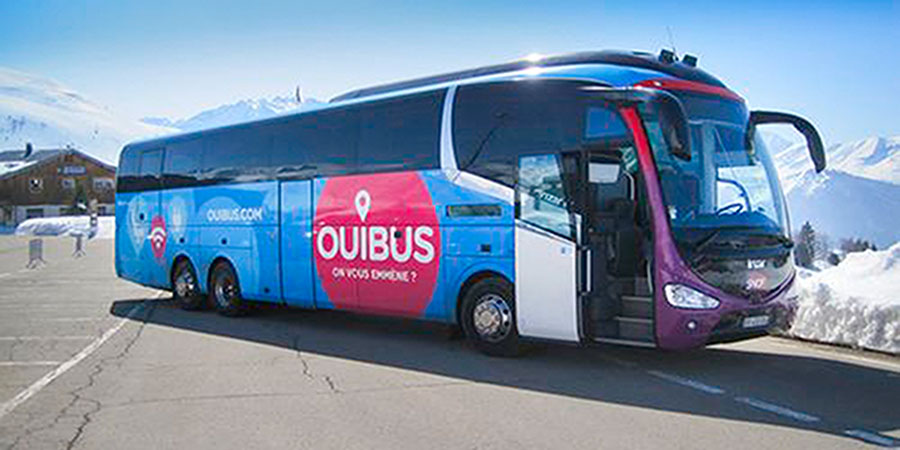 As for me ALSA Bus in Spain provided the best routes and prices. OUI Bus in France, Netherlands, Belgium, and Denmark stands as the cheapest buses with best possible facilities. These buses ply to all the famous and even the least explored places and are recommended by most of the travellers. The ease of booking through their website and choosing a suitable time also helped me much. You can also buy the tickets on the spot at the counters located at the bus station for any short distance journey.
If you are fine with uncertainties and flexible with the dates (which may not happen all the time), you can also try Bla Bla Car which is a trustable carpooling. Basically, I would advise you to book the buses for long distance (Pre-book online to choose the seat of your preference) and use Bla Bla for short distances or day trips where you are not much in hurry. As per my observation, the Bla Bla costs mostly equal to more than the bus.
Overnight Commutes
The overnight journeys in Europe are quite comfortable and smooth and thus, don't hesitate to spend in an overnight bus (Which is usually cheaper) and save on a hotel/hostel cost for a night).
Book in advance(But don't book in advance) and Use PayPal (No, don't use it)
Advance booking is always preferable so that you don't spend the limited cash that you are carrying with you. Even if you pay by the Forex card, you would anyway be paying the currency exchange charge in the beginning. Moreover, most bus services will charge extra for 'on counter booking' and they usually have tickets on sale 'Only on online portals'.
I booked most of my tickets with ALSA, OUI and many of the hostels using PayPal. It doesn't have any or minimum exchange fees and once you have the PayPal account, you really don't have to share any account details on any of the sites other than your Pay Pal email ID. Most of the websites in Europe supports PayPal's safe gateway. Eventually, you would realise that you have actually saved a lot on currency exchange which is also one of the main expenses.
But for a few small transactions, Pay Pal can really prove expensive. For an Instance, I wished to book a 17 Euros (1360 INR) worth to and fro tickets to Cologne but I ended up paying 1600 INR through Pay Pal. Please count your currency rate before spending. For EG. I had purchased Euros at the rate of 80 INR : 1 Euro and within a month the rate had increased even more, so any online transaction after that cost me more.  😐
Couch Surf 
Okay, so, first of all, let me clarify one thing that couch-surfing in Europe isn't just about booking someone's place to cut on your stay costs. While even the beggars in Europe need to entertain with music or dance or whatever skills they have, the hosts in Europe would at least look for an interesting person with whom they can share some travel stories or learn some skills. Want some tips and details on Couchsurfing in Europe? Click here to read.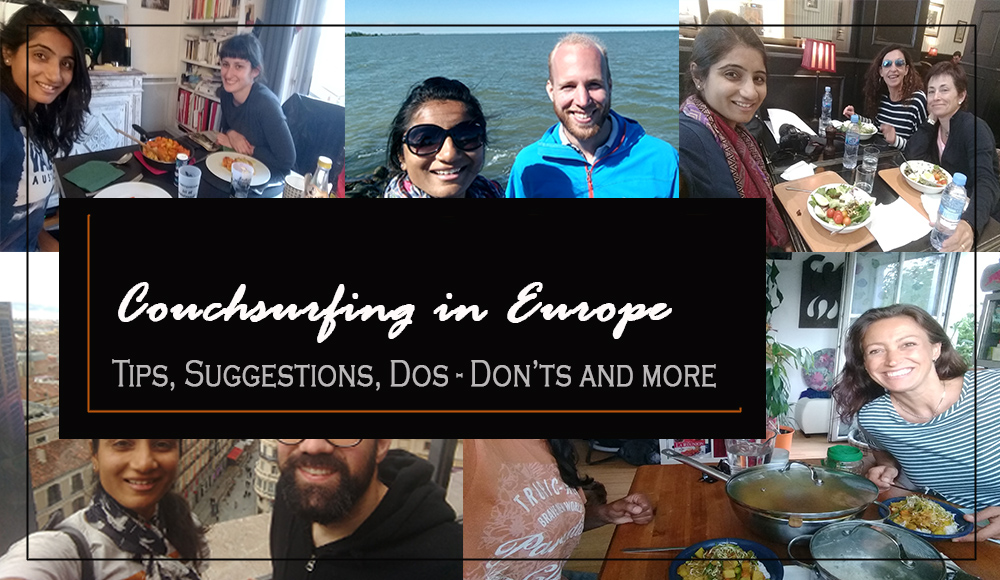 It is advised to have some exchange of energy in order to succeed with Couchsurfing in Europe (in fact this implies for Couchsurfing anywhere in the world). Read the person's profile carefully before putting up any boring and usual requests. Kindly do not treat your host's home as a hotel, if you are an introvert then Couchsurfing isn't your cup of tea for sure unless you wish to open up.
Opt for Hostels or Appartments
The only thing you need to keep in mind while booking a hostel, hotel, surfer or an apartment is its vicinity to the centre. Otherwise, you would end up spending more on internal commutes.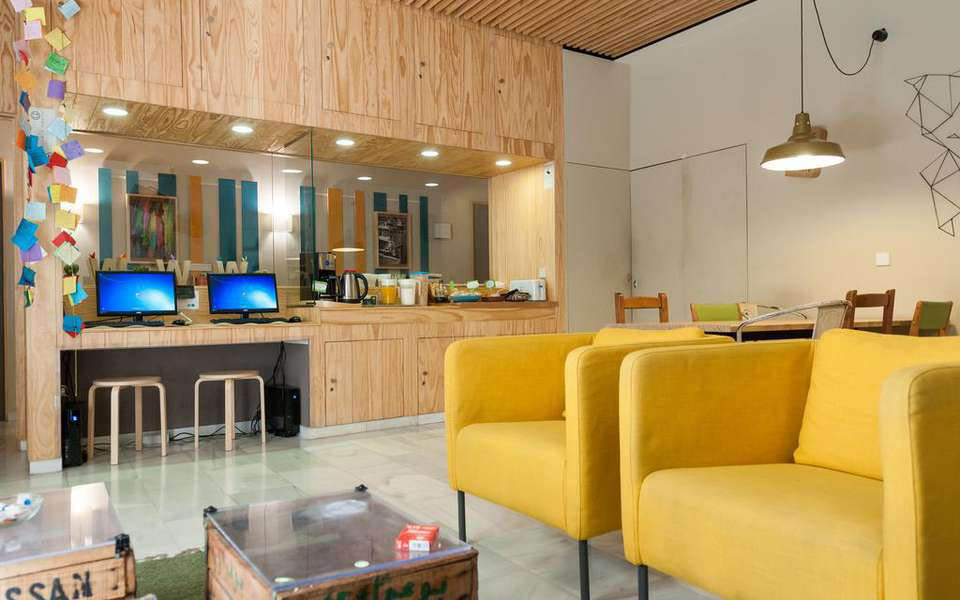 The common area at The Nomad Hostel, Seville
Hostels and apartments provide you with a facility to use their kitchen and cook, and hostels also provide free breakfast, tea/coffee most of the time. This would help you cut on one of the major cost of outside food. But it is advisable to read the reviews before booking any hostel, I would later be writing about some of my best and worst hostel experiences in Europe.
Look For some of the best hostels I have tried in Europe
Seville – The Nomad Hostel
Prague – Mojo Inn
Frankfurt – Five Elements Hostel, and  Youth Hostel (for the students and long-term stay)
However, not all the hostels were so awesome. I shall soon share the Best and the Worst hostel experiences in Europe.
Volunteer at Hostels
If you are planning to spend a long time in a particular city and you are backpacking solo then hostel volunteering can come to your rescue. Most of the hostels have a separate section of 'volunteering' on their websites, if not, then you can mail them and pitch them saying how can you help them.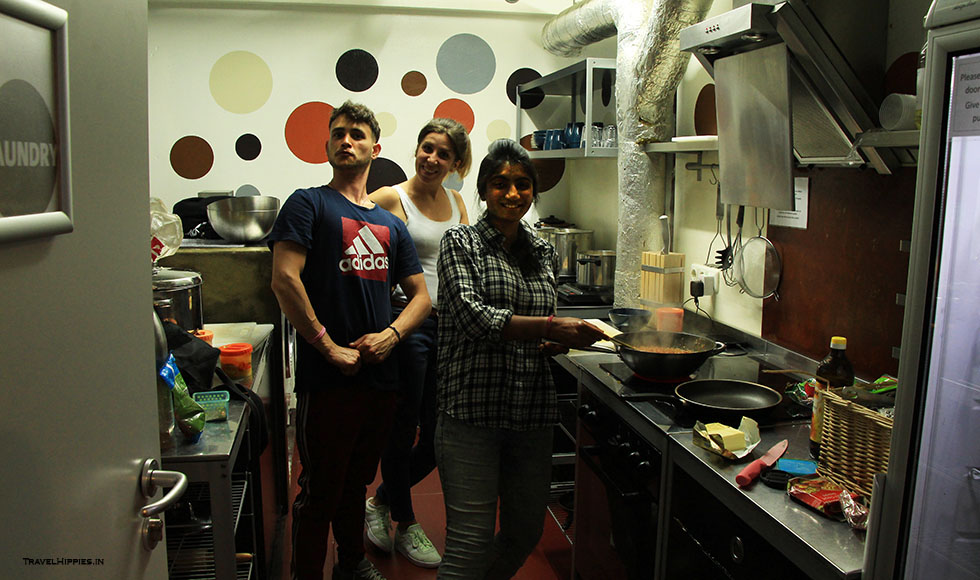 Preparing for the Indian Dinner Night at Five Elements Hostel, Frankfurt
The hostels usually require help in managing their front desk, kitchen, cleaning and managing accounts. If you have a skill then you would be more than welcome everywhere. This way, you would also have good experience in a foreign country and would also cut on your expenses. (Such volunteering is illegal but is in practice)
The only thing you need to remember is that no one would accommodate you for such barter system for a short duration. Hence, this option remains open only for full-time nomads.
Take the Travel Cards or City Passes, Book the Museum Tickets online and Opt for a Combo Ticket
If you have ever observed that rather than taking separate tickets at each attraction in Jaipur, a 250 INR of a combo ticket for all the attractions is way cheaper. In a similar way, most of the tourism websites in Europe Provide a City Travelcard that might include hop on Hop off bus, free/discounted tickets to most of the attractions and food vouchers in some cases. For an instance, the Barcelona city travel card for 3 days was much of help to me and it had also helped me save on separate expenditures in the city. In a similar way, Copenhagen Card, Aarhus City Card, Vienna City Card, Salzburg Card and Munich Travel Card are very useful in saving costs on major attractions and travel.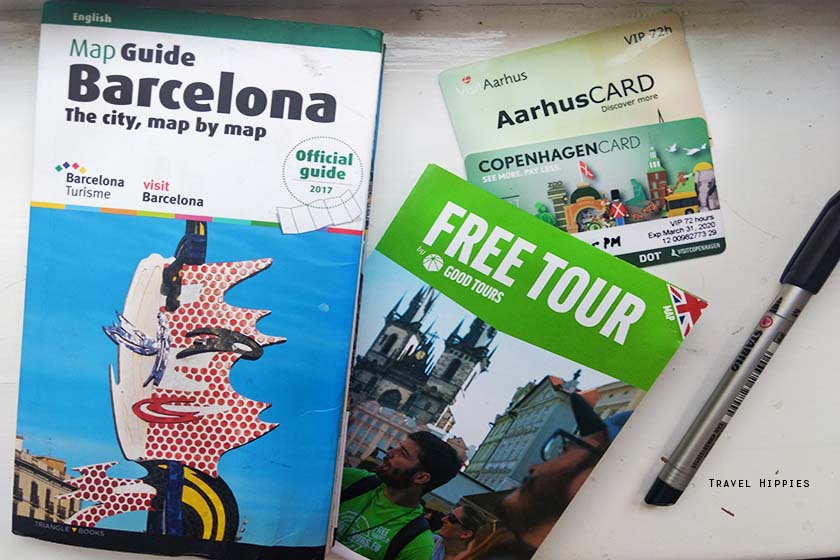 Moreover, always look for a combo ticket of the Museums. For an instance, 30 Euros for 6 museums in Barcelona and so on.
Walk, Walk and Walk More
While in the bigger cities you may need to rely on public transport system but in a small city, walking is the best way to explore. I walked around a few cities despite having the city cards, the only reason being, you can scroll through the untouched veins of the city. Walking on a stated pathway or randomly in the criss-cross lanes of the old towns may anytime land you on some interesting places not marked even on google. If it is your first time in Europe you may want to gasp in all the heritage buildings' exteriors, beautiful lakes, fountains and parks. This can best be done when you are on foot.
The cities that can easily be explored by walking are:
Cordoba – Seville – Granada– Madrid –  Paris (Yes!!) – Brussels – Bruges – Antwerpen – Ghent – Amsterdam (Or on a cycle) – Aarhus – Copenhagen – Berlin – Prague – Vienna (Only some areas) – Salzburg (However, the Salzburg Card makes everything free, the best deal in Europe) – Munich – Frankfurt
Avoid following this if you are running short on time.
Focus on Free Things to Do
The Entry tickets to some of the museums and palaces can be super-heavy on your pocket. Here is where your research comes handy. You must select which museums/palaces are 'must-visit' based on your personal interest. Frankly speaking, if you are not much of a history buff, you can avoid most of the museums in Europe. Alternatively, you can choose to 'visit one of their kinds'. For an instance, if you wish to visit an opera in Europe find the best of all and visit only that one. Opera Tour in every European city may be monotonous for you.
Apart from this, the internet is full of lists on 'Free Things to Do' in each and every European City. Ensure that you do not miss 'experiences worth-spending' in your quest of following on free things to do. If you are a photo-crazy bug, you might not want to miss the stunning views of the city skylines. As per my research, all the cities have at least one free viewpoint + some cheap spots where you need to climb for a view by paying a little.
Here are some of my lists of Free Things to do
Best Free Things to Do in Copenhagen
Best Things to Do in Aarhus – Offbeat Denmark
15 Awesome Free Things to Do in Vienna
A Self-guided Walk – Fun and Free Things to Do in Munich
12 Fun and Free Things to do in Cologne in a Day
15 Best Viewpoints in Salzburg: Explore Its Offbeat Side



Take Hop on Hop Off Buses in the Bigger Cities to Save on Metro Tickets
While in Europe be ready to walk for miles and miles together. However, it is impossible to cover the places in huge cities like Barcelona, Berlin, Munich, Vienna, Salzburg or Frankfurt. In this case, you can go for the Travel City Cards that include the hop on hop off bus passes or can just opt for the bus passes separately.
For an instance, while in Barcelona, I had opted for the Barcelona Turistic Bus, and I didn't only travel to all the attraction but could also get the free audio description to the next destination on the way. It is surely not a bus that would limit your time at each place, but you can spend the howmuchever time you wish to at a place and then again hop on the next bus at the stop where the buses keep plying every 5 minutes. This didn't only save my time and money but also ensured that I did not miss any of the attractions.
Control that Foodie mind and Save on Food Expenses
The best way to save on food is to carry ready-to-eat food packets, snacks, spices, chutneys, instant noodle packets and pasta packets from India. I had even carried some rice, sauces and dry chutneys to eat with bread.
Couch surfing, Air BNBs, hostels, and apartments have kitchens with basic equipment and you can surely cook some simple foods. (Forget full meals while traveling, it's just the matter of a few days)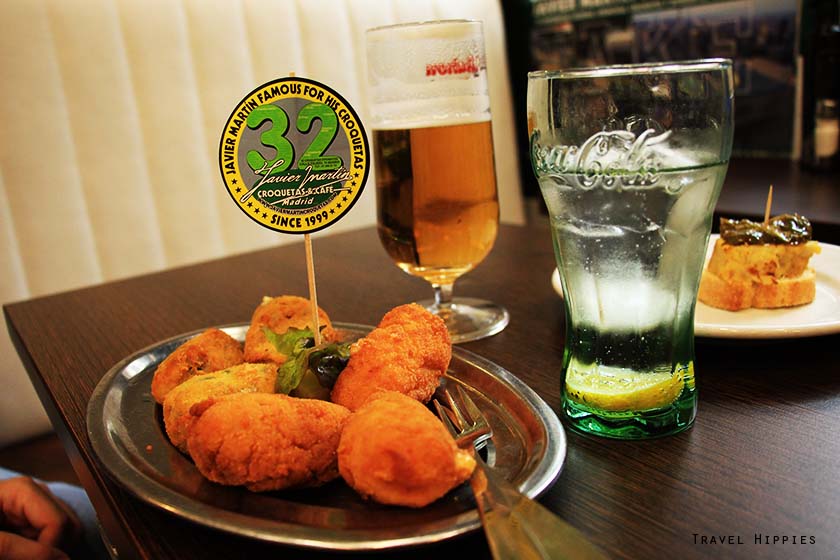 Spain will lure you the most 😛 and once you move northwards it keeps getting blander, so grab the best of Spain without fail. Paella, Croquetas, Tapas and Gazpacho won't let you go without trying them for sure. 
While you compromise on food, do not compromise on nutrition. The fruits, salads, wheat bread and pizza slices are comparatively cheaper. For an instance, a box full of tofu, lettuce, meat (ham/pork/beef/chicken slice), olives, tomatoes, and some local leaves cost 1-2 Euros in the supermarkets in Spain. Even pure vegetarian salads are available. The prices might differ from a country to other. Anything in a supermarket is surely cheaper than in restaurants (Even alcohol). (Written in 2018)
However, if you are a foodie then you must keep a budget of 300-400 Euros just for the food because the aroma of a freshly baked cake or deliciously garnished and showcased local food would surely make you lose the control over your mind. (I have spent maximum on those pastries, ice-creams, and chocolates)
Note: Though most of the European cities have Indian, Bangladeshi and Pakistani restaurants, they might cost you your day's salary.
Chuck the Bottle, Save a Euro
The water in any tap in Europe is way better for your immune system (especially if you are an Indian), there is hardly any need for a packaged drinking water. There would be running sprinklers or taps in most of the streets and garden. They all usually have drinking water. Moreover, the taps at any of the monument or attractions would also have drinking water.
If you drink alcohol then bingo… it is cheaper there (Would differ in each country). A litre of beer from a supermarket in Spain costs around a Euro which is almost equal to a small drinking water bottle.
Thus, travelling to Europe may not be as cheap as travelling in Asia but it can definitely be cheaper than those packages quoted by the travel agencies.
Saving on useless Toiletries and Beauty
Most of the advice on this topic is applicable to girls on their long trip to Europe. However, guys can apply it for their personal care products too. However cheap they might be it may be, it may hamper your dream of ' Backpacking Europe on a Budget '.
Carry enough shampoo pouches or bottles (Hostels don't provide free stuff)
Carry an epilator or hair removal cream, coz waxing n Europe is expensive even for the locals.
Europeans don't know threading (Except for the Turkish Parlours), so, learn to pluck and shape your eyebrows yourself. (I am sure you don't want to pay 15 Euros (Around 1200 INR) for getting your eyebrows plucked with a 10 rupee plucker.
Sanitary napkins aren't too expensive in most cities. At any Chinese/Asian Store, you will get it for 1/2 Euros.
Peeing may be free in most restaurants/MacDs/Starbucks located away from the tourist centres. Or else, you would end up paying 50 cents to 1 Euro ( Around 80 INR) just for peeing.
Other Europe Guide that can help you with Backpacking Europe on a Budget
How to Score a Schengen Visa on an Indian Passport; An Ultimate Visa Guide
Backpacking to Europe: Where to Go & How to Plan
Europe Food Guide for (Non/) Vegetarians and Budget Travelers
Couchsurfing in Europe – Tips, Request Samples and More
Pin it Now, Refer it Later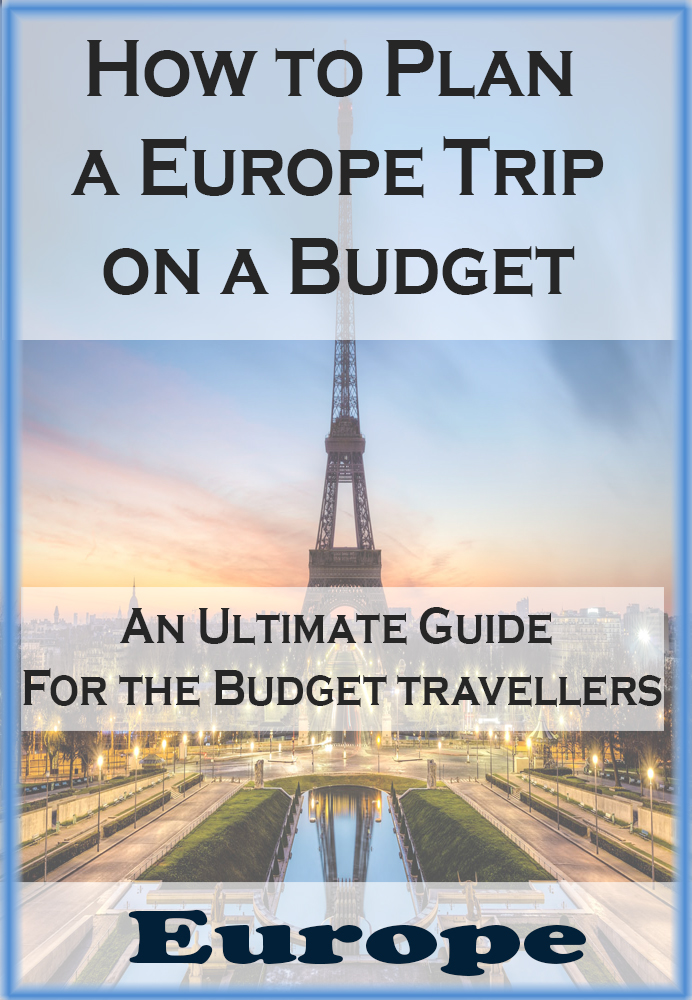 Follow me on