Famously known as South Goa's neglected cousin, Gokarna is also loved for the very same reason. Sprawling beaches, the bliss of nature, the tranquility of countryside areas and the mélange of cultures attract travelers and hippies from around the world to Gokarna. We visited Gokarna for around 3 days on a road trip from Bangalore. Though beach hopping would be the main thing to do in Gokarna, you would be startled at the list of the other interesting things that you can do in this religious town of Karnataka in India.
This page contains the list of things do in Gokarna and places to visit along with a detailed guide on cost for the same or how to reach a particular spot. Keep reading to enlist the places and activities for your exploratory trip to Gokarna.
If you have no clue about 'what, where and why' of Gokarna, then read this detailed guide to plan your trip to Gokarna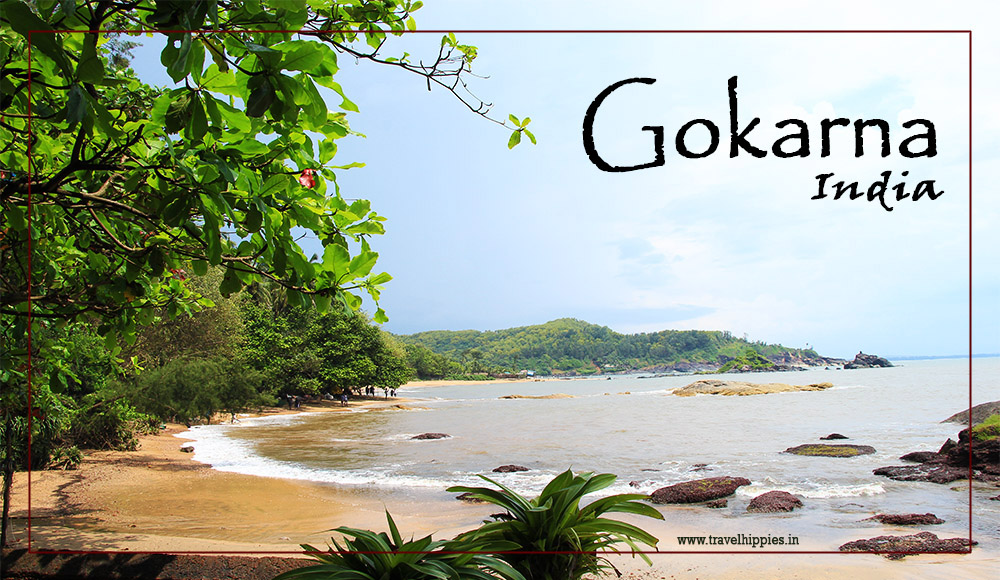 Take a Ferry to Honey Beach
If you are dreaming of a private beach then Honey Beach is for you. Honey beach caters tranquility apart from the music of the waves on the shore. It gives the much-needed solitude for a day by the sea.  There are no shops or cafes apart from an expensive restaurant in the beach resort.  An ancient Digambar Jain temple nearby the beach can be an interesting activity too. The religious connection to this beach makes it an auspicious place for the believers. Noisy parties and other activities are thus restricted on Honey Beach. The serenity often lures many sea creatures and birds on the shore making it a distinctive experience for the visitors.
How to Reach Honey Beach
Located beyond Gokarna Main beach, the ferry at the Gangavli River runs every 15-20 minutes. You can rent a bike from Gokarna to reach the ferry point. They just charge 5 INR per person and 10 INR for a two-wheeler. Yes! You can carry your vehicle inside the ferry. The same bike can then be used to reach Honey Beach passing through some green hilly route. You can return the same way but ensure to catch the last ferry from Gangavali which is at 7 pm.
Alternatively, you can also opt for a considerably difficult trek to Honey beach by crossing the hills northwards at Gokarna Main beach and then taking the ferry from the Gangavali River. This trek extends upto 2 days with a night camping at the Sangam beach.  The route is well marked and may not be a problem to find it. You can also just walk along the road to avoid getting lost.
Where to Stay at Honey Beach
Option 1: Pitch your own tent and carry your own meal. Please choose a proper place on the beach to be safe from the sea creatures creeping in your tent.
Option 2: Book your stay at  Honey Beach Resort or Honey Beach Cottages. It is the only option for a proper stay at Honey Beach.
Go Beach Trekking from Gokarna Main Beach
The beaches of Gokarna are known to be idyllic and serene, compared to the other places. One of the reasons is that they are not so easily reachable by cars or public transport. This makes many of them secluded and serene in real sense. You can trek to some of these surreal beaches in Gokarna. Here is your complete guide on trekking to the 6 prominent beaches of Gokarna.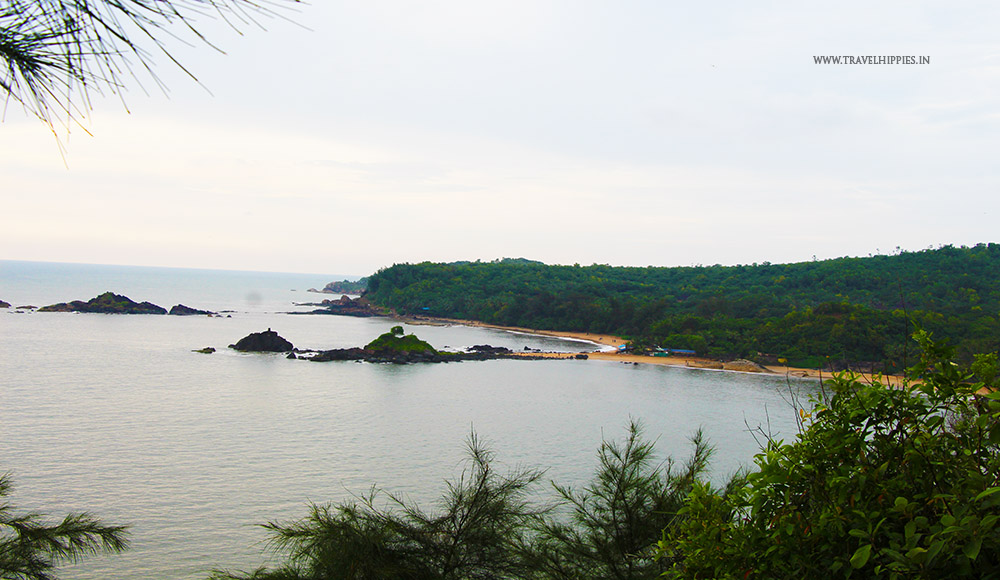 A bird's eye view of Om Beach from the Viewpoint
How and where to start trekking in Gokarna
Options 1: If you have more than enough time and stamina, you can start right from the Gokarna main Beach. Then, head south towards Kudle Beach – Om Beach – Half Moon Beach – Paradise Beach.
The complete stretch can be rated as moderate on the difficulty level. All the climbs soon follow a leveled trail or a descent. If you are slow and take a lot of photography breaks, it may take a full day or more than a day for you to complete the entire stretch.
Options 2: You can reach by driving to Kudle Beach as well as to Om Beach. By opting to go by vehicle until any of these beaches, you can straightway cover around 5-6 kilometers.
My Opinion: I feel Om Beach is the best to start your trek. It is a few kilometers run straight on the shore and beyond that, you need to climb a hill. A junction after this climb would ask you to choose your way among 3 places …

Om Beach View Point (This just gives you a top view of the whole beach and is the easiest climb).
The second one goes to Half Moon Beach which is a fairly straight yet precarious walk on the ridge of the hill.
The third option is to move beyond the Half Moon beach and reach Paradise beach after almost 2.5 hours of trek.

If you are staying at Om Beach, it is quite easy for you to trek till Paradise and return the same day.
Also, ensure to go prepared for this trekking venture. A refillable water bottle and snacks/packed lunch are needed as there are no shops or cafes beyond the Om Beach Hill.
Those who can't trek can take a ferry from Om Beach outside the Namaste Café till Paradise Beach. The ferry operates from mid-October to June. Alternatively, you can take a bus from Gokarna to Belakan. It is the nearest village to Paradise Beach. A few kilometers of the moderately difficult  hike would bring you to Paradise Beach from the village. Read a personal Guide here.
Gokarna to Paradise Beach Ferry Charges
Ferry Charges from Om Beach to Paradise Beach: 100 INR
Ferry Charges from Gokarna Main Beach to Paradise Beach: 150 INR
Enjoy Overnight Camping at Paradise Beach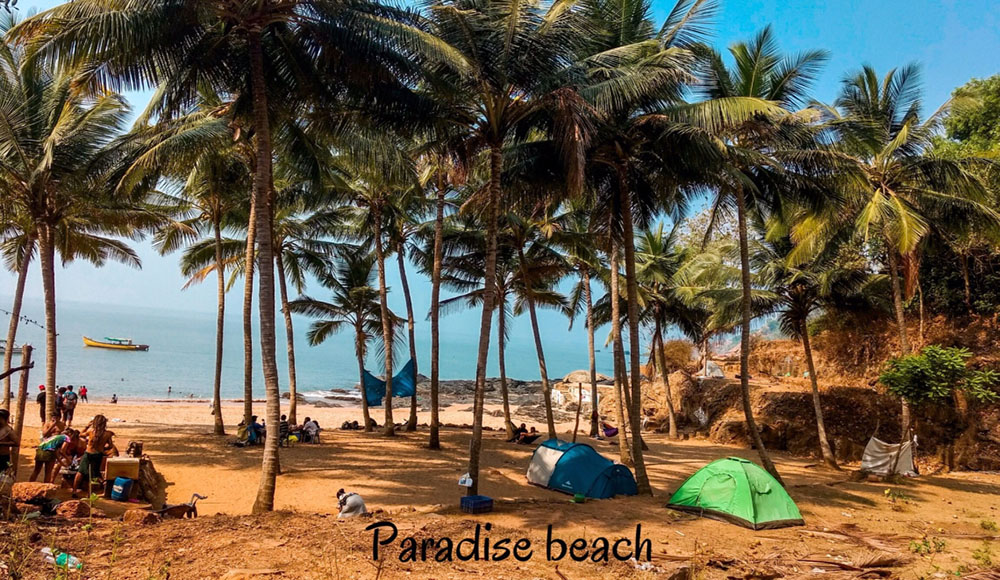 Paradise Beach Camping Site, Image CC: Travelophillic
If you often dream to just run away to a beach with your tent and camp by a roaring sea, then Paradise Beach would make your dream come true. You may also meet the fellow campers during peak season. Don't be surprised to see the whole beach dotted with colorful tents. Bonfire, live music by some fellow travelers and cool sea breeze is what you can expect from your night camping venture. There are no other stay options on this beach and people exclusively come here for the sole purpose of trekking and camping.
Go For a Day-long Fishing with the Local Fishermen
This is clearly not something we usually do on a trip. If you are willing to take a risk and enjoy an offbeat experience in Gokarna, then you can choose to sail deeper in the ocean along with fishermen. These fishermen usually start early in the morning. You can enquire a day before with anyone who would not mind taking you along. Their boats are parked at Om Beach and Kudle Beach and even the main beach. Note that it would be a whole day till you return. However, you can learn the art of fishing from the professionals.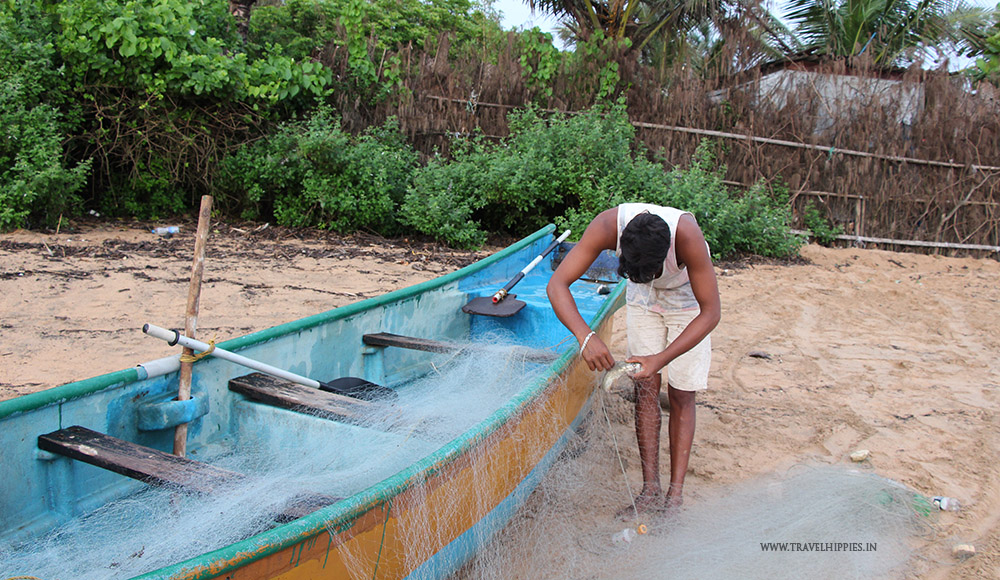 It would be sensible to note that you are going on this adventure at your own risk. You must not behave in any manner that may put yours as well as others' life in any danger. For a safer alternative, you can choose a boat that doesn't go much far in the ocean and is about to return only within a few hours.
Relish a variety of Satvik Brahmin Food
Besides being a magical beach town, Gokarna also has its roots in a mythology which makes this place a pilgrim for the Hindus all over the world. This place is supposed to have been created by Lord Shiva and thus shares equal importance with the holy city of Varanasi. The Brahmin residents usually cook prasad to be served to the other pilgrims who avoid nonveg and prefer satvik Indian food.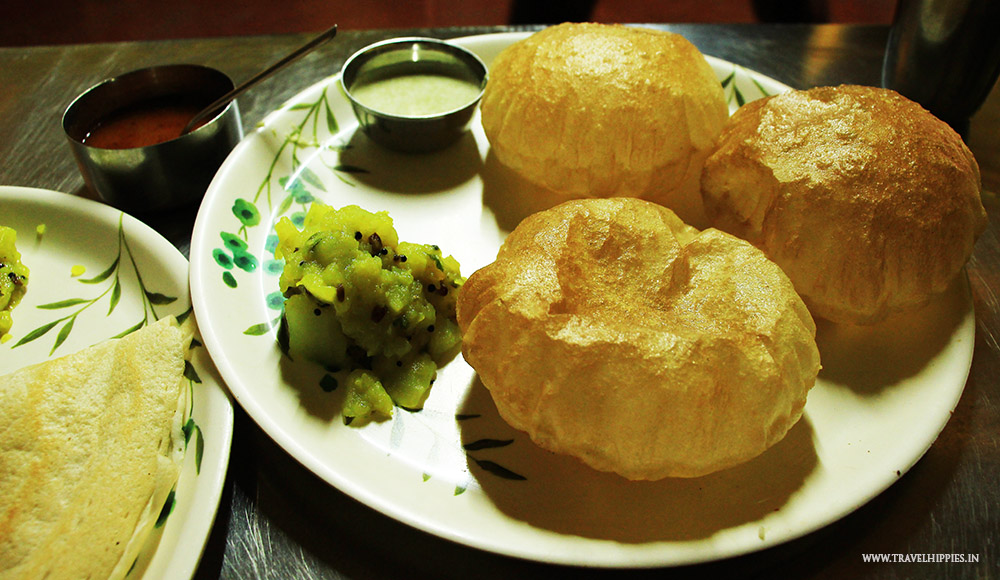 One of such homes serving delicious food is located on the main temple roads in the west direction. (opposite direction of the coast). It is called Dattaprasad Tiffin Center which serves home-cooked south Indian breakfast. The Sambhar (lentil soup) here is really lip-smacking coupled with soft idlis and crispy dosas. The family serving fresh food while you are seated in their home gives a homely feeling altogether.
Ensure to reach there before 10 am or else everything would be over. Well, even if it is over, you must not worry. The home right beside it runs a restaurant for a century. They serve all kinds of meals cooked by an old lady in the home. Their home-made peanut butter is something you must try. You can also purchase a bottle or two for your home from this place called Shiv Shakti Hotel.
Beach Café Hopping
There is absolutely no dearth of beachside cafes in Gokarna. The most famous ones with pleasing views and food are located at Gokarna Main Beach, Kudle Beach and Om Beach. The food is still average and mostly meant to serve foreigners. Here are your options for the best cafes on each of the main three beaches of Gokarna.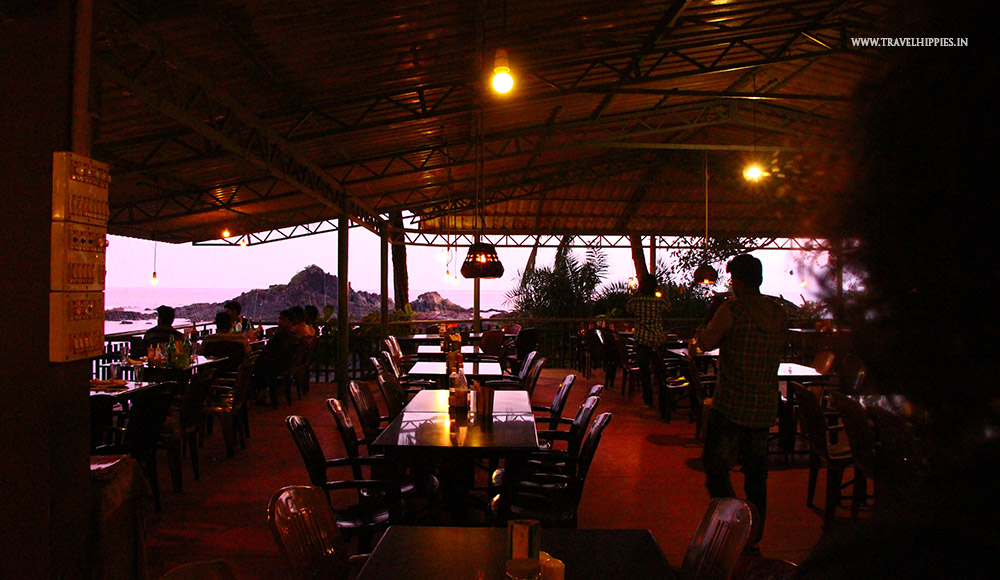 Gokarna Main Beach: Surya Café and Sunset Café would definitely win your hearts with their delicious food and cool ambiance with a view of the roaring Gokarna Beach. A nameless café right beside Gokarna Camps can also be tried for its Indian dishes, especially Dal Tadka. If you are craving for some spice then these restaurants have pahadi cooks from Uttarakhand and can be trusted with the authenticity of Indian varieties.
Kudle Beach: Travellers and backpackers swear by the delicious food and chilled out the ambiance of Mantra Café by Zostel. Sandwiches, burgers, pizza or a South Indian meal is what you must shoot for when in Mantra. Sunshine Café is another option for some good food at a reasonable price. The sea view from the café is a plus point.
Om Beach: For hummus, sandwiches, and beers with a view of Om Beach, Namaste Café is an ideal place. The only elegant restaurant on this beach lures a number of travelers and most of the time both of their floors are occupied. However, the wait is worth it if you wish good service, average food, and lively ambiance.
Try Your Hands at Surfing and other Water Sports
The high waves of Gokarna Beach are ideal for surfing beginners. Right beside the Surya Café is the Cocopelli Surf School which can give you lessons into basic surfing. You can even opt for just 1 session of 2 hours a day. They also offer beginners and advanced courses ranging from 3 to 6 days. The surfing experts can also rent surfboards from here and ride on the waves on their own. You can give them a call on +91 8105764969 for further information or check their official website for more details. Learning this sport is certainly one of my personal favorite and unique things to do in Gokarna.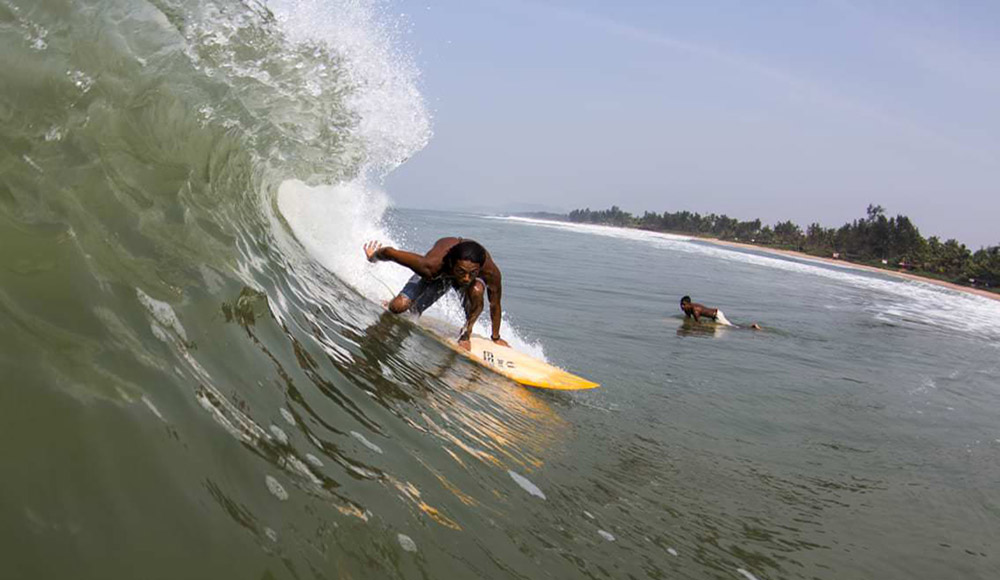 The other water sports at Om, Gokarna and Kudle Beach include parasailing, jet-skiing, banana boat ride, speed boating, and beach motor riding. These activities range from 300 INR to 1000 INR depending on the season and the kind of activity.
Rejuvenate with Ayurvedic Massages and Yoga by the Beach
Most resorts in Gokarna offer an experience of massage and yoga. The yoga experts can just find a peaceful spot on the beach and spread their yoga mate to start their refreshing ritual. Mostly, the interested travelers join the yoga practitioners on the beach or just meditate on the sound of the waves.
The spa and massages can be accessed in any of the resorts even if you are not staying in. Most of them would welcome you in offseason and during the peak season, it is better to make an appointment.
Take a Walk around the Antique Streets of Gokarna Town
The ancient town of Gokarna often looks dreamy in early mornings. When the music of the temple bells accompany the singing of the morning prayers and the dhoop or the auspicious smoke from the yagyas and loban, the street look hazy with a fragrant atmosphere. The tiny old houses of the street with a private well of their own give them an antique look. Most of them are colored in vibrant shades while the others are soothing white.
The unusually dwarf cows of Gokarna roaming around and mooing or chewing on the fresh grass is also a common scene. If the sun is already up and you are in the town on some special day, the men and women of Gokarna can be seen clad in white dhotis while heading to the main temples of Gokarna.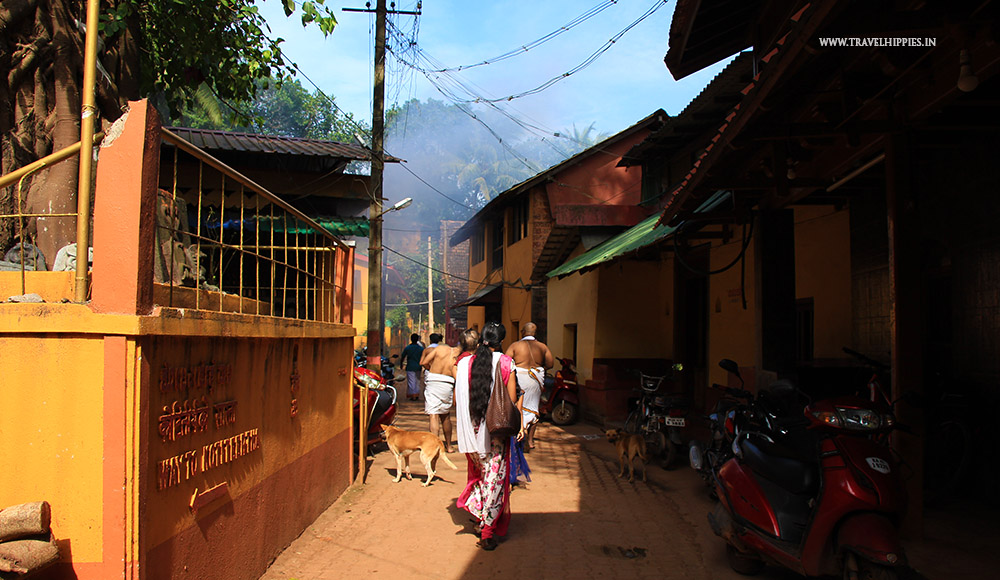 The street that you must explore is located right behind the Mahaganapati Temple leading to the Koti Tirtha. It is a huge holy water tank dotted with a number of temples.
Peek into Mythology and Spirituality at the Temples of Gokarna
A normal day in Gokarna starts with a morning prayer while taking a dip in the sea followed by bathing and visiting the temples to seek blessings from the God who once created this town of Gokarna. The main temples include: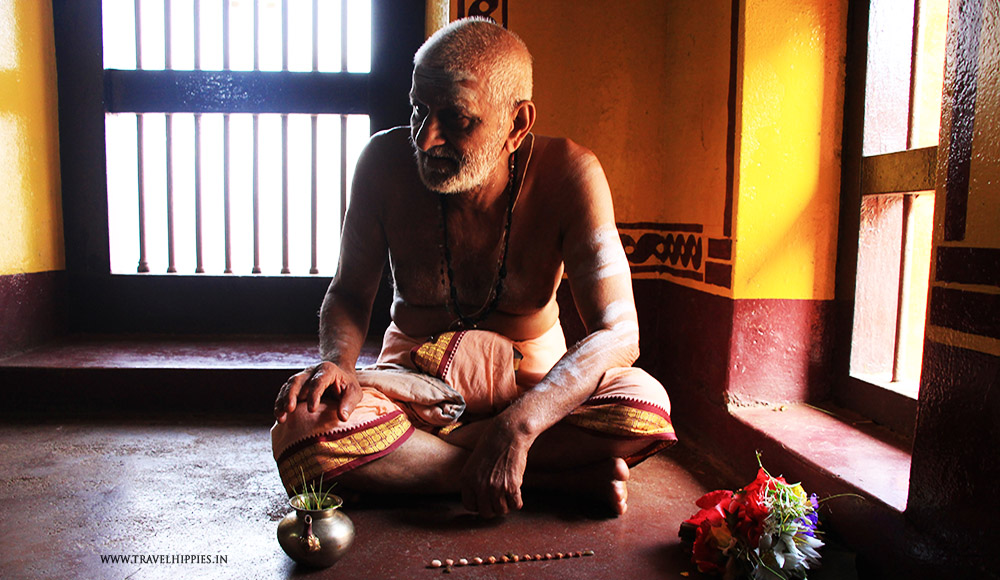 Mahabaleshwar Temple: The legend of this temple is connected to Ravana who was an ardent devotee of Shiva. With his prayers and dedication, he could get the 'Atma Linga' from Shiva but couldn't carry it till Sri Lanka because of the trick played by Lord Ganesha. Ravana then strikes upon the Shivalinga out of anger. His blow led the Linga break into pieces and scatter in different parts of Karnataka. The main or the root of the Linga still stayed stuck on the floor at Gokarna. Thus, the strongest part of the linga was named as 'Mahabaleshwar' by Ravana. Hence is the name of the temple. Read the full story of the temple here. You can touch these broken remains of the stone during the Abhisheka in the morning. The golden cover of the main Shivalinga is another feature of this temple.
Mahaganapati Temple: The only temple in the world with a standing idol Ganapati is worshipped in this temple. Ganapati, who tricked Ravana to drop the Linga in this place, manifests himself in this black stone idol. Apart from his standing posture, there is also something strange on his head which makes the people touch and caress it during abhishekam. Want to know the interesting legend of this unique Ganapati? Read it here.
Nageshwara Temple: This temple on the way to Koti Tirtha can peculiarly be identified as belonging to the Snake Gods. Its walls on all the four sides are studded with the snake carved tiles. Each tile also contains the name of its donator. It is an interesting place to pass by and pray to 'Nag Dev'.
Shop at Flea Market Markets and the Temple Road
Kurtas and pants with the prints of 'Om', Buddha and other religious symbols flood the markets of Gokarna. The artificial Rudraksha beads and other colorful necklaces can also be a great choice for a hippie look. Artifacts made up of brass and copper are also available at a reasonable rate in the markets of Gokarna.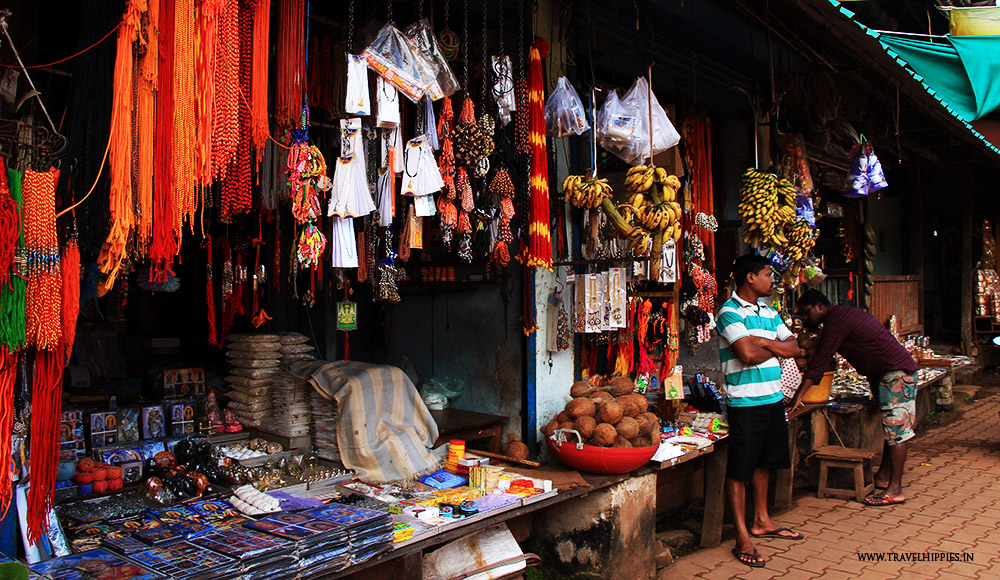 Many a time, some foreigners also put up their stalls in the flea markets on the beaches. They often sell some handmade crafts, food items, and other random stuff to earn some money. You can buy some creative items from them too.
Explore the Western Ghats and its waterfalls on a Daytrip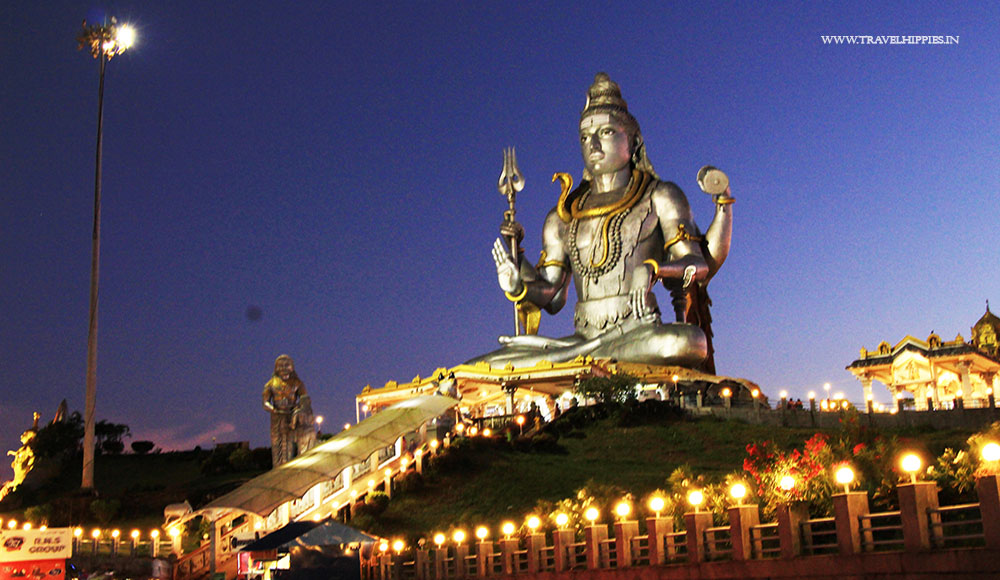 While one side of Gokarna has a never-ending view of the pristine waters of the Arabian Sea, the other side is clad in spectacular flora and fauna of Western Ghats.  Located at just 40+ kilometers from Gokarna, Vibhuti Falls and Yana Caves make a perfect combo to spend a day in the Western Ghats. Architecture lovers and history buffs can also stop by the Mirjan Fort. The other option is to drive all the way to Karwar and relish the sparkling water of the sea along the route.
Taking a trip to Murudeshwar for the top view of the gigantic Shiva statue at the shore is also totally worth it. From Murudeshwar, you can also stretch up to Udupi for its islands and food. If you are too keen on exploring some of the most beautiful routes you can extend your trip with a night stay and can cover Sirsi, Banavasi and Jog Falls too.
Was this article helpful? Did you try or wish to experience any of these things to do in Gokarna? Let me know in the comments.
Pin it now, Read it later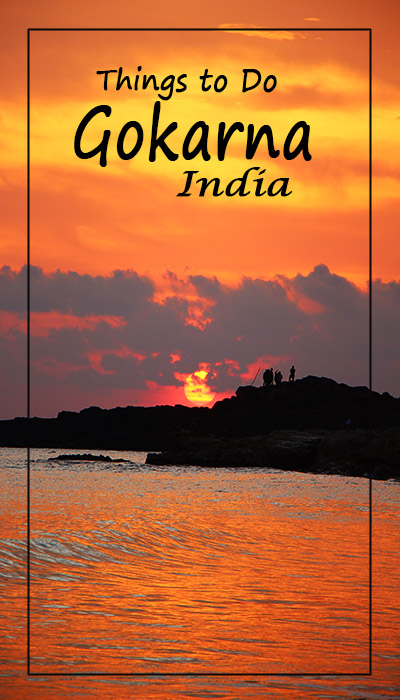 Follow me on