The whiff of mud after a drizzle, the chilling wind, the topsy-turvy roads revealing the best of the panoramic view and the Lahauli songs playing loudly in the car, made my lips stretch into a smile. Sometimes while some famous song played, I would be explained the meaning and then we all would follow the dancing step as shown by the elderly lady clad in a Lahauli dress. The little girl of the family in the car kept smiling and waving a goodbye to each vehicle we crossed on Manali-Leh highway.  In between, I was asked if I wanted the freshly plucked pears and apples from their farm. The nectar-like taste of those fruits, the music and the fun we had, made me realize the perks of hitchhiking especially on Manali-Leh Highway. It is more than just a drop!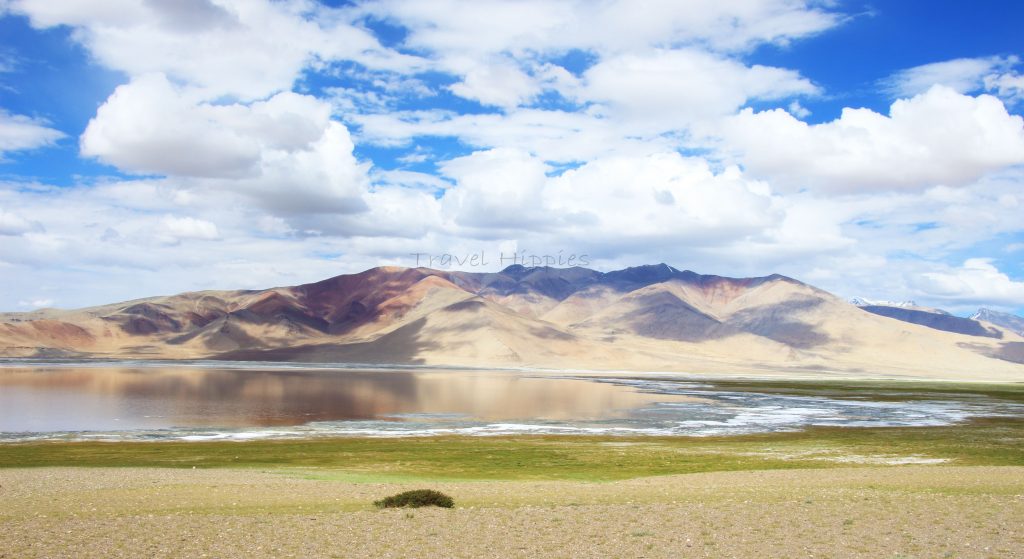 It was the summer of 2017 when I headed to Leh in order to attend the Snola Festival in a village of Ladakh. I was informed about it just prior to a few days and hitchhiking was completely on my mind after a wonderful experience during my month-long venture in Ladakh.  This time, I had to do it from Manali onwards. I wasn't sure if I would be successful in getting drops. But thankfully, from a village named Dhamsu, 13 km before Manali, I was given a drop in a pick-up vehicle carrying pears.
I reached Manali and from the road itself, I stopped the vehicles if anyone was moving towards Rohtang. Kothi is the place just before the Rohtang La where most of the locals keep heading for their business. And luckily, I got a drop in one of the vehicles of a café owner in Kothi. He guided me how I should be moving about and where all I should be halting.
And there onwards my journey started. And here is a guide for all the budding hitch-hikers along with the stories of my journey to motivate you.
What is the exact route on Leh-Manali Highway?
Onwards: Manali – Rohtang La –  Keylong – Jispa – Darcha – Sarchu – Tso Moriri – Leh
Return: Leh – Jispa – Gondhla – Koksar – Rohtang – Manali
These are the stops/stay which I had preferred. You can choose to skip to add any depending on the number of days you have.
Manali, Naah!! Vashishth
The chances of getting a drop from Manali are very less considering most of the people moving ahead to Rohtang would pass by the main road. Move ahead to the main road from where you can reach Vashishth. Most of the vehicles on this route are moving ahead towards Rohtang, Lahaul or Spiti. Even if the vehicle is moving only till Rohtang or Spiti, You can always hitchhike till certain points.
What did I Do: I had boarded a tempo carrying grocery items to a village named Kothi, The seat beside the driver was empty and thus, he didn't mind dropping me till his destination. He further guided me and helped me hitchhike with an acquaintance in a car till Keylong.
In case you fail to take a drop till Keylong, you always have an option to stay in the tents at Koksar.  It is a permit checkpoint for all the vehicles. (The normal prices are high, but I could bargain for a night just in 100 INR) If you are fine with shared accommodation, you can request any dhaba owner where you eat (at Koksar). Possibilities are high that they won't even charge you for the stay. My personal advice would be to pay them a minimum if you aren't facing any financial crunch.
Explore Keylong, and Hitchhike to Jispa/Darcha
If everything goes well, you should reach Keylong/Jispa by early/late evening. You can enjoy the streets, plantations and a beautiful sunset painting the valley pale golden. If you hitchhike again back on the road till Hotel Keylong (Trucks are the best for short distance), you would reach the campsite adjacent to a unique project farm. A company is trying to grow different breeds of wheat with a unique technique. The team arrives there by 9:30 am and may give you a good insight of their project. Till then you can enjoy the potato fields carpeted with blooming white flowers.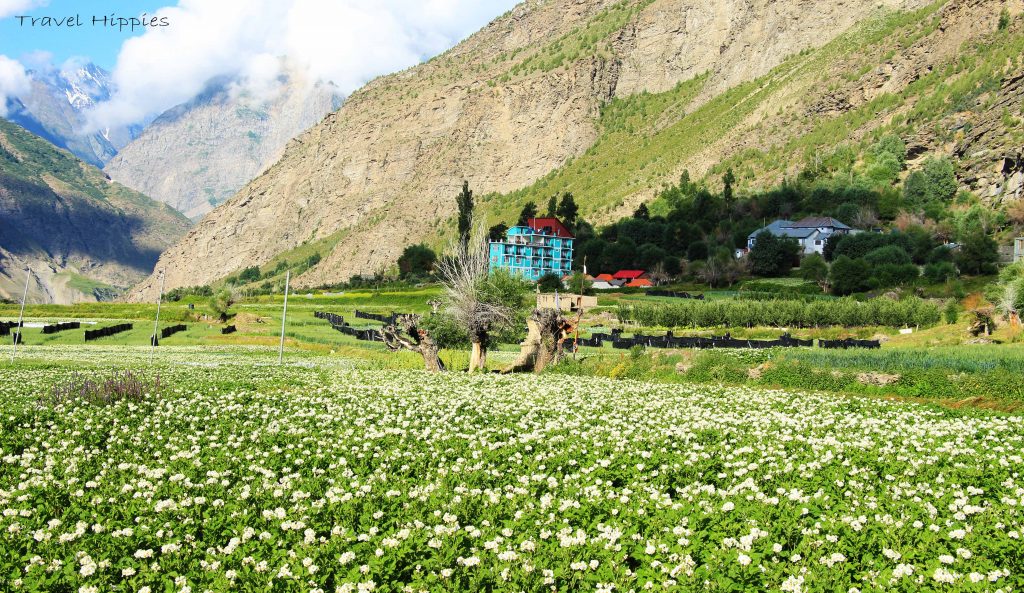 If you are into learning something interesting, you can visit the office of an NGO named Pragya and join them on field visits to the nearby villages where the birth of a female child is a matter of pride and grand celebration or the fields practicing organic agriculture sans any processed seeds.
If the above-mentioned things don't impress you much, I would advise you to leave to Jispa/Darcha/ Sarchu which all fall on the route to Ladakh.
Where to stay in Keylong: A number of dormitories are available near the bus stop that gives you a bed for 100 INR a night. The hotels at Keylong may sound expensive for the budget travellers, but easily available for 500-700 if you imply your bargaining skills. I stayed at a green hotel bang diagonally opposite to the bus stand. It had a bearable bathroom within the building, unlike other dormitories where you need to use the public toilets. The 100 INR even included my dinner. Shared surface with a proper mat is provided here.
Jispa, Darcha or Sarchu?
If your aim is just to transit by the route, then you can just move ahead and head to Sarchu/Leh from Keylong. Jispa is just 25 km from Keylong, Darcha is 32 km and Sarchu is 108 km. choose your destination according to the distance you wish to cover.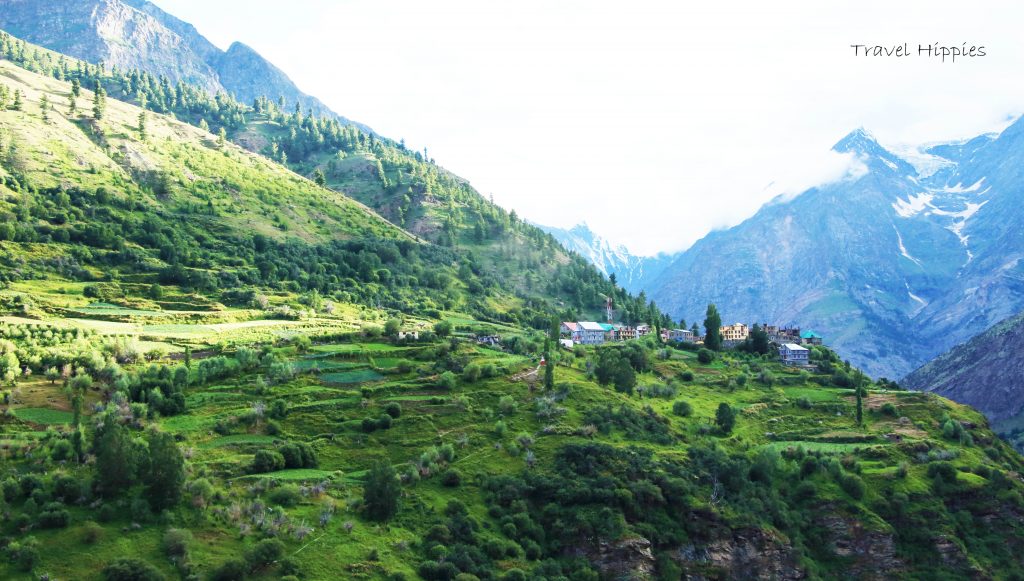 View from a cafe in Keylong
Jispa and Darcha have more of open lands and river banks. If you wish to spend a day near the gushing river of Chandrabhaga and enjoy some surreal view, a stay at Jispa or Darcha is advisable. You can take a photo-walk in Jispa with the setting sun making the river magically sparkle and the women clad in Lahauli dress returning to their homes from the fields. (Personal advice, do make a halt here to experience a slice of a Lahauli village)
Where to Stay
Jispa: A newly formed and the only camp suitable for solo/couple travelers. They don't have any advertising or travel agent, or any website. You can directly reach the owner here. Mr. Nirmal: +91 9418270202, 200-400 INR are the charges per person, and you can ask him to put the tents where you wish in his campsite. In case you have your own tent, you would be allowed to pitch in his camp (Ask and bargain for the charges of the same). Camping on the river bank can otherwise become a hassle and illegal as the sites are private. (However, real travelers can manage with such rules; people in Himachal are nice and kindhearted)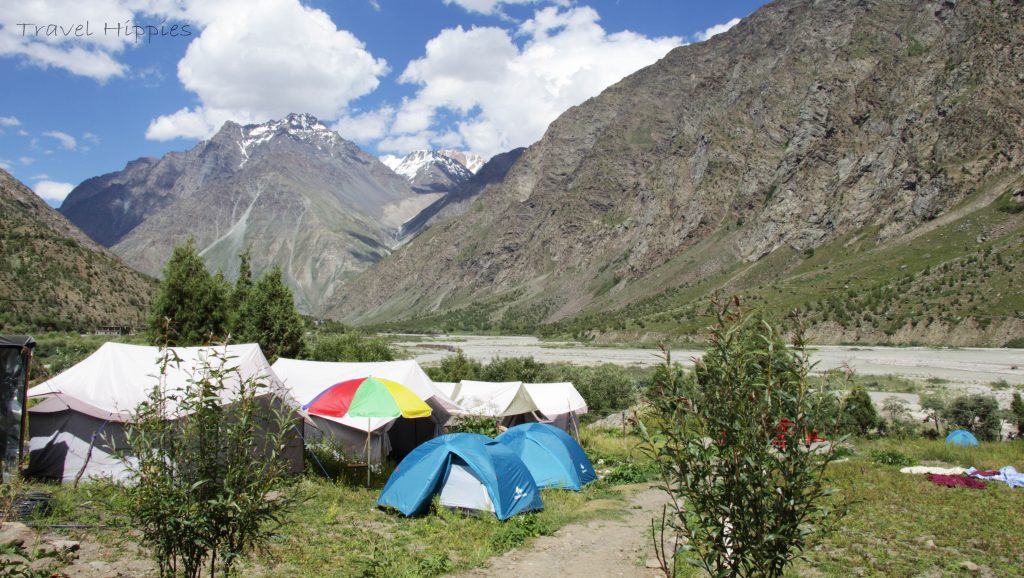 Jispa Camp near Chandrabhaga River 
Darcha: Darcha doesn't have any hotel or campsites. It is just a check-post with a number of Dhabas with a few make-shift beds. 100 INR is what usually they charge and the food is also given on request. Note that the dhabas are often used by the truck drivers and dhaba owners for a night stay. Only if you are fine with them and a bit snoring then you may stay here. The village is across the river and you may also find some homestay.
ZingZing Bar: If you love the high altitude, cool winds, and snow-clad mountains then ZingZing Bar (No it is no way similar to a bar, so stop dreaming) The arrangement is similar to Darcha here. The dhabas have the beds set like a train and you may occupy one of them. If you are a solo girl then please note that there are not settlements ahead of or after this place. So, take your decision as per the convenience and the capacity to face any challenge. The charges won't be more than 100 INR per night again.
Sarchu: Not many dhabas located here despite a busy check post. And the camps here can be super expensive considering the inflow of the travelers and bikers here. 500-1500 INR is a normal range after bargaining. (If you have stayed for any lesser amount, please feel free to comment here with the details to help your fellow travelers.) Sarchu is also a gateway to Ladakh.
It is easy to get a vehicle to hitchhike from Darcha, Jispa and Sarchu owing to the frequency and the road heads only to Ladakh. Most of the vehicles stop at the check-post in Darcha and Sarchu, thus it becomes easier for you as a hitchhiker.
What did I do: I stayed at Mr. Nirmal's camp in Jispa. As he himself was present in the camp, he dropped me till Darcha check-post from where I hitchhiked with a family heading to Leh.
Sarchu to Tso Moriri
The most important thing is, it would take almost a full day for you to reach Tso Moriri from Darcha/Sarchu. The stretch is one of the most beautiful on Manali-Leh Highway. Here, you would need to hitchhike twice in different vehicles. (You would be lucky if you get a vehicle heading straight to Tso Moriri. )
So, Which place do you hitchhike first?
You need to hitchhike till the junction from where the roads divert to Mahe. There are only 3 tented dhabas at this junction, so be alert to recognize it if the driver doesn't know the exact route.
From Mahe, you would see many tourist taxis moving to Karzok (Tso Moriri), you can either hitchhike with any of them or if you  land here in the noon, you would see many vacant taxis heading to Tso Moriri for the one-way pickup of the tourists or to transport some required items to the camping sites. You can stop any. Many of them might ask for money. Thus, clarify the matter before boarding.
What did I do: I hitchhiked with a cab heading to pick up the trekkers from the Tso Moriri Camping Ground. The driver Rigzin was quite cool, he also took me to the wildlife camping area and Tso Kar lake as he had to give some bread loaves to the camping site there. He offered me a stay at his camping ground in the Nomad's land and I eventually ended up sleeping in his cab (which was way warmer than tents), gazing at the sky studded sky.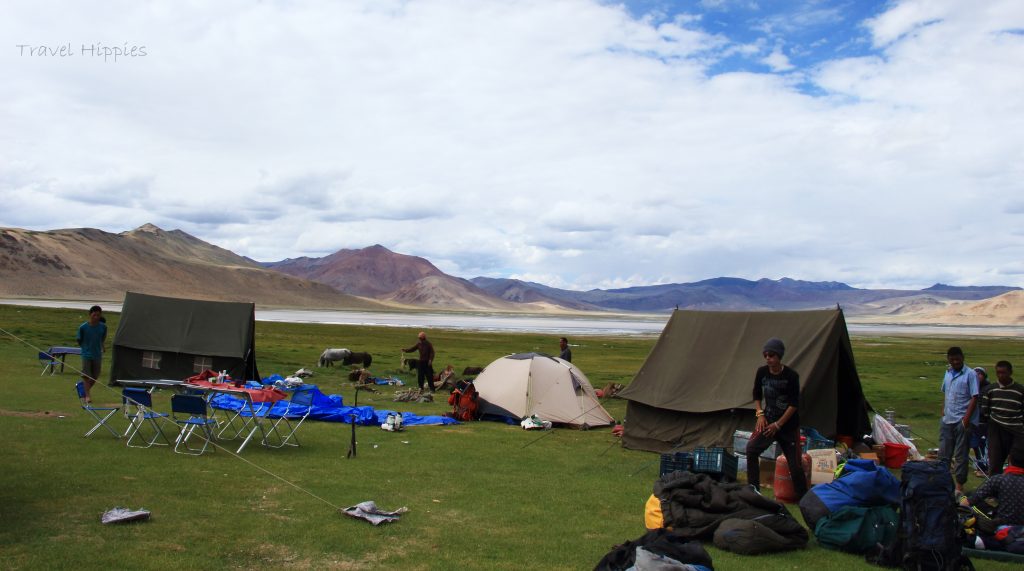 A rare camping experience in the wildlife sanctuary near Tso Kar Lake which Indians have hardly explored
I am quite thankful to him for also taking me to his favorite viewpoint from where we I admired the starry blanket of the night leaping over the serene waters of Tso Moriri. (You can ask anyone for this viewpoint near the camps on the bank of the lake. Though we went by car, it is reachable by a walk too.) As we were in the totally desolate area with just the Yak wool tents of the nomads, we had almost lost our way to the campsite. And suddenly even the car engine stopped exposing us to the pitch dark mountains and a screen of the night sky that had millions of twinkling stars in front of us. That was the first time I had seen such a beautiful sky with a milky way and even the shooting stars. And I ended up finding a crazy friend in Rigzin.
Note: You need ILP (Inner Line Permit) for Leh. Please make it online before heading to Tso Moriri. No one checks as such. If in case you don't have please inform the driver and ask him to take you across the check-post without much trouble. Note that this can be risky. (I didn't have any permit for any place, but I just get lucky to meet crazy people like me.) if you are a foreigner or even an Indian who need to take help of a locally recognized travel agent, you may approach Tashi Anchok for any help: +919419178747, +919622983350.
Tso Moriri to Leh
There are a number of taxis and the tea stall owners who head at least till Mahe Junction on Manali-Leh Highway in the morning. You can choose either of them. Many of them charge 500 INR per person till Leh, So please enquire before you board. So again there are two options…
Option 1: Hitchhike till Mahe Junction and then hitchhike with another vehicle till Leh from Manali-Leh Highway.
Option 2: Find a cab that can give you a drop till Leh directly from Tso Moriri.
I would recommend exploring the nomads' tents, their lifestyle, and probably some Yak Cheese, and hundreds of cattle that they have. Do it in the morning and leave by noon. This ground of the nomads is behind the Karzok Village. (20 minutes walk)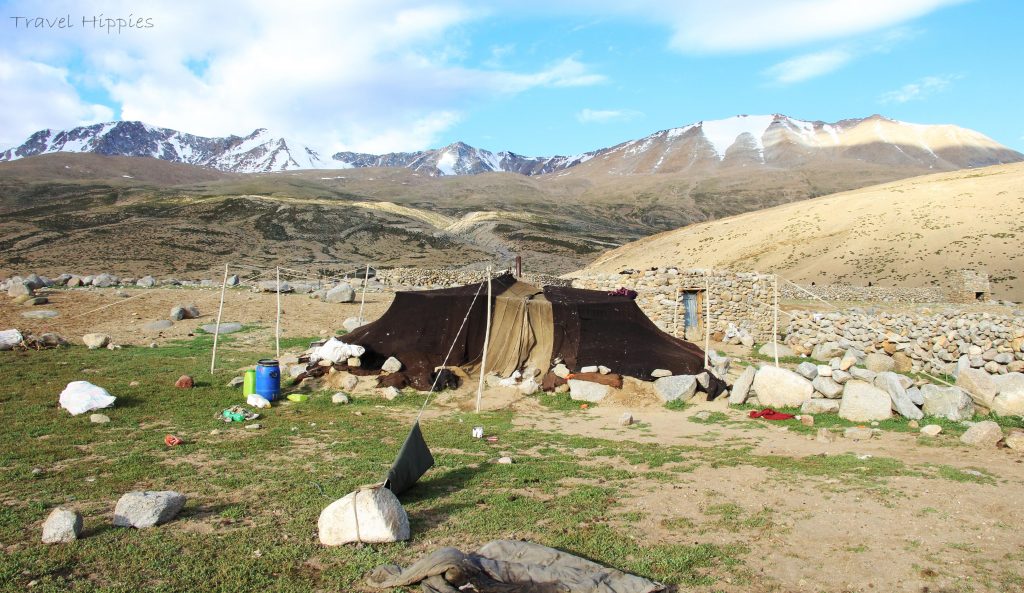 Yak wool tent of a nomad's family, a few minutes away from Tso Moriri Lake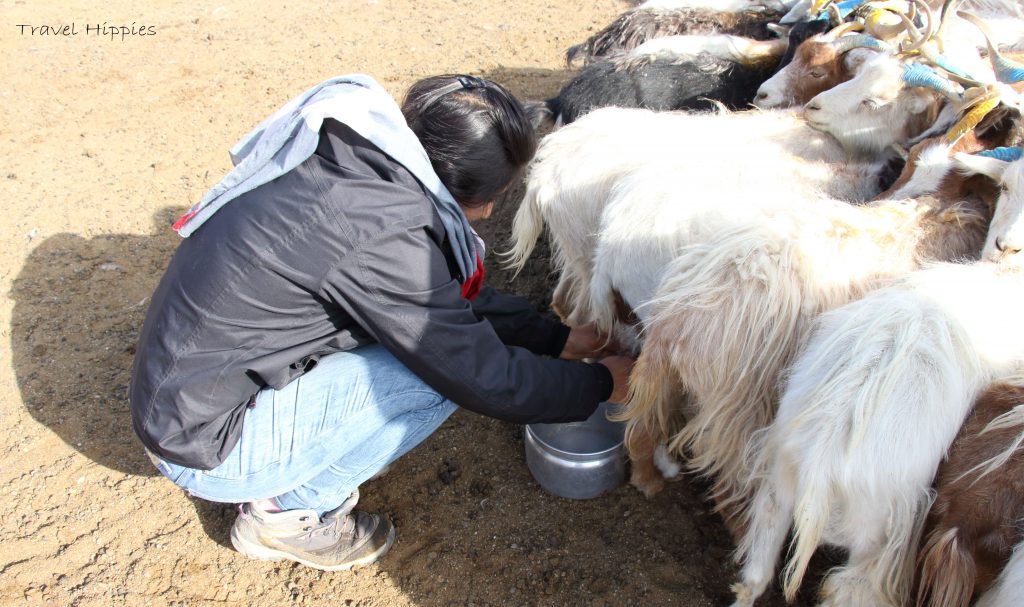 haha.. That's me milking the goats of the nomads. Find something strange about the picture? Don't worry the heads belong to the goats standing the opposite side. 
Where to stay: Either pitch a tent in the land of the nomads or stay at the dhabas in Karzok village for 100-200 INR. You can even eat at the same dhaba. The homestays would cost you 800-1000 during the summers. And the campsites may cost 1000-2500 INR.
Leh
The town of Leh has a plenty of options with Stanzin Guest House provided a bed at 100 INR to Zostel and Hostelavie at 450 INR or the guest houses at Changspa Road for 300-400 INR. If you wish a secluded homestay with a Ladakhi family in the real residential area of the Ladakhis, you may contact Abapa Guest House.
Once you reach Leh, you can explore the local attractions like Leh Palace and Shanti Stupa. You may hitchhike again till Patthar Sahib Gurudwara, Magnetic Hills, and Sangam or rent an Activa (Bargain for 400 INR) for half a day so that you can stop wherever you wish on the way.
Other hitchhiking Routes from Leh can be:
Leh to Turtuk via Khardungla, Nubra, and Diskit Monastery.
Nubra to Pangong via Shyok
Pangong to Leh via Changla.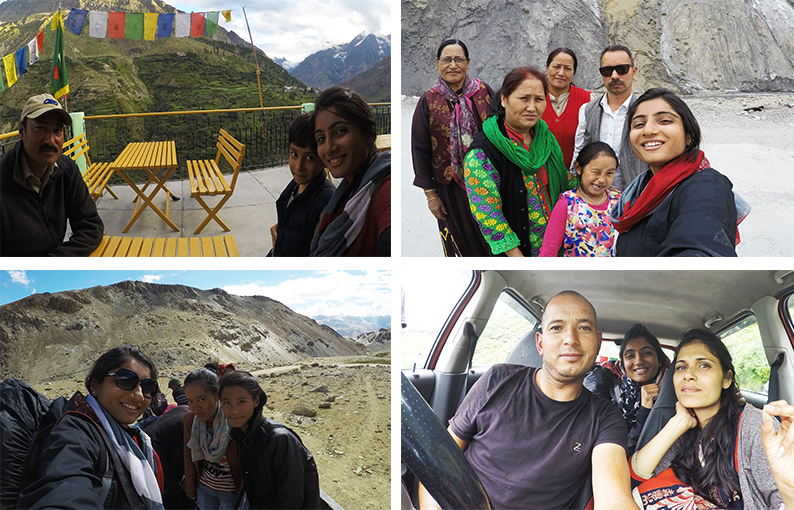 A glimpse of my hitchhiking experience from Manali to Leh and back
Quick Reference list of the Cheap Stays on Manali-Leh Route 
Manali – Dharmshala in front of Manali Sweets (pay as you wish)/ Govt. Dormitory near the Bridge – 200 INR per person.
Koksar: (The Checkpost after Rohtang from Manali to Leh and before Rohtang if moving from Leh to Manali) – The only campsite near the post on the highway. Bargaining capacity up to 100-150-200 INR.
Keylong – A number of dorms available for INR 100 per person.
Jispa: Jispa Camps by Mr. Nirmal. 200-400 INR per person – Contact No. +91 9418270202
Darcha: Makeshift beds at dhabas near check-post. INR 100-150-200 INR per person.
Sarchu: Camp-sites with 1000-1500 Charge per person. Cross the Checkpost, dhabas on the other side charge 200 INR for shared beds. (Similar to a dorm)
Tso Moriri – Dhabas at Karzok – 100-200 INR per person
Leh: Stanzin Guest House near Bus stand – 100 INR per person
Note: A few places' prices might vary depending on the season. (Post written in 2018)
Travel Tips and FAQ
The best time to travel from Manali to Leh by road: Once the Rohtang Pass opens in the end of May or June beginning.
It is fine for all the guys to hitchhike in any vehicle be it a truck, a tempo or a local car. Note that the overloaded trucks are too slow(In case your aim is just to reach or reach faster due to less no. of days)The chances of any crime in a local vehicle are less. Ladakh is completely safe when it comes to hitchhiking.
If you sense anything wrong ask the person to stop at a place under the pretence of taking a photo or buying a water-bottle or eating. Inform that you would stay there for the night/few hours as you changed your mind. Make sure that you make him stop at the place where too many people are available or an army camp that is nearby. Then what? Board the other vehicle passing by.
Let the person speak enough first, the content and the way of talking convey much about the person. Also, observe the expressions to get the hint of the person's intentions.
Keep your backpack below your head or in your lap while sleeping if you are alone. And keep all the valuables safe. (If laptop or cash) And my advice is to not keep any such thing with you and also keep the minimum cash. This advice may offend some, but there are incidences where the hitchhikers have been looted. So, better to be careful.
Manali Leh and Leh-Srinagar highways are the safest considering the number of check-posts and only one road without any diversion to escape. The truck, tempo and tourist cab drivers are very well aware of this. The communication between the check-posts is also too fast. So in case of any incidence, just inform the locals nearby or reach the next check-post by stopping any other vehicle.
Don't get disappointed by any bad incidence, dogs exist everywhere, be vigilant all the time apart from being friendly. Recently heard of a French man who was looted by a truck driver and didn't have a single penny. He still continued with hitchhiking and traveling with an obviously reduced fear and concerns. The loot then became just a bad nightmare in his wonderful journey throughout India.
Avoid alcohol or any other addictive substance.
Note the vehicle number at any stop and also click a selfie with all. (This would ensure safety without creating an awkward situation)
Disclaimer: Hitchhiking isn't so fanciful all the time as it looks. It may test your patience.
While you opt for cheap, shared stays, be ready to compromise on comforts. Just look for the Indian toilets to save yourself from UTI (Urinary tract Infection – Only for girls). This advice comes from my personal experience.
Last but not the least: Be Positive, Attract Positivity.
Other related articles that you may want to Read.
Budget Homestays for your Next Ladakh Journey
A Bodhi-Muslim Himalayan Village with 'No Religion Bar'
In Pictures – A School That Creates Geniuses Out of Failures
Liked the blog? feel free to share and comment.
Is any information lacking? Want to add? Comment here and I would add it in the article with your name/ Insta profile link.
Pin this now, Refer to it later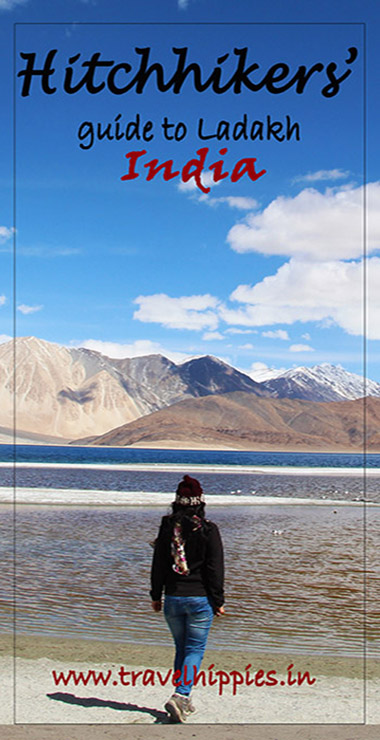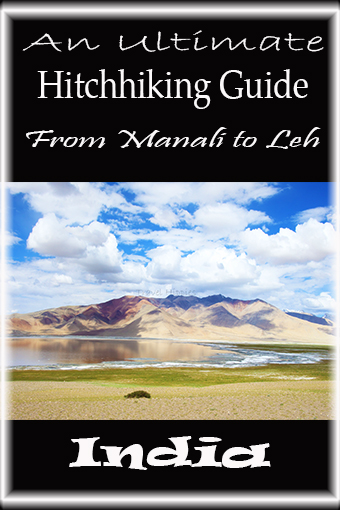 Follow me on