In my quest of traveling solo, I have ventured around traveling to the remote villages and trekking to the unfrequented hills in the Himalayas. Though solo travel is a currently trending concept in India, I still meet people around who give "What nonsense!!" look when they discover that I am not accompanied by anyone and am traveling alone *Alone?? OMG, eyes wide open and a startled frown*. There is another lot who finds this idea of roaming around solo very inspiring and are awed at my courage of traveling solo. Recently, when I expressed my wish to go on a long-term solo travel just  like many other female travelers in India, I was obviously bombarded with all sorts of negative questions. Thus, I decided to let the world know how life-changing and empowering solo traveling is for the girls who are actually up to it. I asked the fellow solo female travelers to share the reason to opt for solo traveling and their experience of the same.
Shivya Nath – The Shooting Star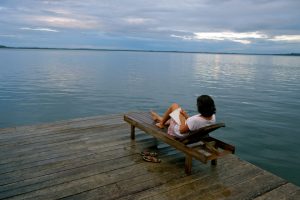 Shivya Nath is one of those solo female travellers who quit her job to travel the world and inspired many other female travellers including me. According to her, we all must travel solo, "Because how else can you feel complete freedom – to shed the baggage of everyday life, make your own choices, and even simply be the person you always wanted to be? Back in 2011, I decided to travel alone for a reason – I wanted to test the boundaries of my comfort zone and let my dreams fly, without anyone who had known me in my regular life, judging them. I wanted to be anonymous, build new relationships, experience a way of life different from mine, introspect in the mountains and well, just be…"
On the thoughts about how she enjoys travelling solo, she says, "Our emotions tend to be a reflection of the thoughts in our mind. So to psyche myself when I'm off on a solo adventure, I focus on the romance of solitude; I imagine myself blissfully gazing at the snowcapped mountain peaks without a care in the world, or swapping life stories with a stranger whose life may be very different from mine but our souls sing the same tune." You can read about her almost 3 years long journey, usually solo, in the extensive articles in her blog the-shooting-star.com
Medhavi Davda – The Ravenous Legs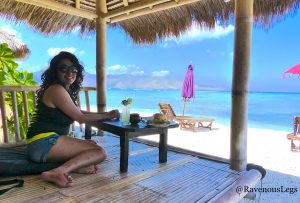 Medhavi is a High-Altitude Trekker, Solo Backpacker, Advanced Adventure SCUBA Diver, a trained dancer, a Badminton champion and an ex-techie. She quit her job after 9.5 years of experience in Software Development. She donated most of the things she owned in Pune, packed only the basics in her car and drove all the way to Himachal Pradesh. She is certainly a great inspiration who is living a minimalistic and location-independent life exploring the different parts of Himachal Pradesh and this is why she started travelling solo and is enjoying it to the core.
"I started travelling solo as I didn't want to waste any time waiting for companions who would be either stuck with work in an office, or in a financial crunch, or some other commitments. Eventually, I realised that Solo Travel is the best way to travel for me. I now don't like any company on my travels where I need to adjust to someone else's moods and priorities. I now want to live all the moments on my travels, just the way I like. Solo travel breaks all my inhibitions and makes me bolder and more confident each day. This is the reason for me to get out of my comfort zone and try some new adventure on each of my trips. Solo travel has now become a way of life for me. I feel more confident about myself when I take bolder steps each time for my travels. Over a period of time, I learnt to believe in and follow my own instincts and started travelling fearlessly to an extent that I even trekked solo in Ladakh." You can read about her adventures in her blog ravenouslegs.com.
Kritika – The Wander Bug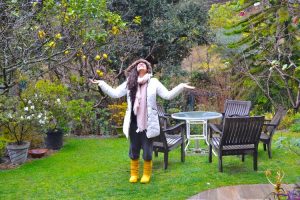 The wander bug, as the name suggests, is constantly on the move, exploring the different parts of India and her office is wherever she is – sometimes on treetops in the jungle, sometimes by the beach and sometimes in her sweet little home. She also plans a journey for the travel-crazy souls and has a great knowledge about the hidden cottages and guesthouses in India. Read what she thinks about solo travelling.
"I believe solo travelling is really empowering. Just the fact that you are out there in the world on your own is a confidence booster in itself. The world is full of beautiful surprises and when you travel, you open up yourself to these surprises. Some experiences during a journey are good while some are scary, but the fact that you deal with them all by yourself is very empowering. You get out of your usual bubble and experience a different kind of life. You learn from other people and all these experiences play a big role in shaping who you are. For me, solo travelling is inspiring as well as empowering"
Follow her travel blogs and plan a trip right at this moment.
Reshma Narasing – The Solo Globetrotter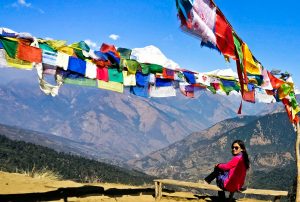 She is a budding and frequent solo traveller who has also been on the trekking ventures in Bhutan, Nepal and Philippines. She greatly favours solo travelling, especially for the Indian youngsters. Her write-up "An Open Letter to Indian Parents: Why You should let your Daughter travel Solo" is going rant all over digital media and is really a must-read for every parent who clips the wings of their daughters out of safety concerns.
Though she doesn't always choose to travel solo she feels that it's a unique fun and she enjoys it. She quotes. "solo travelling is empowering as it's a different experience and involves a lot of things that we do by ourselves. So we learn to become independent, self- reliable, confident and aware. Solo travel actually helps us to grow."
Check out her colourful stories of India and other Asian countries in her blog thesologlobetrotter.com
Tipsy Banjaran – High on Travel Dope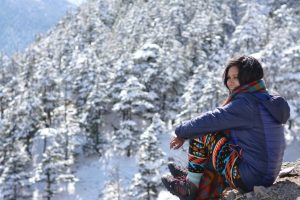 This is how she likes to call herself and that defines her kickass and stunning persona. She is a Freelance Visual Designer, living in Mcleodganj for a while. She left her job 5 years back for Travelling. She loves trekking,  exploring off-beat places mostly on a budget. Read her beautiful experience of solo travelling.
"I went off to Kalpa this year for the first time as Solo, to celebrate my birthday and to enjoy the first snowfall experience. Travelling with family and friends is great but travelling solo turned out to be the most thrilling experience. I started my journey from Mcleodganj and surprisingly  I met the helpful people on the way who helped me in my first solo journey showing the sweetest side of the world to me. Solo travelling is indeed an amazing experience. Solo travelling gives you the benefit of making the last moment decisions and doing things at your own pace, and I always love slow travel that gives me the freedom to be at a place as long as I wish to.
Before leaving home for Solo trip, you always have dicey thoughts of being unsafe or facing the uncalled experiences. But once you leave, there's no looking back. It's more like a dope; you get addicted to the high it gives you. Moreover, you also get to meet lots of people. Once you are out all alone, you'll see that your vibes start working and you'll only meet or ask for help to generous people. Somehow, all the negative ones stay away, which give you more confidence for Solo Travel." Read more about her journey on her blog.
Pratima Sharma – The Girl in Orange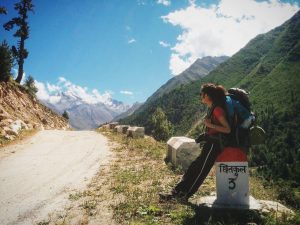 "For me travelling solo is the best way to know myself better. Every time I travel in my own company, I get to know something new about me. I think that observing new surroundings, people and their culture with more attention, spending quality time with myself, laughing with strangers, sharing stories and making new friends makes me a better person; a compassionate and confident person.  And yeah!! you learn critical skills like risk-analysis and budget-analysis. :P" says the girl in the orange being elated about her solo travel ventures.
She also feels that when you are travelling solo, you are the one who is responsible for everything and yet you have the ultimate freedom. Where you wanna go, what you wanna do, which mode of transportation to use, where to stay, which restaurant, how much budget, whether to trust someone or not and how to keep yourself safe are the things which give you confidence and a sense of accomplishment. You learn to use your instincts and become more independent. These feelings of accomplishments and independence play a very important role in building a strong persona.
Check out the stunning picture stories by Pratima on her Instagram.
Heta Patel – The Solo Ladki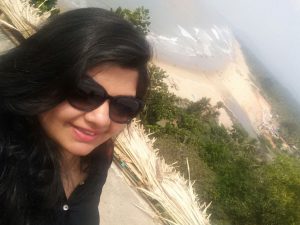 Heta Patel is another frequent solo traveller from Mumbai who has mastered the art of solo travelling while living with her family and continuing with her job.  Read her struggle of her first solo trip as an Indian female solo traveller: "I always wanted to travel solo but because I have always been with family, there was no chance to travel solo, so most of my travel was with friends or family. But while travelling with them, I felt that was not able to explore or venture around according to my wishes. I was greatly influenced by my cousin who tried on solo travelling.  But well, for an Indian girl,  it was not as simple as it sounds, when I planned my first solo trip, my parents denied straight away, they felt solo travelling was a ridiculous concept and that I may be either in depression or I might be having a boyfriend and I am going with him. (As it happens with most Indian families influenced by the thoughts of neighbourhood – read 'Gossip Queens and Kings' ;P). I tried convincing but all went down the drain. So. I took my profession into the use, they say lawyers are liars ,so I lied  the next time saying a friend is also with me and I went to Gokarna (Not suggesting to lie, my brother and friends knew the real version, so my safety was not compromised and I frequently shared my whereabouts with them). The first solo trip is always memorable, like the first love, it leaves you with special memories and surely my solo trip left me with an astounding feeling and motivation to go for more of solo ventures. I really wasn't travelling solo, my extrovert nature helped me connect with her people and was hardly alone. I made around 15 friends of all ages and from different places in 4 days. Staying in a hostel helped me in making friends easily. As I had opted for a mixed dorm I felt as if I was playing the lead just like in the movie 'Queen" and surprisingly I also felt liberated.
Solo travelling is empowering because it makes you more confident, you learn to take care of yourself, it teaches you new things every single time which you wouldn't have learned otherwise and most importantly it makes you love yourself more." Checkout the picture of her journey on her Instagram.
Anuja Surve – The Wordwizgirl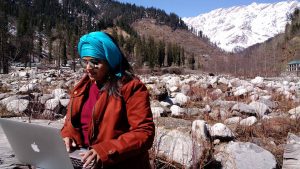 I am someone whom you can be called a compulsive wanderer. Thankfully, being a freelancer helped me fuel my desire for travel and allowed me to work and fulfil my lust for travel while being funded for the same. For me, the only prerogative is to explore new places, and it may be with friends or solo. The idea is to travel and explore and that is what I exactly do.
I travel solo because travelling solo is liberating and something everyone should try from time to time.
I feel solo travelling is empowering. I don't know about others but it immensely helped me connect more with myself and in understanding the real me. When you are travelling with friends or family, we react based on their actions, but when it's just you out there, without any agenda, like a job or family time, you explore your inner self and also be amazed at your abilities.
See more picture stories by Anuja on her Instagram
---
If they have done it and many other Bravehearts are doing it, I am sure every girl can gather the courage to move out of their comfort zones and enjoy the journey accompanied either by their souls or by the new friends on the road.
Are you a solo traveller too? Or want to travel solo? Comment and share your thoughts, questions and experience on solo travelling.
You can follow my ventures on Instagram, Facebook and Twitter.