Solo travelling has become a trend among the girls in India and now I know almost thousands of girls globetrotting around the world. Surprisingly, a few of them are still not able to experience the thrill of solo travelling due to a bit of fear and of course due to the next door aunties who still think 'girls shouldn't step out of their house' and keep quoting Savdhan India episodes.
I very much agree with the fact that India isn't too friendly for solo female travellers compared to the European countries or any western country. But that certainly doesn't mean that you give up and never bring any transformation in the country. Once the people would be too used to seeing girls travelling alone and even bravely opposing any kind of ill-treatment, the harassment, creepy smiles and comments would surely stop.
I have been travelling solo and with the strangers since 2013 and have even travelled in the interiors of Uttar Pradesh which most of the people think is the most unsafe place in India. And trust me; India isn't that unsafe as shown in media. Now, it depends on you whether to trust the media or the firsthand account of a solo traveller.
Apart from the minor issues which you might also face even while walking in your society, solo travelling in India isn't only safe but also fun.
For the girls who are stepping out alone for their first travel venture, here is something for you. All the hacks are curated exclusively from my experiences of rough travelling in India.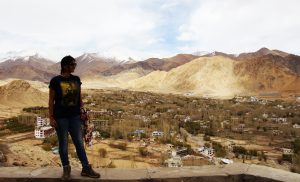 Against Your Mummy's Lessons, Follow the 'Talk to the Strangers' Rule
Believe it or not, talking to the locals and strangers in your public transport would make your travelling easier. Just to explain you, I would quote an instance here. While travelling in UP, I had to move to a village named Deogarh and apparently, there was no public transport available and I wasn't sure if the private vehicles were moving to my destination. The sun was about to set and a stranger approached me asking where I would like to go. "The Mumma's girl' in me would have just ignored. But, after explaining the situation, they helped me stop the best person who could drop me safely. And I found the sweetest people of Uttar Pradesh there.
A similar incident happened in Nepal when a few aunties in the bus didn't only guide me with some information but also informed the conductor to guide me for the next bus. The bits of advice given by these locals are the most useful ones. One more advantage of following such advice is, when I go to an auto-guy or a bus-person, I don't sound like a newbie in the town.
The chances of anyone cheating you or misguiding you becomes zero as they feel that you know the in and outs of the place. Tada! You are a local for them in a first impression and then after judging the person, you can go ahead with your questions.
Be a Sawaliram (A questioner) – Keep Asking the Same Question
It so happened that an uncle in the group got irritated with my habit of asking the same questions to the different locals met on the trekking trail. He wasn't a traveller, I could understand him. So, how could asking the same questions help you?
You might get a wrong advice or information from one person, but 5 people can't be wrong. Moreover, this is the best way to strike a conversation. You never know if the 3rd person is more knowledgeable and can give you some more awesome hacks than the previous 2.
Don't limit yourself to just one question…
If you are sitting beside a local on a bus, keep talking to him and find more input about the new place and people. "And people are nice there, right?", keep your questions positive and let the person reveal the truth. If you are asking the way to your hotel also ask from where would you get the sharing autos, what are the other famous landmarks around it and so on. In short, your question-bank should be strong enough to make the person think more and give the best possible information.
Is It Much Frequented by the Travellers? It's the Safest Place for You.
The logic behind such belief is that if the people are used to seeing the travellers roaming around wearing whatever they like and wherever they want then you might not be the victim of people's stares and creepy smiles. For an instance, despite being a small town, Orchha seemed safer than the city of Gwalior. Apparently, Gwalior doesn't receive more of travellers but just the tourist who roam around only at touristy places. (Don't argue for Delhi, urbanization has its drawbacks and few places are always exceptions to any generalization)
So, don't get frightened and lose your confidence when you see a group of guys staring or commenting at you or some creepy stares. Don't even motivate them by your reactions. And also follow the safety guide.
Keep the Conductor Informed
If you are travelling by public transport or on a train then keep the locals around you informed about your stay plans. Most of the times they would only guide you the best and would also drop you at the nearer stop.
I was moving to Chanderi where I had to stay at a Jain Dharamshala. I had asked the conductor twice in such a way that people around also listen to it. They all discussed and arrived at the best conclusion for my commute plan. As per them, the auto would not be costing me more than 10 INR for Jain dharmshala. When I got down, the auto-guys kept misleading me saying that it was too far and they would charge 100 for the same. It was 8 pm and I didn't want to take any risk.
Then came a surprise call of the conductor from a distance, "madaaaam, this bhaisahab is a Jain and lives in the Jain colony only, he knows the place and would drop you safely." He seemed like an officer and the people around greeted him with respect. He addressed me as 'beta' and looked sane. My instinct said he was the right person to go with.
So, your conductor can also be your messiah and can arrange for some angels for you.
School Kids would be Your Best Buddies
I have always found kids to be the best company at almost all the places. The first thing is, the chances of being misled by them are almost zero. Many a time they also agree to go along with you even to the places that you couldn't have explored alone or with any stranger. (Guide is out of question for a budget traveller)
Again to mention an instance, when I had to travel to the ruins of Chandpur somewhere in the interiors of UP, I had a bunch of school kids with me who soon became good friends of mine (the best when shown some GoPro tricks 😉 and they willingly opted to be my guide to the ruins. Later I found out that the temples were impossible to locate by a traveller.
The Hitchhiking Rules in India
I shall be writing a separate post on hitchhiking rules in India, but to mention a few you should be following the following rules. You need to avoid trucks while being in deserted areas, also avoid the cars with registration from DL, UP, PB and HR. If you wish to have a safe adventure hitchhiking in a truck then you can do it in an open truck where people can see you and when the road isn't going to be too deserted. Always prefer a car that has at least one lady or a family in it, especially when you are hitchhiking for a long route. Avoid hitchhiking at night and use proper judgment in identifying the intentions of a person. Usually, it is very easy.  But, it is better to be skilled with some safety hacks.
If we talk about India, then Himachal Pradesh, Ladakh, Uttarakhand, North-East states and Pondicherry are the safest place to hitchhike.
How to Identify the Best Help
The biggest question while travelling solo is who to trust for the correct guidance? I would say, it depends on the information you want. For an instance, if I want a cheap stay, I wouldn't ask any classy looking person near me, because he might not recommend the cheapest place to a foreigner or a girl travelling alone.
In order to get any bus related information, the conductors (not even the office staff) are the best to approach. For the information about the place, the vendors would always guide the best. If you are looking for any specific archaeological site, then better ask the person in charge at the tourist desk or an old person.
'Nothing can happen to me' – this thinking can sometimes be lethal
You need to be confident, you need not show your fears on the face, but you should also be equipped to face any circumstances. It doesn't really require years of training but through some basic skills, you can fight against the basic things. Rapes are reported in almost all the countries. And to quote an instance from Anuradha Beniwal's book 'My Brand Aazadi', it says that she met a foreigner who roamed around in the desolate deserts of Thar in India. She remained with them for months altogether. When she was asked to be careful by the author, she bluntly replied that all the camel-men were afraid of her. (Lesson no. 3K42: if you want to travel fearlessly, don't be afraid of losing or delicate limbs)
She also said that her mother had given her the best advice before leaving for the journey. The mother said to her only daughter, "Dogs are everywhere, please keep some abortion pills with yourself in order to prevent pregnancy. Only if you would be fine, you can take some actions further. If a car hits you and you bleed, you first need to go to the hospital and do something about your injuries and not run after the car driver."
And just like the author, I myself couldn't agree more. Why don't we have rape safety workshops (yes, there exists something like that) just like fire and road safety?
I have created a detailed Guide on 'How to be safe with some basic safety hacks' and you must read that.
Stay at Hostels
Hostels help you meet other travelers and also let you enjoy a safe and luxurious stay. If you are travelling to a place where there are no hostels, then please put up your queries in the travellers' groups like Globetrotting Girls India, Backpackers & Travelers India and Backpacking and Budget Travelling India.
Money Problem? Not a Problem. Gurudwaras and Dharmshalas would be at Your Rescue
Most of the Jain Dharmshalas and Gurudwaras won't deny you a stay and would also provide you with a private room at a very cheap rate (100-200 in most cases). And most of the Gurudwaras don't even charge for the room. These places are also the safest.
And lastly, if anything has to happen it can happen even within the four walls of your home, so just be alert enough to avoid any unwanted circumstances.
Do you have any other travel hack to share? Please share it in comments and I might add in the main content along with your name/social media account link.
Stay tuned for the updates on my beautiful journey on Instagram , Twitter and Facebook.