Basking in the early morning sunlight and staring at the verdant vistas covered under the translucent blanket of mist, one could never imagine that the very hill hides some mysterious powers in it.  
Mt. Untersberg's Mysteries came as an unexpected revelation to me. It didn't only surprise me but also led me to a literary exploration of Folklores based on it. The folktales had also found their trails even till America.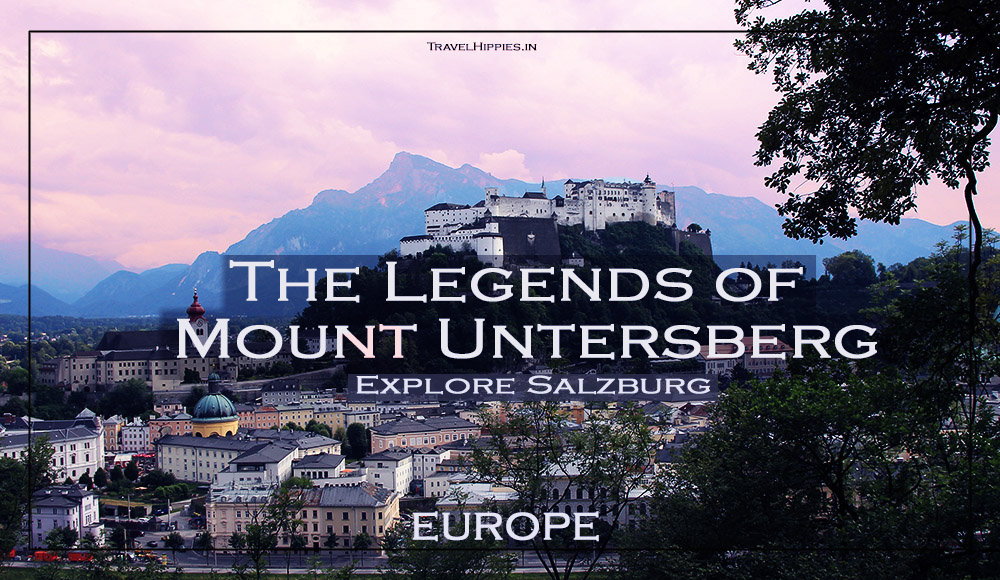 "Far Away in a small village surrounded by the mighty Catskill Mountains lived a cheerful man named Rip Van Winkle. He was a kind, helpful and nature loving fellow with the only defect that he couldn't do any job to earn a decent living. In order to escape his wife's nagging, he, along with his dog went rambling by in the forest.  As the sun sets he realizes that he had come far away. While he was about to return, suddenly a man appeared at a little distance on the hill. He called Rip for help. Rip followed him helping him with the heavy barrel full of some liquid. Finally, they reached a strange place, among strange people who were unusually and ornately dressed. They all drank some liquor filled in an antique goblet. Rip also joined the party and fell asleep only to wake up after 20 years.
The men, the antique settlement, his dog, everything had disappeared by then. Even his village had changed to the extent that he found it difficult to reach his own house. His young kids had now grown up. His wife was no more. And the American Revolution was over too. Now his village was no more a part of British America. "
While I taught this to my 6th Graders back in Mumbai, I never realised, I would be able to ramble around in any of such mystery mountains.
 Rip Van Winkle was written by Washington Irving in America (Without even visiting the Catskill Mountains). His story, as he claimed, was inspired by a novel named "Peter Klaus", a German Folktale written by Johann Karl Christoph Nachtigal. Reading the mystery of Mt. Untersberg, I wonder if this great novel written in the 19th century had its sources in the mysterious of time travel cases of Mt. Untersberg in Salzburg.
How To Reach Mt Untersberg From Salzburg by Bus 
Bus no. 25 drops you directly at the starting point of the Untersbergbahn from the city centre of Salzburg. This cable-car lifts you up to the top of the hill. It saves on time and the experience of being lifted up to the highest point is equally enthralling. This cable-car is free for the Salzburg Card Holders.
If you are fit and have enough time, you can hike on the well-defined trail up to the top of the hill. The hike may take 3-4 hours depending on your speed and stamina. It also saves on money as there are no charges to hike up there.
The Mysteries and Legends of Untersberg
The Mystery Mountain Untersberg was once a part of Germany. It is said that Hitler had a great fascination (read obsession) for this mountain and thus he built a house right at the top of the peak at Eagle's Nest from where he could observe the activities in the mountain. Some records say that he even kept staring at the mountain for a long time. The history records a different viewpoint to it and mentions the retreat of his soldiers.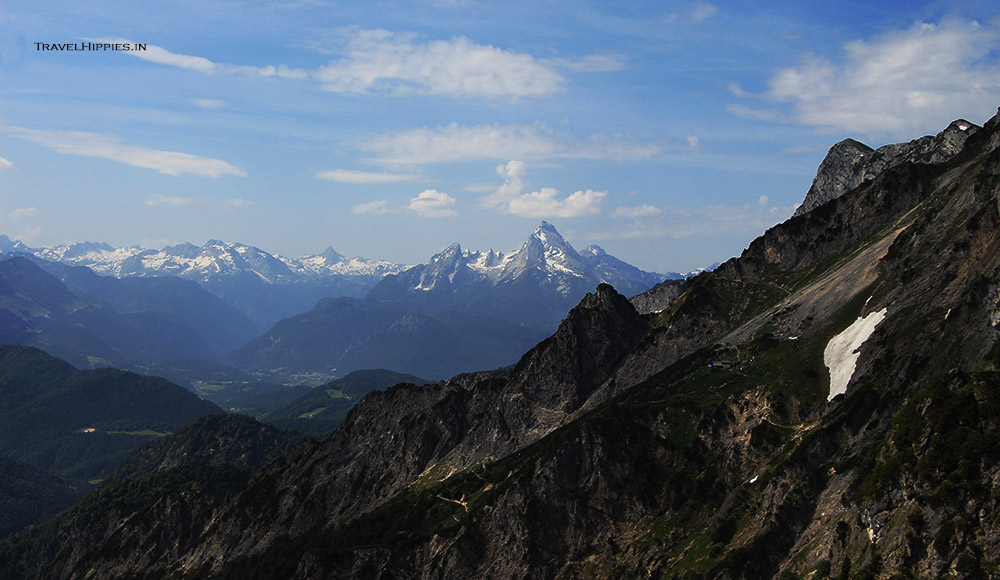 Right from Christianity to Buddhism, the religious leaders claim Mt. Untersberg to be a living hill with demons and Goddesses hiding on its curves. Dalai Lama, on his recent visit to Mt. Untersberg claimed it to be a magical mountain where the dragons are asleep. Mankind, nevertheless, has logical explanations against each tale or belief.
During my visit to Salzburg, I chanced upon visiting this beauty and read some of the interesting folktales whirling around it.
And hereby I am presenting a few of them for you.
King Charlemagne and his Squad of Dwarfs aka Untersberger
As per a famous legend, a king named Charlemagne is sleeping for centuries somewhere in a cave of Mt. Untersberg. The dwarfs are taking care of him until he wakes up after a century. When he wakes up and sees the Ravens still flying around the mountain, he falls into a deep sleep for another century. Charlemagne had held a conference along with the Bishops of Salzburg in 803 AD.
Angels and Demons of Mt.Untersberg
Resembling any other ancient culture, the demons and goddesses were worshipped here since the Pre-Christian Era. The traditions and beliefs lost its grip owing to the rise of Christianity and Islam. Surprisingly, these traditions have been restored very recently.
The most famously revived tradition of Mt. Untersberg is that of the 'Wild Hunt' wherein the people go hunting for the evil spirits that are then destroyed with the help of some procedures by the bishops. The spirits include either elves, fairies or the dead humans. The traditional belief says that the people taking part in the hunt are sometimes taken to the underworld by the evil spirits. They also believe that the hunters' spirits are sucked off by the evils in their sleep. (Sounds like Harry Porter??? Umm probably the other way round)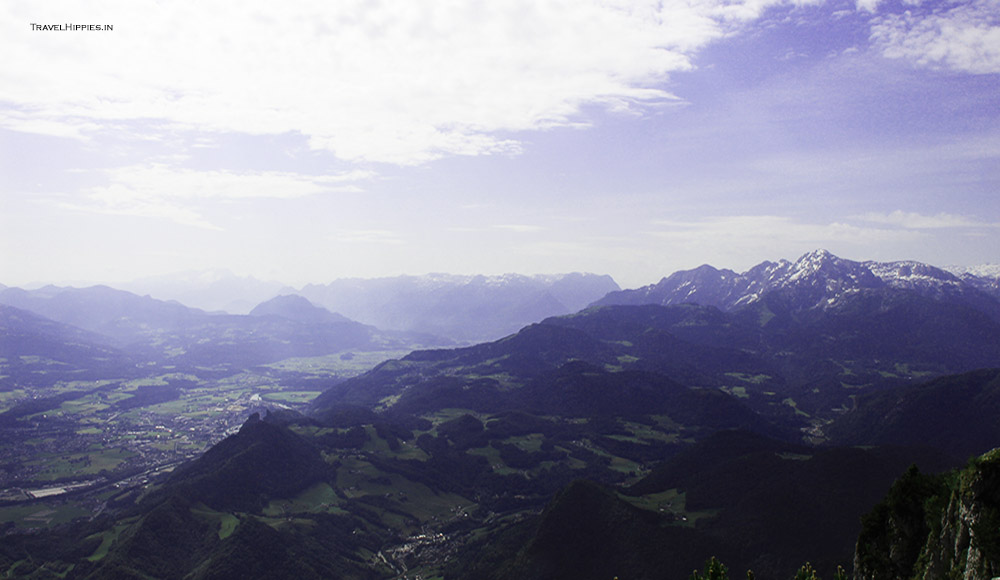 Mt. Untersberg and the End of the World
Almost every region in the world has its own folktale for the end of the world. Mt. Untersberg's goes like this.
The emperor Frederick Barbarossa is asleep in the mountain until his beard grows long enough to complete the third circle around a table.  Once it does, the emperor will resurrect and leave Mt. Untersberg. This will herald a terrific war of humankind near Salzburg and eventually, the world will come to an end.
The Mystery Cases of Lost People
A strange phenomenon in the Mt. Untersberg makes it a subject of mystery and curiosity. As reported by a few hikers, some of them fell unconscious and woke up in a distant land or another country. Others have also reported missing on few minutes or even hours while resting. Thus, the events and cases have created much speculation over the mountain being possessed with some time-machine like quality or the work of some unseen power.
Gem of Dominion: Mysterious Mount
In this book written by a man named Stan Wolf, he mentions meeting some people living in the mountain. As per him, those men had no idea that the world is already past 65 years of the World War II. They are still living like hidden soldiers waiting for the commands. The author then clarifies that he had purposely tagged his work as that of fiction. He did not mention many of the experiences that he encountered. As per him, the human mind accepts only what can be seen clearly. And thus due to the fear of criticism, he refrained from mentioning more horrifying experiences.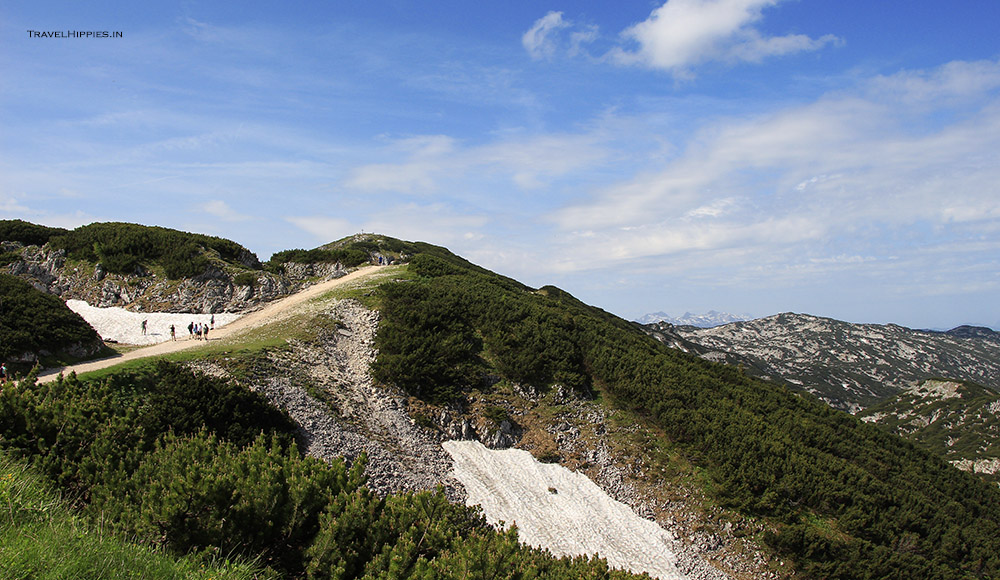 He has also mentioned the story of Goddess Isais who gifted the Gem of Dominion to her devotees and asked them to build her temple in the caves of Mt. Untersberg. The Gem is supposed to have the quality to slow down time.
Whatever may be the truth, it is quite thrilling to listen to such stories sitting somewhere on a trail to the top of Mt. Untersberg.
Cavern under the Mount
A popular belief also claims a labyrinth kind of structure under the mountain which is supposedly the dwelling places of many mythological characters. In fact, the word 'Unter' means 'under' and the literal meaning of the word 'Untersberg' is  'mountain lying underneath'.
Religious Mentions
Both Christianity and Islam mentions about a huge wedding procession that disappeared in the mountain just to be found 100 years later. None of the lost humans was aware of the fact that they had been missing for around 100 years.
A similar tale is noted in 1858 when a procession encountered a wall that mysteriously opened to be welcomed by an elderly grey-haired lady.  They drank and had a feast before they fell asleep just to wake up after 100 years finding all strange looking people with outlandish dresses and language.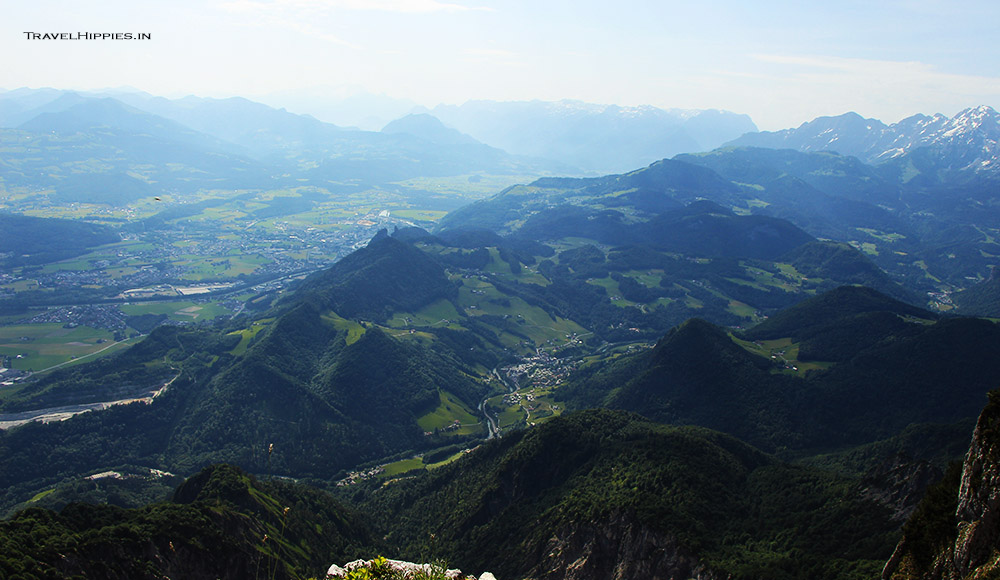 Views From Untersberg
The Headline Making "Missing Travellers"  
A group of five travellers in 1987, a man named Max Brandl in 2001 and a young couple in 2008, there is end number of cases where people have disappeared and despite an intensive search, they could not be found.
However, no one can claim if it happens because of any mysterious energies or people just slip off in any crevasse or cavern and are never found.
In any way, Untersberg's geography and legends are truly mysterious.
Things to Do in Mysterious Mt Untersberg
As a traveller, Untersberg peak serves as a stage to devour the dramatic views of the snow-capped hills. Apart from this, you can also enjoy the panoramic view of Salzburg. A number of important peaks are visible from this highest peak of Austrian region.
The snowy peaks in the summers lure most travellers up there. If you are truly adventurous, you can also hike up to the Schellenberger snow cave which is 2 hours long hike from the top station.
For those who are in hurry can just walk around different viewpoints or have a meal with a view.
If you have watched the movie Sound of Music, the hills will make you feel as if you have been teleported to its shooting. Yes, the opening scene of the movie was shot on the German side of the mountain but the views are not so different.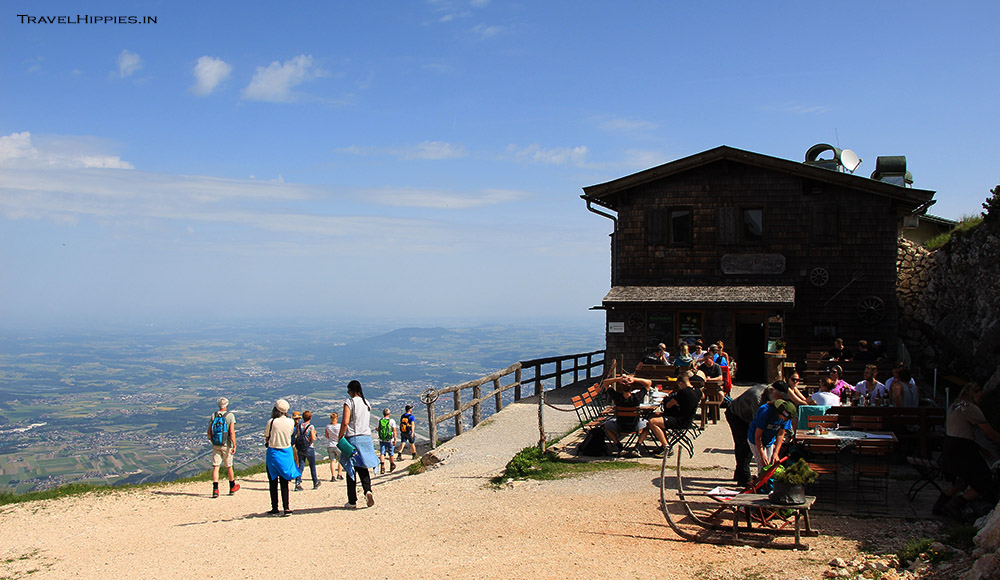 Why Must you opt for Salzburg Card
Salzburg is a city that has so much to explore and do and paying separately for each of them would be heavy on your pocket. The Salzburg Card costs just 25 Euros for a day,  33 Euros for 48 hours and 38 Euros for 72 Hours. Each and every attraction, public transport, regional transport, cable-cars, a boat ride is just free for you as a Salzburg Card Holder.
It is a perfectly useful inclusive card with so many benefits. You would certainly regret if you don't buy a Salzburg Card even if it is your day trip. The price of the Card is almost one-third of a day's expense.
This post was written as a part of my collaboration with the Salzburg Tourism Board. However, the exploration was completely done independently and all the content/views put here are of my own.
Related Reading
Pin it Now, Read it Later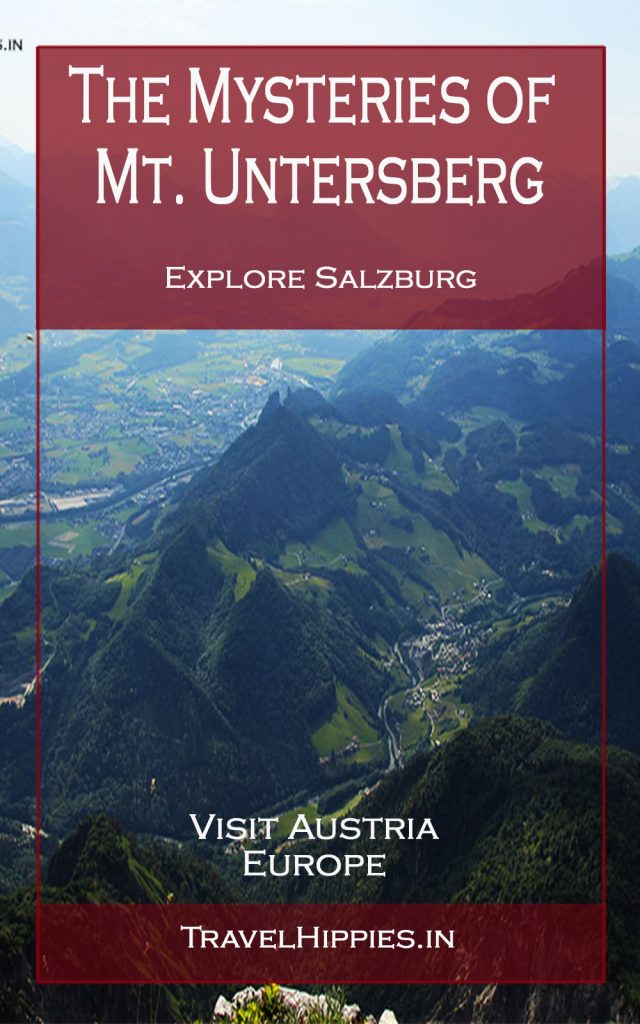 Follow me on
content
Untersberg Mysteries
How to Reach Untersberg From Salzburg
Views from Untersberg