Be it first timers or regular trekker, we all tend to forget some or the other things while packing for the treks. Here is the list of things to carry on a YHAI Trek or a solo trek to Himalayas.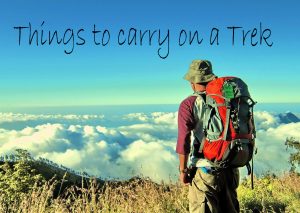 A durable light Backpack:
Though YHAI provides a good, light weight back pack, if you are used to the comfort of a backpack with good support, you can opt for Wildcraft Backpacks (45 litres/ 55 litres). Bags are available online at cheaper rate. (Cost 3000 to 5500)
The only problem with Wildcraft bag is that it's too heavy to carry.  In that case you can also opt for Quechua Backpacks (available at Decathlon) . (Cost 3000 to 8000)
Remember that you will not be allowed to carry the luggage beyond 3-4 Kgs. So choose your bag wisely.
If you wish to rent any equipment visit RentToGo
Trekking shoes:
Option 1: Quechua 100/500/600/800.
It is quite comfortable and provides proper ankle protection. Proves to be waterproof to a great extent and also has good grip for Himalayan treks. Chances of getting blisters also reduces with this shoes.
Cost: Quechua Forclaz 500- INR 4000, Quechua Forclaz 600/800 more than 4K(Varies from store to store) Available at Decathlon. (Mumbai, Chandigarh, Delhi, Kolkata, Chennai, Banaglore, Mysore, Ahmedabad)
Option 2: Action Trekking Shoes.
This is something which you get at the most reasonable price with quite good quality. The grip of the shoes is too good. But, might NOT be waterproof  and comfortable.
Cost: INR 800.
Water bladder/ light weight water bottle:
Option 1: Water Bladder
When the wight of the water is concentrated at one place, you bag turns heavier. Water bladder is a smart idea which also facilitates you to drink water without the mess of opening your bag. You can keep it straight with the position of your bag. The weight keeps decreasing as you keep sipping. Another advantage is that it will keep you hydrated with little quantity of water and would save you from gulping more than required quantity of water.
Cost: Wildcraft water bladder 2 liters – INR 400 (The best option)
Quechua : 1 liter – INR 700
Option 2: Water Bottle
Light weight 2 litre water bottles with good plastic are available at Decathlon. Remember to observe the number at the bottom of the bottle. It signifies the quality of plastic. For Eg. No. 1 =Lowest quality of plastic, No. 2,5,7 are better quality of plastics. Your bottle gets exposed to the Sun in mountains and the low quality plastic starts melting in such situation which may lead to some liver problems or stomach upset.
Note: Avoid reusing soft drinks bottles which has reminiscent of pesticides and preservatives in it.
Lunch Box/Mug/spoon:
A little bigger and broad steel lunch box should be carried for the treks. So that in case if you do not get  proper washing powder/water, you can just use a tissue paper to clean it.
A spoon has to be carried along with it if you like to eat in a sophisticated manner.
Even if you are not a tea/bournvita lover, you must carry a mug. The pleasure of having tea and parle-g biscuits after the trek is more than any coffee and cookies provide you at CCDs or Starbucks.
Tip: Always keep your lunch box in separate compartment to save other things in case of oil leakage.
Gloves: (Winter Treks/ Himalyan Treks):
Type 1: Woollen gloves
Woollen gloves are required to keep your hands protected from freezing at higher camps. You might not be wearing it during the treks. But the need is felt especially at night.
Type 2: Waterproof
Factually there is nothing like 'Waterproof'. The gloves will eventually get wet as the snow creeps inside it. So, it is advisable not to spend much on waterproof gloves.
Cost– INR 150/200 in Himachal Pradesh, INR 700/1000 at Decathlon-Quality gloves
Woollens:
Carry proper light and still warming jacket available at Decathlon. Though you sweat during the treks, exposing your body to the cool wind might make you sick. Thus, keep wearing at least a full sleeve t-shirt.
You would need a proper jacket at higher camps.
Pairs of socks:
5-6 pairs socks are required for any trek. You must keep changing your socks in order to avoid infection and blisters . After every day trek, you must wash your feet apply anti-bacterial powder and wear a fresh pair of socks.
Anti-bacterial powder:
A small bottle of Candid anti-bacterial powder must be carried to protect your feet and the skin near your sweat glands.
Stoles/ Monkey cap:
Required to protect your ears and neck from wind and cold. Both stole and cap should be carried as, at the higher camps only caps might not suffice.
Thermals (optional):
In the case when you are not at all used to cold weather, you must carry thermals which keeps your body warm like woolens. But if you belong to a warmer part of India and not used to the low temperatures then you should carry thermals.
Quick dry pants/t-shirts: (Optional)
The Himalayan/ Forest climate is permanently unpredictable. It can shower or even you might face hailstones at any time though the mornings are sunny. Usually, it is observed that the rain starts in the evening. The cold weather will not let your thick cotton pants dry off quickly. Moreover, the pants might get wet during snow slides in Himalayas. The quick dry pants' material will dry off before you reach your camp, making the trek easier for you.
Cost: Around 2000 (Decathlon)
Poncho:
Poncho covers your entire upper body including your back packs. A simple plastic poncho would be available in Himachal Pradesh. But it hardly lasts longer due to heavy wind. Thus, it is strongly advisable to buy a poncho from Decathlon. If you are a regular trekker at local places too, buying it will be worth it as you can just wrap it around your bag during monsoon treks and keep it rain safe.
Cost: INR 700/900 (Depends on store and sale season)
Plastic bags :
Pack your bag smartly considering the unpredictable weather of trekking trails in India. Make slots of things to be carried and pack it in polythene to keep it rain safe/ snow safe during snow slides.  For Eg. Woolens to be carried at higher camp(Waterproof hand gloves, jacket, cap) in one bag, Spare clothes to be carried at higher camps in another bag and toiletries  in another one.
This makes it easier to find the things even at night. Moreover, you won't even have to take out and mess up all the things of your bag just to take out one thing. This would make you  bag very much organized.
You might also need it to cover your tiffin as the packed lunch might be too oily.
Note: Count and carry all the plastic bags back to your city. Mountains are not meant to recycle manmade stuffs.
Tissue Papers/ Toilet Papers:
Try to use water as far as possible for your daily routine is concerned. In case of unavailability of water you can use wet wipes. Wet wipes can also be used to wipe your body. Dry tissues/ toilet papers can be used to clean your tiffin or wrap it around to save it from oil leakage.
Torch with spare batteries:
Almost no electricity is available except at the base camp in most of the treks. This makes  torch-light, a must carry thing for the treks.
Trekking Stick: (optional)
You might not need it while climbing and it might also slow down your speed. But while moving down, it is required to keep your knees safe from too much pressure. If you knees are weak it is advisable to carry a trekking stick. If you don't want to carry a professional one you can just buy a bamboo stick sold by locals for INR 10/20/50(Depends on the demand-supply rule)
Common Medicines:
If you are too sensitive there are chances of catching cold. The following common medicines should be carried:
Vick's Balm/ peppermint
Fever medicine (advised by your doctor)
Medicine for vomiting and diarrhea (a common phenomenon at high altitude)
Medicine for headache (Should be taken only in severe cases)
Band-aids
Dry fruits:
Munching dry fruits will not only give your body the required nutrition but would also help in keeping you warm. Be aware. Too much of consumption might lead to acidity or increased internal body heat.
Electoral pouch:
It boosts energy and makes you feel hydrated. U can just pour it in your bottle during the trek and have a tasty + energy drink. Loose Motions is a common problem faced at high altitude. Electoral would also come to your rescue in such circumstance.
Lip Balm/ Body Lotion:
Your skin would get dry to the extent that it's layers might peel off. If you wish to be raw and experience real trekking consequences no need to apply anything. But your dry lips might bleed. Thus, to be on a safer side you must carry lip balm/body lotion irrespective of your gender.
Sun glasses:
A quality sun glasses which can protect your eyes from harmful UV rays should be bought. It is fine even if you a normal sun glass different from the one to be worn in sun. It would also protect you from getting snow  blindness.
Sunscreen Lotion:
You feel the need or not, your skin needs protection from harmful rays which are direct and severe in mountains. A good brand sunscreen of 50 SPF should be carried to avoid tanning.
Liquid hand wash:
Logically carrying a soap bar during travelling create storage problems after its use. You can carry a small liquid body wash which can be used as hand wash too.
And in the end remember to carry all human garbage down with you, let the next trekkers be busy in enjoying the beauty of the place rather than cleaning your shit. Stay tuned with the Travel Hippies and follow me on Instagram.