Since childhood I always believed, in order to swim with the colourful tiny amusing fishes and other creatures of the sea, one has to be either Ariel, the little mermaid of the Disney cartoon series or one of the Discovery channel members like Steve Irvin until I was exposed to a real adventure water sport activity called scuba diving. It is easy to be mesmerized by the dramatic scuba diving experience shown in movies and TV Shows but trying it in real is not a cakewalk. I realised it during my first scuba diving experience at Havelock – Andaman and Nicobar Island.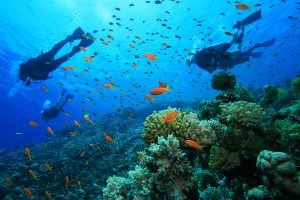 It started at 9:00 am considering the best tide position giving us the possible clear view.
Most of us being non-swimmers were supposed to be guided by an individual instructor provided to each one of us. They guided us how to breathe underwater and how to clean the glasses filled with water along with the signs to be used underwater. The head instructor made us do the breathing experiments underwater to make us get used to the normal incidences of sea water getting inside the mouth, ear pressure problems and nose breathing problems. At first attempt, almost all of us had the taste of salty sea water spoiling the mood of our taste buds.
As soon as our training was over, we started floating towards the diving site. Upon reaching the site we were turned upside down from our floating position. And there, for the very first time, I was under the emerald sea which I had been admiring all my life. I could see the lovely pastel green corals which were the reason behind the vast green sea. I was now more excited and hence, tried moving forward smiling. And 1..2..3…. gone… the sea water was already inside my breather and I was gulping down the sea water. I soon realised that it wasn't the 'Zindagi Naa Milegi Dobara' type fun at all. For the next few seconds, I had to struggle and regain the control over my breathing equipment and then I dived in again. I was really thankful to Sanjana, who was an expert diver from Mumbai for her patience in dealing with my mistakes.
 This time, I was taken as deep as 5-6 metres underwater. Soon, I got used to breathing through my mouth and was utterly busy reaching out the cutest fishes, a few of which I had not even seen in aquariums. The most beautiful of all was the Nemo fish, with furling orange fins, staring at us as if it was welcoming the first divers of the day!
Then we came across a school of yellow, black and blue striped fish, parrot fish, tiny bluefish and other big colourful as well as totally transparent fishes. I was so awestruck by their beauty that I hardly cared what they were called or how common they were. I just wanted to be there with them, staring back at them as they curiously looked at me. I also wanted to touch them but I feared I might scare them away. Soon, we were taken deeper to see more variety of creatures. The moment I complained of ear pressure, my instructor intelligently distracted my mind showing me a crystal-like seaweed which vanished in a fraction of second as she snapped near it.  I also saw some mouth shaped royal blue sea flower blooming in and out. Corals illuminated by sunlight all around us gave us a heavenly feeling of being in some magical world. A few creatures remained unseen as they were too quick to hide in their shells, assuming danger from us. The intelligence of the wild aquatic creatures certainly amazed me.
We were now 10 metres deep in the water; we were still expecting some sea turtles, huge stingrays, blue whales, sea horses, dolphins and few more types of fishes. But, alas!! The time passed quicker than expected. We were back on the water surface and the wonderful journey was over.
Though we had spent more than enough time underwater, we yearned for some more time in that beautiful world of magical creations of the Almighty. The experience is now added to a few of the unforgettable ones in my life.
Click to Plan your memorable underwater Journey  and get complete contact details guide for Scuba Diving sites in India
This might also guide you well:
Self Planned Trip to Andaman and Nicobar Islands
Barataang – An Encounter with the Tribesmen
Havelock, The Beauty of Andaman and Nicobar Island
* This article of mine was published in City Sunday Magazine, Mysore (Karnataka India)