While devouring the inordinate tranquility in the Buddhist Town of Shravasti, a Srilankan coupled created enough excitement for me to visit Lumbini. I was just a few kilometers away from Nepal border and had no plan of crossing it.  But the destiny had different plans. The only train moving to Gorakhpur from Shravasti was delayed by 5 hours and there was no chance I could reach Kushinagar before midnight.
And thus was born an impromptu plan to visit Nepal.  Considering that I had no internationally valid ID proof, I was a bit skeptical about the entry. After reaching Nautanwa, I took an auto to reach the border and realised that it wasn't really a border but looked more like a busy crossroad near Bhindi Bazaar in Mumbai.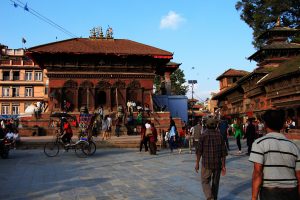 Nobody even would have cared if I had entered without asking or informing anybody. The security process on India-Nepal border is just for namesake and nobody cares where you are going and for what purpose. Being a first-timer, I was under the impression that I need to produce some permit stating that I was allowed to enter as an Indian.
On enquiring for the registration office I was directed to a tiny room with three officers in it. They asked for ID proof and I procured my Aadhar Card, Driving License  and PAN card, none of which proved my nationality as per them.  So, your most important document doesn't hold any value at the border. They made me read the newspaper articles (seriously? no official orders? ) stating Aadhar card is completely invalid as an identity proof at the borders.  I had to show my personal visiting card and prove my identity as a blogger to convince them (They trusted my personal visiting card but didn't care about the official govt ID proofs I had! Sigh). After making me wait for around 10 minutes they asked me to proceed!  And I had no proof that I had a permit to cross the border.
An important lesson learnt is, head straight to Nepal considering it your own country and keep a VoterID Card and passport with you.
On the other side of the gate, a bus driver was already shouting and inviting the people going to Bhairhawa. It being the only gateway to Lumbini I had to board the bus which looked normal while entering, later did I realise that it would be stuffed with people till we don't have any space to breathe.
The ladies sitting around me looked quite comfortable despite the over-packed bus, they were talking, laughing and were asking something to me in between, to which I only had a smile to answer.
The moment they realised that I only knew Hindi, they were more elated. They started advising me, guiding about how much I need to pay the conductor in Indian rupee. She also made it sure that the conductor returned me exact amount in Nepali Rupee. They assured how everyone would be helpful in Nepal. While getting down they also instructed other to guide me safely after Bhairhawa.
All irritation, tiredness and frustration had vanished by then. Nepal seemed to be a land of Samaritans. The belief was just reassured when a hotel person dropped me all the way to Mahabodhi temple when I didn't prefer staying at the hotel he suggested. He refused to take even a rupee and said that helping a guest in need was his duty.
Lumbini turned out to be an enchanting place projecting the principles of Buddhism through its temples, meditation halls and kind citizens. The next night I proceeded to Kathmandu by an overnight bus, saving a night stay's cost.
The bumpy ride didn't let me sleep throughout the night but got me a cool friend in a fellow traveler from France. The next day in Kathmandu, we got fresh at her hostel and left to venture around on a moped and could cover most of the places in and around Kathmandu just in a day. And that makes another crazy story in of my random trip to Nepal. The same night I had to go through another bumpy ride, but this time I straightway reached the border.
Tips:
If you are an Indian, put your phone off before reaching the border, as some service provider might play a trick and levy international roaming charge even before you enter the country.
The best way to reach Nepal from India is to take a train till Gorakhpur and from there either take a bus to sonauli or take a shared taxi for 300 INR. (I could bargain the price to 150 on my return journey from Sonauli to Gorakhpur) .
Daily direct buses also ply from Varanasi to Sonauli and even to Kathmandu.
Direct buses to Kathmandu are available from Sonauli and Bhairhawa.
Bhairhawa has an airport too, so if you plan not to opt for 14 hours of tiring bus ride flight to and fro Kathmandu is also an option.
Roadways are the only ways to move around in Nepal.
You can rent a moped in almost all the tourist place in Nepal. And do carry your passport as you might not be given the vehicle without submitting your passport.
No honking in Kathmandu. It is 'Horn Not Ok Please' place and thus you must follow the sensible law.
Please check the brakes of your vehicle beforehand because not even the capital city of Kathmandu has good roads.
Apart from mopeds Limousine like huge vans run to move around within the city area. They charge 5-10-15 NR depending upon the distance.
Small buses with numbers also ply within the city, you just need to ask the people around, which bus would go to which place.
You can cover Kathmandu, Patan and Bhratpur in a day if you set early.
Though there is entry fee at each place in Nepal, some can be barged through.
Daal Bhat and chowmin are the best and cheapest food options.
Follow me on Instagram, Twitter and Facebook.