The people of Andaman
The island and its people's courteous and generous behaviour would surely bring the thought of settling down permanently on the islands.
By the end of the trip it would become the land of your dreams where you are sure that you won't be cheated, looted or deceived by anybody. If you have lost something the person would either come to return it or would simply submit it in the nearby police station. The female solo travelers can roam around anywhere without even 1% of fear. The moment you need help, everyone around would be there for you even leaving their business, guiding you what to do. The moment you go to a police station the duty bound lady officer who proudly handles the whole station alone would come out to ask what problem did you face.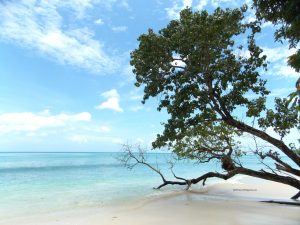 The food stall owners would happily teach their cooking recipes and would also let you cook in the kitchen. One of such persons is Mr. Sushil at North Bay Island.
The auto-rickshaws would never tell you 'no' for any place or charge more and would wave his hand signaling to wait if he wishes to take up the passengers so that you don't have to hurry down.
The moment you ask any question you will get the correct answer in detail from any local settled in Andaman. And if they would not know the answer by any chance they would call up the resource person and get the correct details. For instance, I randomly asked the number of Mr. Sajan, the owner of Eco Villa to a captain in Anju Coco Restaurant at Havelock, and in 5 minutes some how he got the number and even called up from his phone as ours didn't work. He took so much of effort though he neither knew us or him.
Forget the trip, they also show the courtesy to call you up and bid  good-bye as you leave and ask if you enjoyed or not.
The people at Guru Restaurant also went out of their way to provide us delicious Biryani as were hungry waiting inside the Airport. We did not even have to cancel our check-in as the airport security staff helped us collect the food from main gate and deliver us perfectly.
The people are very much happy, peace-loving, cooperative, kind, helpful and least frustrated.
I wish the people in main land would learn the same behaviour and if the reader is soon visiting, It is a request to maintain the peace, cleanliness and positivity of the place.
This might also guide you well:
Self Planned Trip to Andaman and Nicobar Islands
Scuba Diving – An Underwater Journey
Barataang – An Encounter with the Tribesmen
Havelock, The Beauty of Andaman and Nicobar Islands
* This article of mine was published in City Sunday Magazine, Mysore (Karnataka India)