Plan a trip for your inquisitive mind to the historic city Aurangabad, famous for its vicinity to the famous World Heritage Sites of Ajanta Ellora Caves. This city has a lot to offer to History and Architecture lovers. It is quite hustle free especially during off seasons. It's a favourite weekend destination for the people of Maharashtra (especially Mumbaikars), Karnataka and Madhya Pradesh. People visiting India from other countries also include it in their exploration list.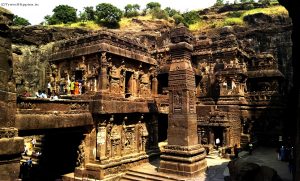 Tourism Department Contact: Telephone: 0240-2343169
Estimated Cost per head : INR 3000 +/ (including stay, food and transportation from Mumbai-2 Days)
How to reach Aurangabad :
Airport, Railway station and Bus Connectivity: Aurangabad
From Mumbai: You can opt for any overnight bus which will drop you early morning near the railway station of the city. You can then book a hotel, get fresh and move out for the exploration.
Bus Fare: Non-AC Semi Sleeper around INR 450/-
To and Fro private buses junction: Opp. Main High Court.
Roam Around:
Just beside the railway station there is a bus depot where you can get the buses to Jal Gaon which will drop you to Ajanta Caves on the way and buses for Ellora Caves will also be available at the same spot. You need proper transport only for these two places.
Private bus booking for Ajanta Caves is done from Devpriya Hotel
Contact:
 Grishneshwar Mahadev Temple:
This is one of the 12 Jyotirlingas located in India and visit to each of them is considered very auspicious as per Hindu Mythology. You can start your journey taking the blessings of Lord Shiva in this temple.
The pandits might ask you to do some pooja once you enter the temple. It is advisable to ask for charges before attempting any kind of rituals as the charges might be too much. And before pouring the litres of milk on the linga remember that Lord Shiva would never like to have milk when hundreds of malnutrition children die craving for milk and when Krishna's favourite animal cow is injected with hormones to suffice the increasing demand of milk.
Note: Reach early morning to avoid long ques.
Timing: 5 am to 9 pm
Entry Fees: Free Entry
Ellora Caves: Monolithic Constructions of Jain, Buddhist and Hindu Kings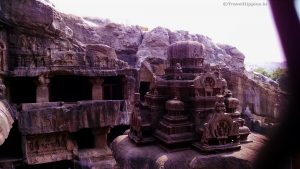 How to reach: You can take any local transport bus or taxis or a private auto to reach here.
Volvo AC Bus: Directly available at City Bus Stand (0240-2242164) at 7:30 am
Private Taxi/mini bus: Contact-9422208177
 It is advisable to take the government bus service provided within the cave premise for a few caves. It will take a little long to walk from one cave to the other. So, if you do not have a private vehicle of your own and you want to cover the caves as soon as possible than you can opt for the bus. It is not advisable to visit all the caves as many of the caves were just used as the guest house with simple construction. Must visit caves are:
 Cave no. 32-34: The cluster of these caves will leave you mesmerized with its huge prayer halls and public and private temples with the sculptures of unusual gods of Jain Mythology. For instance, Ambika, the Goddess of Prosperity.  The carving and sculptures in cave no. 34 are so grand that it is also called Indra Bhavan. The monoliths of an elephant, a pillar and a small hall with the idol of Mahavira facing all the directions shows the intention of spreading the religion all over the world and creating such a stunning architecture was a way to attract people.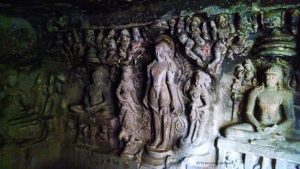 Cave No 16:  is a Kailash Temple and the carvings of Shiva family and a huge Monolith temple carved from upside down in a shape of a mountain proves the worth of its name. The different forms of Shiva, like Nataraj, Parvati Pati, Linga, Adiyogi along with a totally unusual temple of the auspicious river Godesses Ganga, Yamuna and Saraswati will leave you awestruck.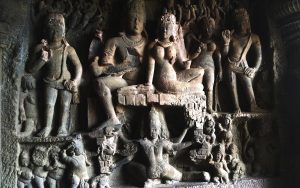 Alert!!: Many stone sellers will try to lure you by claiming it to be precious and different. Kindly do not fall prey to it as they are just the ordinary stones. If you like any of those try to ask for just INR 100-200 if the stone is bigger and INR 30-50 for smaller stones. The idol sellers usually sell cement idols claiming it to be of stone. If you are aware of this fact you can ask an idol for just INR 40/50.
Other Worth Visiting Caves: No. 10,11,12,14,15,20,21,25,29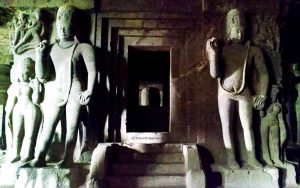 Timing: 9 am to 5:30 pm
Entry Fees: INR 10 for Indians, INR 250 for foreigners. (Vehicle charges separate)
Closed on: Tuesdays
Daulatabad Fort: Named by the Wisest Fool of Indian History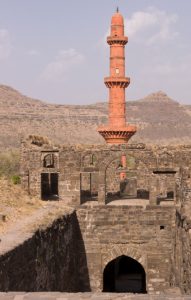 Located on a small pyramid-shaped hill, this fort fascinated the kings of many dynasties. Mohammad Bin Tughlaq was so much attracted to the grandeur of the fort and invincibility that he shifted his capital from Delhi to Deogiri and renamed it Daulatabad. He also added a few building within the fort premise like char minar, Jami Masjid and a few tanks.
Note: You have to climb a little to reach the fort. Thus, wear shoes, cap and carry enough water, food and energy drinks or peppermints. Start early to avoid heat and crowd.
 Timing: 9 am to 6 pm
Entry Fees: INR 10 for Indians
Silk Saari Industries: Workshops of the Weavers
On your way back from the fort you can stop at the Silk saari shop to buy Maharashtrian style silk saaries (Himroo, Paithni, Nauaari) and you can also see the weavers making traditional designs using colourful silk and cotton threads and gain some knowledge about the popular types of saaries.
The Tomb of the Last Dominant Mughal
The city has its name from the sixth Mughal Emperor Aurangzeb whose tomb lies right in front of the dargah of Sheikh Zainnudin, who was his spiritual guru. As per his wish the tomb is very simple built in white marble stones. The attendants at the dargah would give you detailed explanation for each shrine in the complex. The cloths of the great Prophet Mohammad is also kept safely in a silver box in the dargah. The attendants of the community would guide you in detail if asked any question and in return you shall donate some amount in the donation box which will be used for the maintenance of the place.
Note: Avoid wearing short pants or any revealing outfits.
Timing: 9 am to 8 pm
Entry Fees: Free Entry
PanChakki: The Intelligence of an Old Saint
It is an excellent specimen of the intelligence of an old saint 'Baba Shah Musafir' who made the mud canals build during his life time which transports the water from the source 11 km away in some hills. The canal also has pillars at certain distance working as suction pumps. The water is finally raised and is collected in a tank at a height from where a beautiful waterfall is created.  In earlier times the kinetic energy of the falling water was used to run the mill which ground flour for the pilgrims who came to visit the Sufi saints. The place was also the resident of many saints including Baba Shah Musafir, which has now been converted into a small museum.
The water of the waterfall now creates a reservoir and makes the place beautiful, cool and calm.
Timing: 9 am to 8 pm
Entry Fees: INR 5
 Ajanta Caves: An Amazing Discovery by a British Officer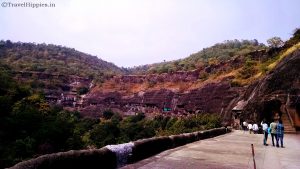 A the story says a British General who went for hunting expedition in the forest accidentally found the caves when he saw a tiger entering the Cave no. 10 which is at the highest location. The caves are carved out in a horseshoe shape with a Baghi river flowing in the valley formed by the hills. Two of the caves are Chaityas (the worshipping caves) and others are viharas (monasteries) beautified with Jataka tales, pictures of Bodhisattvas and huge idols of Lord Buddha. It is advisable to take guides for these caves to know in detail about the picture stories on walls and other painting. After visiting the caves you can go to the waterfall point to see a small waterfall on the left hand side on the way to exit or you can climb up hill to have a panoramic view of the caves.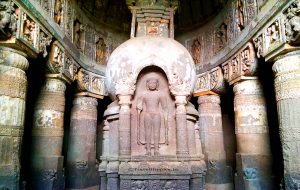 It will be noon by the time you will complete your visit and would be tired enough and would like to fill your tummy with some delicious items. You can have lunch at the MTDC Café (quite expensive) or you can just have some bhel available from the vendors outside the café and wait for lunch till you reach the highway stop where there are stalls selling puri-bhaji, vada, samosa and other snack items.
Transportation: Any bus from the local bus depot going towards Jalgaon will drop you on the highway stop for the caves. Private AC Volvo (INR 800) is also available especially for the foreign tourists. Once you reach the highway stop government buses will take you till the caves. (AC/NON AC bus option available)
Private Taxi/mini bus: Contact-9422208177
Volvo AC Bus: Directly available at City Bus Stand (0240-2242164) at 7:30 am
Timing: 9 am to 5:30 pm
Entry Fees: INR 10 for Indians, INR 250 for foreigners. (Vehicle parking charges separate)
Closed on: Monday
Museum and the Park:
In the evening you can enjoy in a Children's Park/Garden, Nehru Bal Udyaan. Near the garden is the Chhatrapati Shivaji museum which exhibits war weapons and attires, coins, a Quran written by Aurangzeb and a 400 year old Paithani Saari.
Timing: 10 am to 6 pm
Entry Fees: INR 5
Closed on: Thursdays
 Bibi ka Makbara – The Taj of Deccan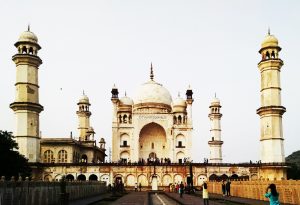 Its style of architecture is the replica of the Taj Mahal constructed by Shah Jahan at Agra. Thus, it is rightly named as 'The Taj Mahal of the Deccan'. It is the tomb of the wife of Aurangzeb built by his son Azam Shah who wanted to build a tomb resembling Taj for his mother. It  is surrounded by gardens on all the four side as per the custom and the path way to the tomb is adorned by a series of fountains just like in Taj Mahal.  The building it lit up in the evening after sunset.
Timings: 8 am to 8 pm
Entry fees: INR 10 for Indians , INR 250 for foreigners.
Open on all the days.
Aurangabad Caves: Not so Tourist Affair
Located near Bibi ka Makbara these caves are not easily reachable as you have to hike a little to reach this excavation site. The caves just like in Ellora are constructed from upside of the rock to downwards.
Worth Visiting caves: No. 1,2,3,6,7
Enjoy the exploratory visit to this cave town….
Was the article Helpful ? !! Do leave a comment….
And also check these handy guides..
10 Places to Explore Mumbai  like a Local
Exploring The Little Lhasa named Mcleodganj
Andaman and Nicobar Islands – Into the Blue Waters
And don't forget to follow me on Instagram, Facebook and Twitter.