Long before the British Colonised the islands of Bombay(Bom Bahiya), the tiny Portuguese villages, flourished at the shores of the Arabian Ocean. There were a number of such Gaothans (Shore villages) earlier but now only a few exist in their original form. One such village named Khotachi Wadi lays hidden near Charni Road Station in Mumbai.
The city of Mumbai is now a metropolitan and the people no longer remember the antique architectural jewels of the city. Unfortunately, these antique precincts are now overshadowed by the high-rise buildings and modern architecture. However, despite too much of development, a few little towns tucked among the concrete jungles of Bandra, Vasai and Charni Road area have been successful in preserving the heritage.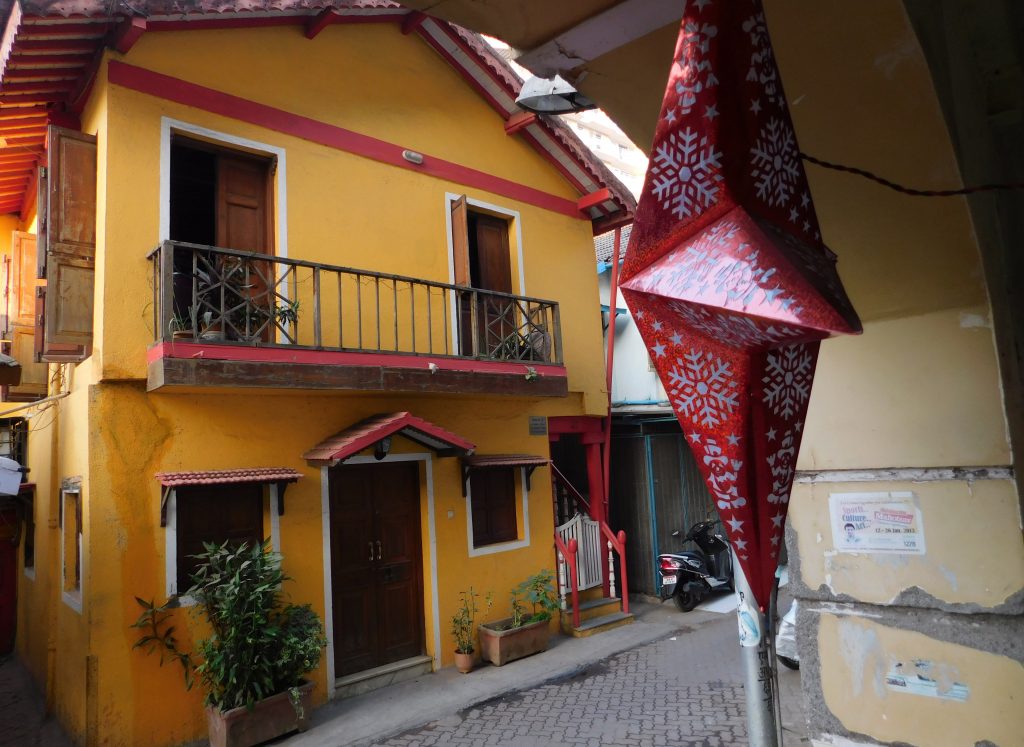 Being a Mumbaikar for a few years, I got the opportunity to walk around these beautiful lanes flanked by the heritage houses quite a number of times. With the jingling bells of Christmas, the old colony of Khotachi Wadi near Khetwadi revives its ethnicity with glittering extravaganza. The Christmas Vibes can be felt and can be best enjoyed right here in the narrow winding lanes of the Portuguese Era.
Don't get surprised if you see cats all around the lanes of Khotachi wadi waiting for some fried fish. In fact, you would be welcomed by a typical smell of either fried or dried fish which is a favorite of the Christians of Khotachi Wadi.
Also Read: A walk through Fontainhas, the Colourful Portuguese Colony of Goa – Photostory
History of Khotachiwadi
Khota, a Pathare Prabhu (Hindu Brahmin) was the founder of the colony who sold off his plots to the East Indian Christians. Khotachi Wadi has thus become an avowal of religious harmony. 'Wadi' in a few Indian languages means an 'orchard' or a 'farm'. Khotachi wadi is called so as Khota would have made plots out of his farm. Back then, the East Indians established around 68 houses which are now reduced to only 28-29 houses.
A Starry Welcome by the Oldest House of Khotachi Wadi 
Evidently, the biggest and most beautifully decorated house belongs to Mr. James Ferreira who is the renowned fashion designer of India. He also hosts many of the Bollywood film crews for film shooting and the house has been a part of many movies. So, if it looks familiar, it is not a Déjà woo for sure.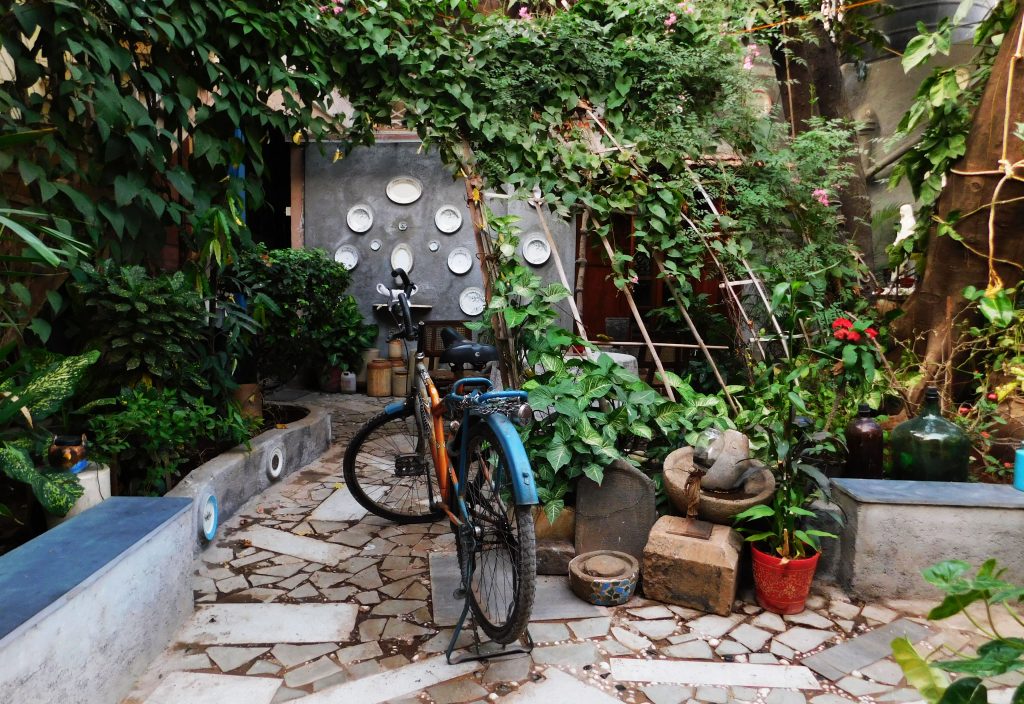 After passing through a few colorful houses, you may encounter a beautiful bungalow with a sandy compound, walls adorned with crockery and a wine barrel hanging from the top branch of the tree. The house looks straight out of some classy Indian movie set. And the proud owner of the house is Mr. James Ferreira who has used his best artistic skills to make the house look unique. The wooden ceiling of the house is embellished with red and blue Arabian style chandelier and if you request him, he may allow you to even take a peek inside the house.
Willy and his 12ft Tall Cactus and a Mini Zoo
With a fish pond at the entrance, a few birds chirping in the cage, cats roaming around along with two crazy rabbits, another old sink converted into a fish pond and Mr. Wilfred Fernandez's guitar flaunting his fan-boy gesture for Bob Marley; This what you can exactly see when you pass by a house located diagonally opposite to Mr. James Ferreira's .
Also Read: A Chinatown in Aamchi Mumbai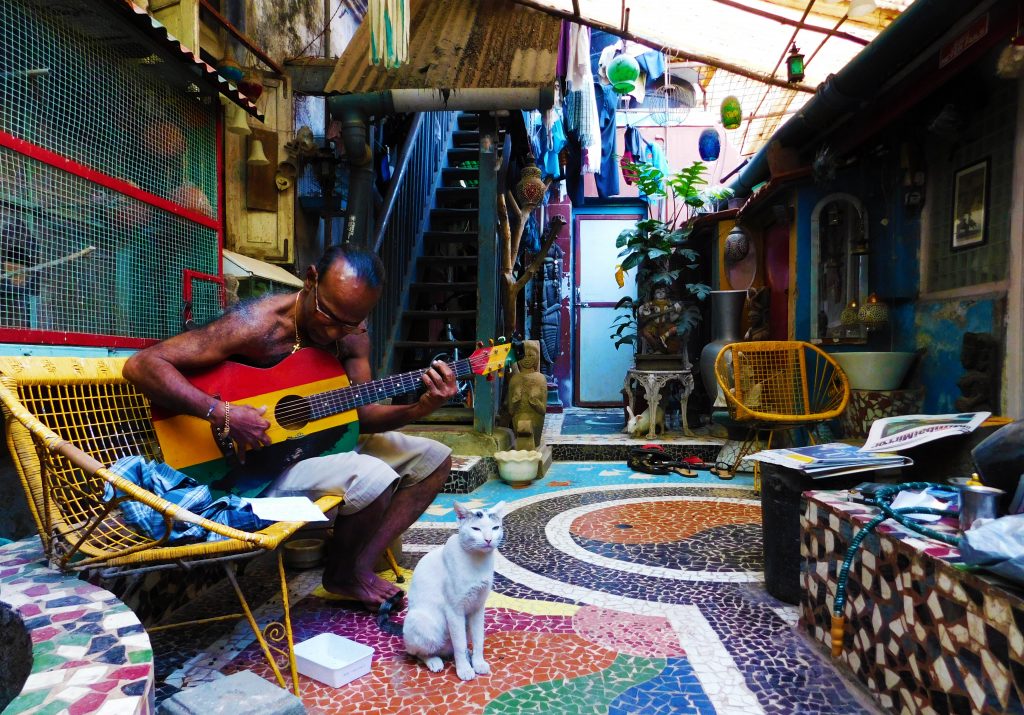 If you are lucky enough to meet Willy, a famous personality in Khotachi Wadi whom almost every passerby wishes and invites for a meet, he may discuss a long history of this place. And yes! Feel free to take pictures of his house with his permission, he won't deny you entry.
Willy's house is the center of attraction during Christmas every year as he puts up a Santa on an outer roof of his house. The Santa doesn't only stand like a statue but sings and dance greeting all the passersby a Merry Christmas. Don't forget to have a peek through his window and see the Christmas Tree décor. Willy loves to differ and many a time prefer a white Christmas tree!
10 Places to Explore Mumbai  like a Local
Khotachi Wadi on a Christmas Eve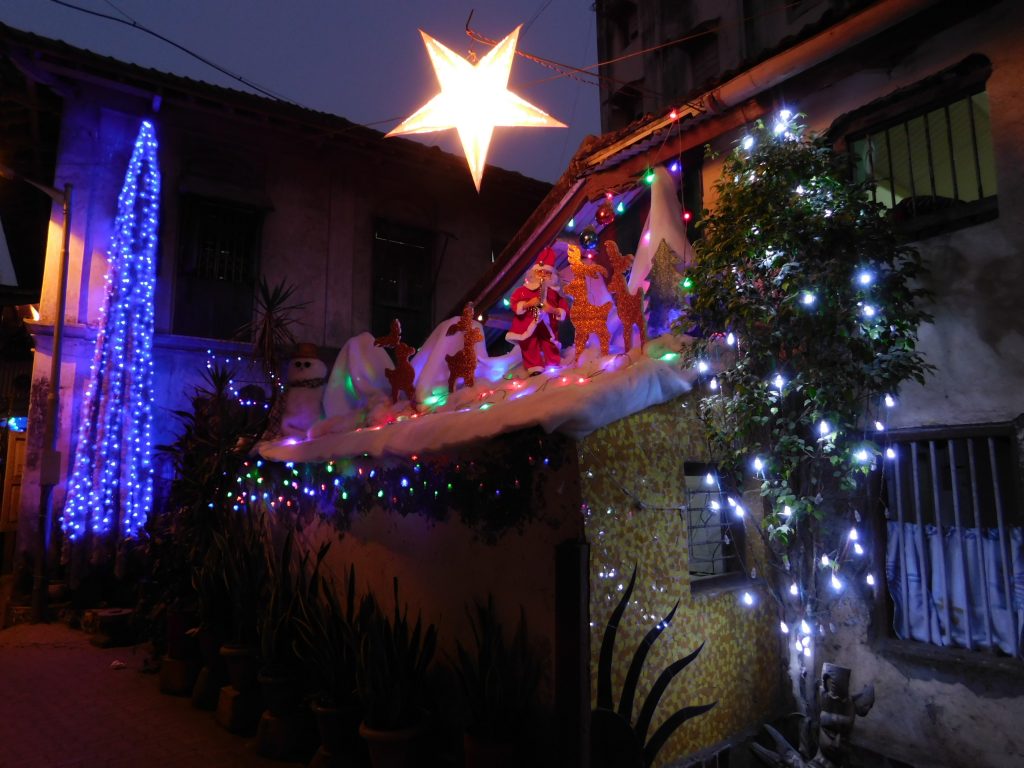 And probably the tallest cactus in Mumbai, located outside his house, is also decorated with white laces and it looks like a fanciful Christmas tree too.
A few graffiti and murals would be seen almost in all the streets here. One of my favorites is the mural of Mother Merry holding an infant Jesus. The residents are also fans of old classics. If you happen to go early in the morning, you may hear some old classics from almost all the houses.
Daily Scenes in the Lanes of Khotachi Wadi
Another big house further on the main street belongs to this lovely aunt whose children have settled abroad but she loves being in this old colony where she was born and brought up. Wasn't she married off? Was our question, which was answered even before putting it forth. "In our marriage, no one cried, all departed happily and especially my father was very much happy on my farewell as I was just moving 10 steps away from his house," she said with such an immense excitement as if she was reliving the moment while describing it.
The Christians in the colony prepare for it altogether helping each other. The cheerful aunt remembers baking special cashew cookies in different colors with her husband and children. She remembers how it used to be the lively tradition back in her childhood. Now she enjoys it just with her husband who loves the sweets prepared by her. And with that, she quickly brought a few pink, green, orange and white tiny buckle shaped sweets for us.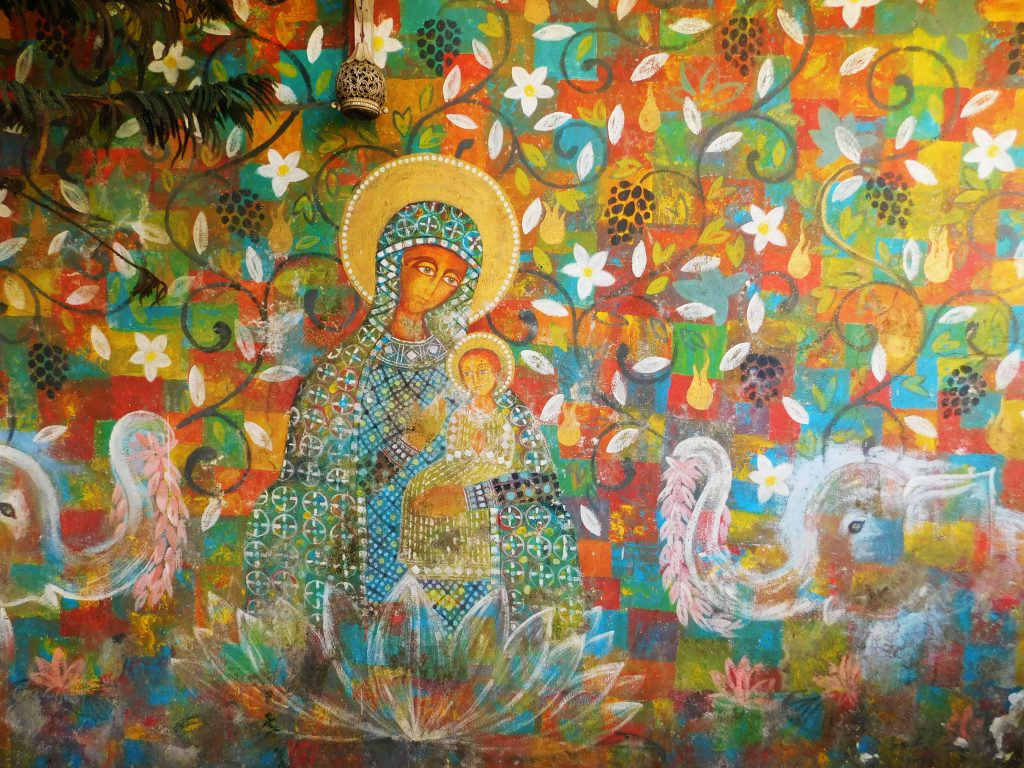 "It is our tradition," she said with a boastful smile, "We distribute these sweets to all the houses in the colony wishing them a Merry Christmas." She also distributes it to the children whom Willy brings in for the Christmas celebrations.  And then she continued explaining us the recipe of each of the little sweets.
During a long conversation standing by the railings of her verandah, we didn't realize it was already dark. It was only when Willy's little Santa started singing, we realized that a quaint colourful lane had turned into some magical town ornamented with dazzling colourful lights and stars all over.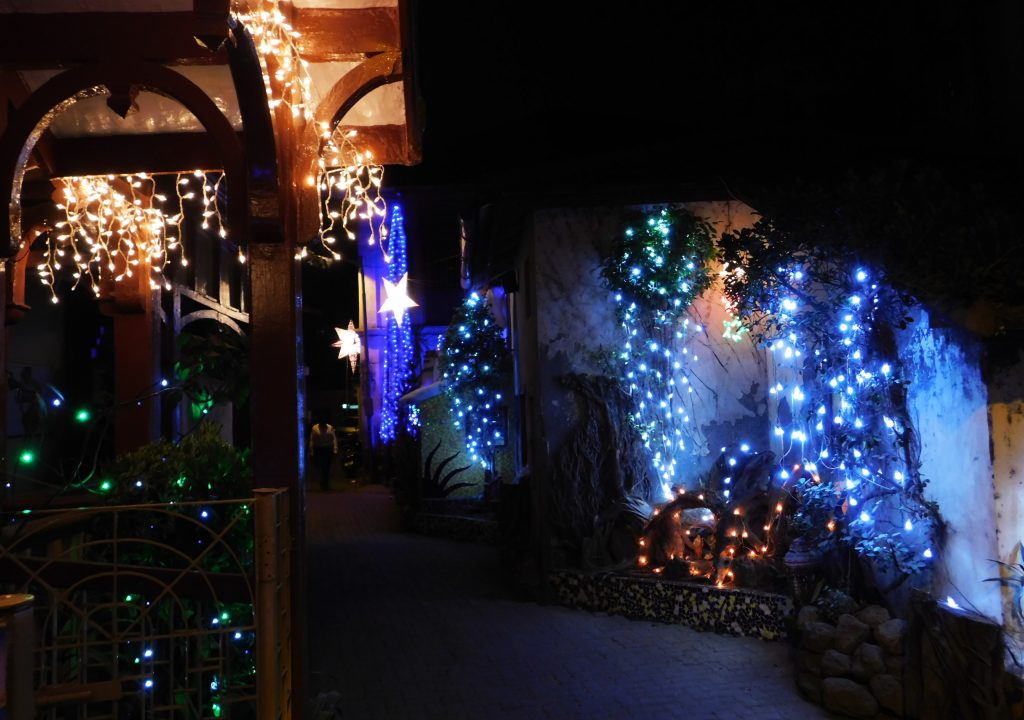 The houses, the doors, the windows, the lanes, every single stretch of the colony seemed to be wishing us a Merry Christmas even before its arrival.
Bikes and Benches
Moving further in the lanes, two more things would attract your attention. One is the residents' love for the bikes and the second are the wooden benches in the tiny lanes. Almost all the latest and rarest of the vintage bike models can be seen in the lanes of Khotachi Wadi. For a bike-crazy friend of mine, the lanes were like an open museum of his favorite bikes.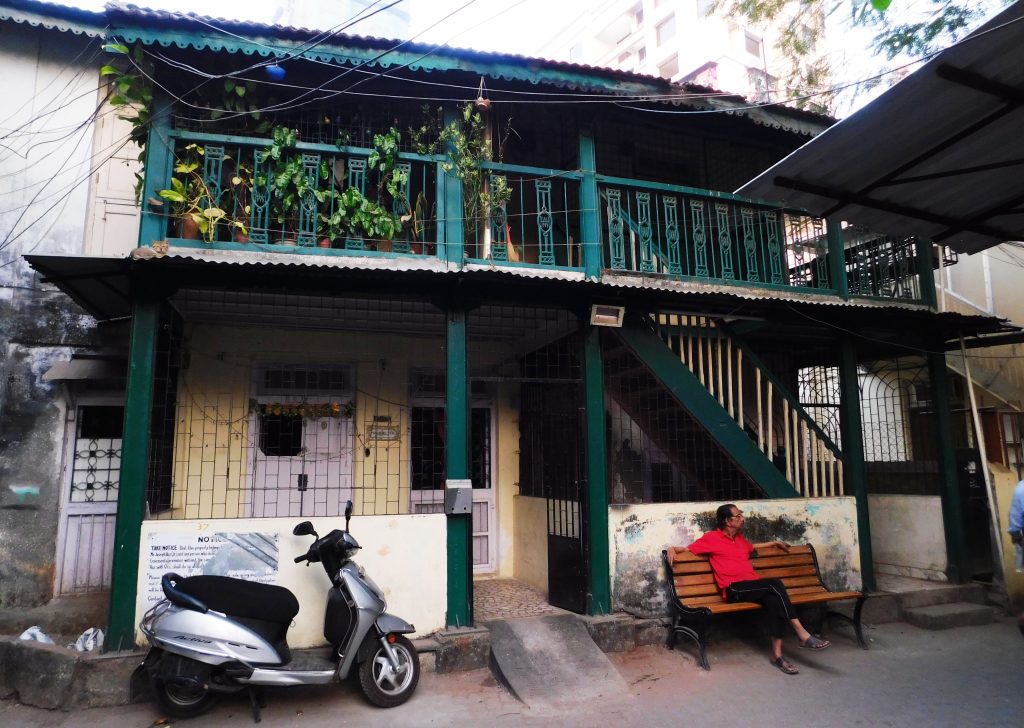 However, the lanes are too narrow for the traffic and can easily get jammed in the absence of rules. The society has thus restricted the entry of any bigger vehicles and the streets are open for 2-wheelers to pass by. Perhaps, that is the reason people here spend more on a bike than a car.
In the later years of the British Rule, many of the Sindhis, Marwaris, and Gujaratis have shifted here. They have occupied many Christian homes after they shifted back to their country. Many of the doorplates read Mr. & Mr. Patel and even Shah and Jains. And surprisingly, the decoration of their house revealed their immense zeal for the coming Christmas.
Ideal Wafers
Besides the pungent smell of a spicy fish pickle, you can smell fresh potato wafers being fried in one of the oldest boilers topped with a chimney in a small old shop. And beside this small shop is a dilapidated building which used to be the famous 'Ideal Wafers' factory. Try their tomato flavoured and the plain potato wafers, I bet you would ditch even Lays and Balaji wafers after that.
The Christmas Eve Decoration in Khotachi Wadi 
On Christmas Eve, the lanes lose their calm and jump with joy along with the unprivileged children who join from all around the area. Willy or any gentleman voluntarily becomes their Santa and distributes candies, chocolates, and balloons among them. Many a time, society also arranges a feast and dance party for the kids.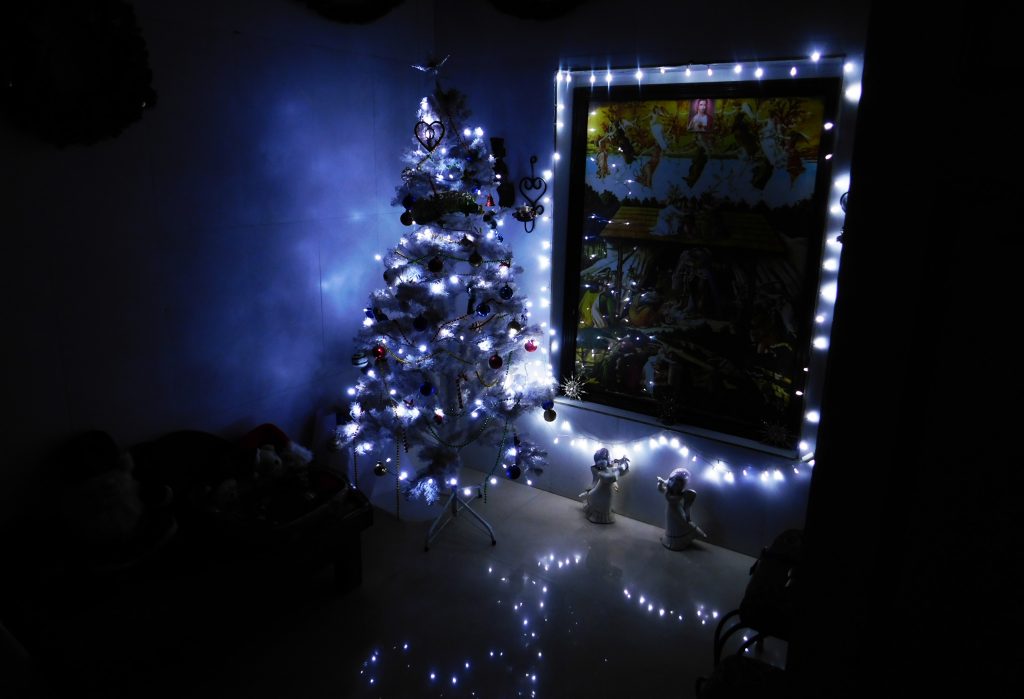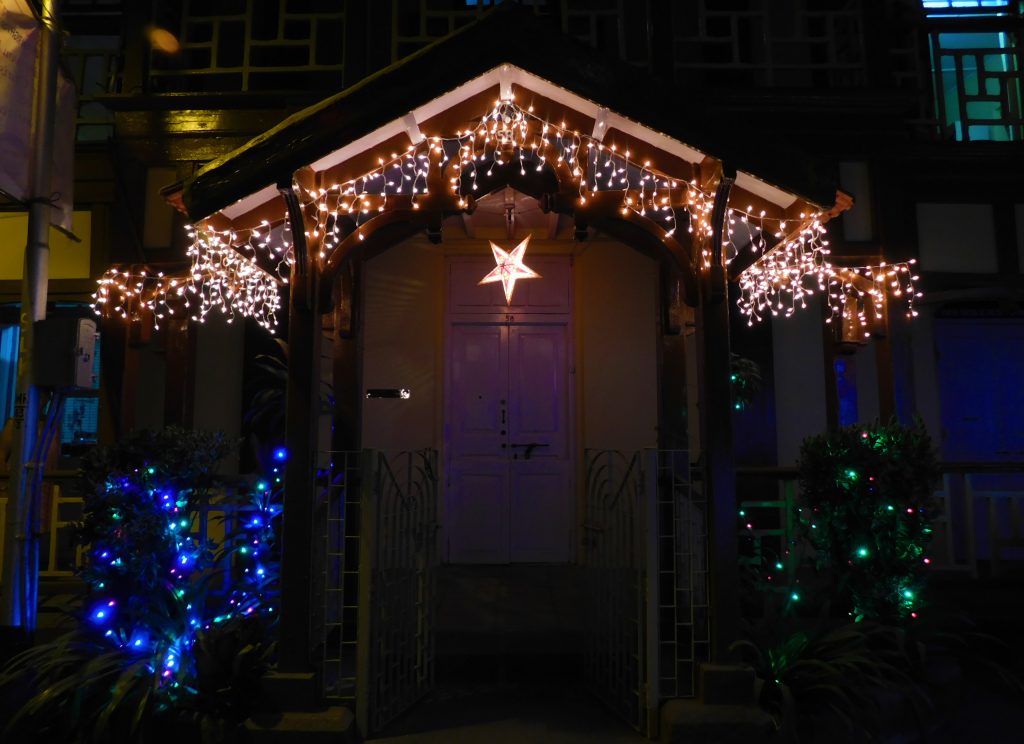 And any outsider is allowed to join in the joyful celebration. Don't miss the chance and enjoy your next Christmas in this Portuguese precinct.
How to Reach Khotachi Wadi
You need to cross the bridge beside the Saifi hospital which is located opposite to the Charni Road station in order to reach Khotachi Wadi. Once you get down the pedestrian bridge you need to walk straight and ask for directions to the people around. It may take you around 15 minutes to reach Khotachi wadi by walking.
Travel Tips
Visit in the morning for the best photographs or late afternoon on a Christmas eve and wait till it turns dark.
Do explore the bakeries in this area.
You can join the photo walks arranged in this colony by a few organizations or take the help of a vacation planner in case you are visiting Mumbai for the first time.
Pin it now to refer it later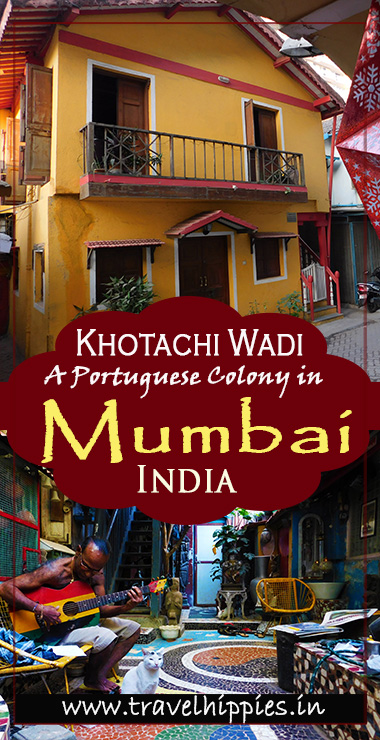 Follow me on