Deva Prasath, a full-time traveller from a small town called Maduranthakam in the outskirts of Chennai, is on an unstoppable journey throughout India. He has left his family back in the village to live his dream of traveling full-time.
Coming from a middle-class family, full-time travel wasn't much of a fanciful idea. He had never travelled before he left his job and while writing this story, he wonders "Why didn't he…!!" It has been a roller coaster since he has started. I have known him through a Facebook group where he keeps helping people with the contacts for volunteering works.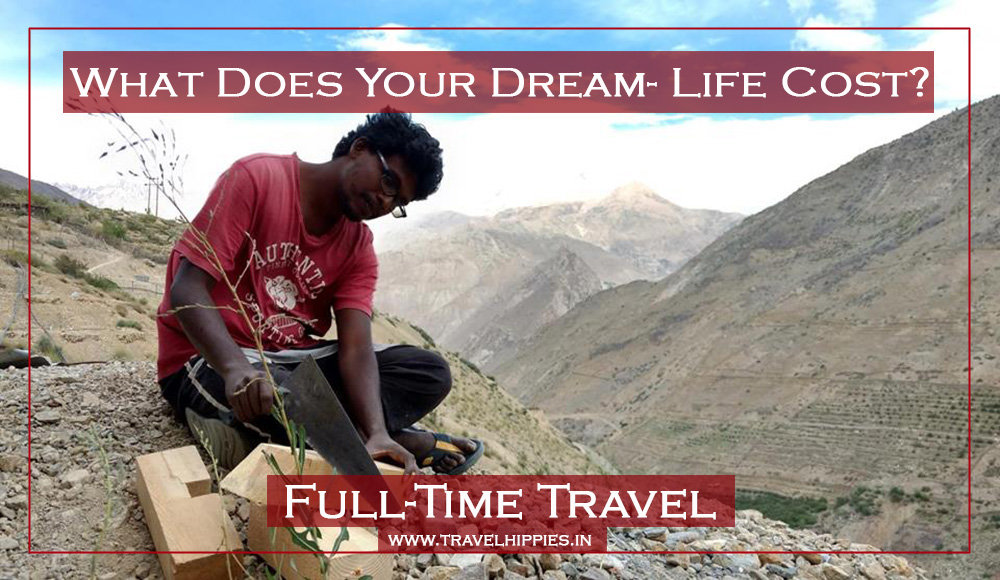 Read the journey of this nomad in his own words as he answers all you wish to know about full-time travelling disclosing all his secrets.
Travel Secrets From an Urban Nomad – Deva Prasath
To get out of Closed-Circle of Life and see the world by myself…
I always enjoy being with nature, love solitude, growing plants all the time as it gives inner peace to me.  A book called "The Hidden Life of Trees" by Peter Wohlleben, inspired me to go deep into the woods to learn from nature, and movies like "The Secret Life of Walter Mitty", "The Motorcycle Diaries", "Into The Wild", etc., motivated me to explore the world and go to far away places, where I can hear my soul. I was always a daydreamer and wanted to travel around to establish a connection with nature and people.
I love to travel slowly and prefer to stay in one place for a longer time to have a better connection with people, to help them with daily activities and to be a part of the daily life.  So  I choose for cultural exchange programs like WWOOF and WORKAWAY ( international NGO's) which let me work in exchange of food and accommodation in remote villages. It was perfect for me to connect my passions for farming, to live with nature and keep moving to different places. It is not only a way to travel cheaper and longer, but also a way of maintaining a simple lifestyle and building closer relations with locals. It gives me a sense of meaning by helping in whatever way I can.
From Being a Workaholic to Being A Nomad
After my post graduation in Biotechnology, I worked in a food research project that aims to "increase the vitamin B2 production in Fungus" at Biotech department, IIT Madras for two years. I used to be a workaholic,  spend most of the time in doing molecular biology experiments in the lab, and daydreaming about travelling.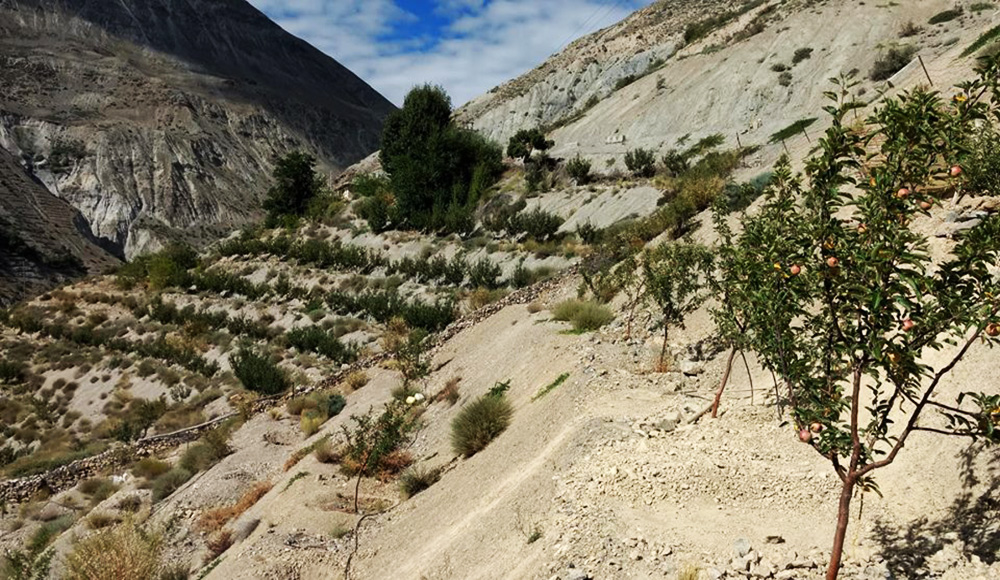 After my project got over in Aug 2016, I started volunteering at various farms, schools in different parts of India and Nepal to reflect on the solitude between man and nature. I decided to travel only for a few months and come back to find another job.
But, after I started travelling, I realized how much I love being myself in the serenity of forests.  And very soon, far away dream was not really far away from me. I found my freedom and happiness in going to new places and meeting new people from different background and it gave me inner peace with invaluable knowledge. I chose to follow my heart and continue on my dream path. I ended up travelling alone for 18 months across Kerala, Northeast India, Himachal Pradesh, Uttarakhand, Kashmir, Nepal, and Bhutan.
Savings Before Taking the Leap of Faith
I saved around only 70k INR.
No regrets, Only Learnings
Till now,  I consider it to be the best decision I ever made in my life. I found out what I really want in life. Now I am working with a farm in Wayanad, Kerala. Though  I do not have huge earnings in this current job I am glad that I am able to work amidst nature.
Because, more than a success, satisfaction is more important in the life. And I am satisfied with my current job which what I wanted to do.
Surviving Without a Well-paying Job – Workaway in India
I promised myself to live the life I wanted,  not just to Survive. I lived in a very peaceful environment in the mountains with very kind hearted peoples. Working in a farm was a hard work but it ensured a healthy lifestyle.
I worked in different kind of farms, started from Kerala in a Coffee & Spice plantations and took a 65hrs long train journey to help in a tea farms in Assam and Arunachal Pradesh;  in a Pineapple farm where I lived without the electricity, mobile networks  for few weeks in a small bamboo hut in the middle of jungle was helping in farm activities in Meghalaya, in Animal farm where I witnessed the amazing Hornbill birds in Nagaland, in a Permaculture farm in Sikkim and In Mizoram, teaching science, mathematics to the destitute school students in a remote village and I received beautifully handwritten letters from students, which was emotionally rewarding experience in my life.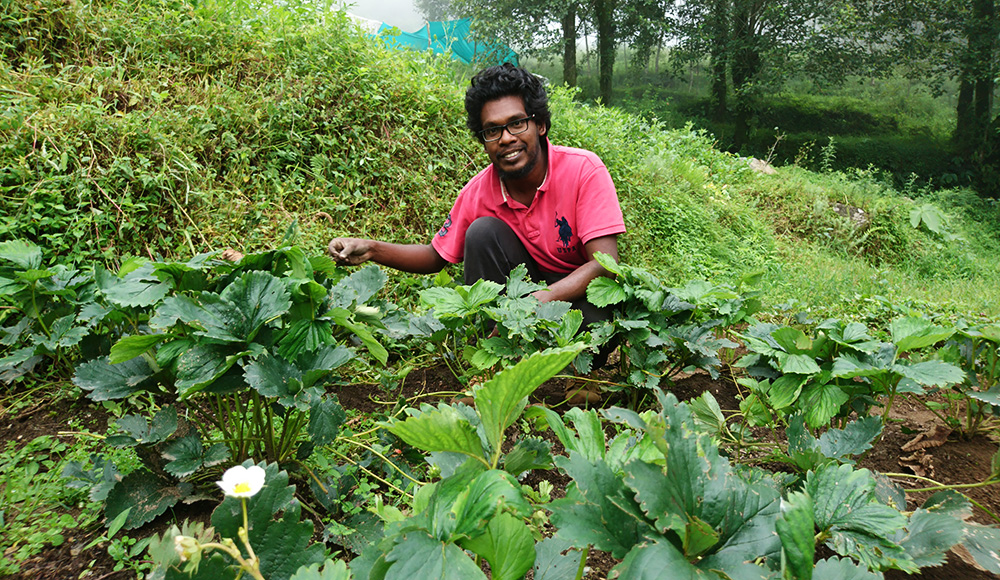 And then travelled to Nepal to work in a kiwi farm in Ilam. I have also worked with Sherpas in a fruit orchard in Sindhu pal chowk which was one of the awesome places. People there were so humble, compassionate and showed unconditional love. In the Himalayas, I worked in an Apple and Apricot orchards that served a backdrop of snow-capped mountains in Kinnaur. This was a dream come true for me.  I also lived with the Ladakhi family in Leh and helped them in a homestay and their vegetable garden for some time.
 My travel stop has always been for minimum one month so I get enough time to understand the local culture, food habits, to exchange ideas, smiles, and stories. Agriculture was my major subject in my under graduation in TNAU, Coimbatore. It has helped me in sharing my little knowledge on farming with locals and I tried to learn the indigenous farming practices.
Wherever I go I always found a home away from home, stayed mostly with a host family and farm workers. Finding soul connections with the local people was the most memorable moments in my journey. In some places, the farm host helped me to move from one place to another.  Volunteering in remote places and solo traveling taught me to live the life to fullest. Your skills whatever they are can be valuable to someone and sometimes these little things can change someone's life. At the end of the day, my eyes saw new things and heartfelt new emotions.
   " I starting living my life instead of on surviving."
Howmuch monthly expense can be expected for a Nomadic Life?
I have spent something around 5-8k per month. I work for at least for a month in one place and then travel for 10-15 days.
How to Travel full-time? How do you earn while traveling?
My personal interests are in farming and teaching. If you have skills in farming you can get a farm job anywhere in India, skilled agriculturists are in good demand. There are seasonal fruit picking, harvesting, and vineyard jobs available in countries like New Zealand, Canada, and Australia, etc., but unfortunately, it seems hard for an Indian to get a job there.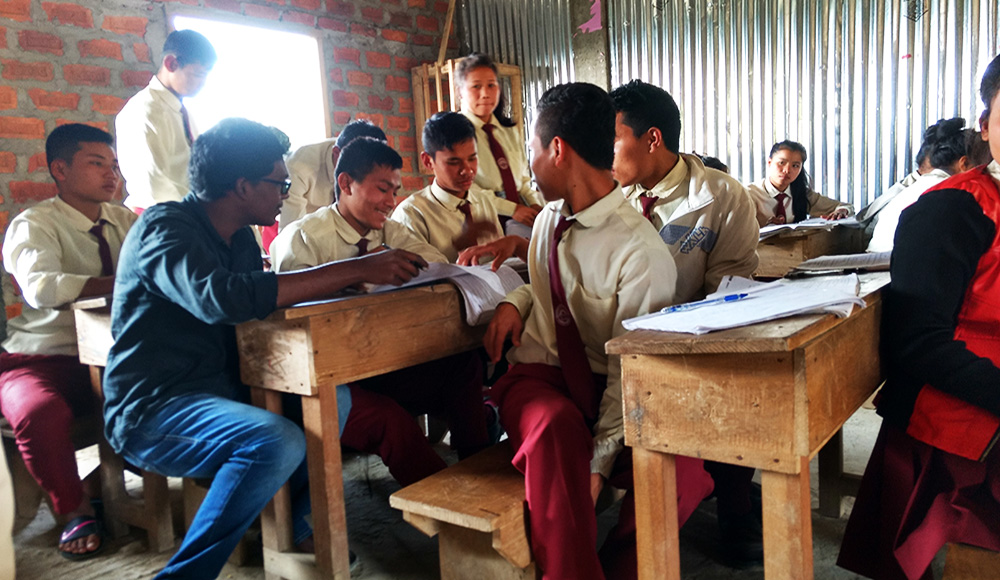 Teaching at a school located in a remote village in Mizoram.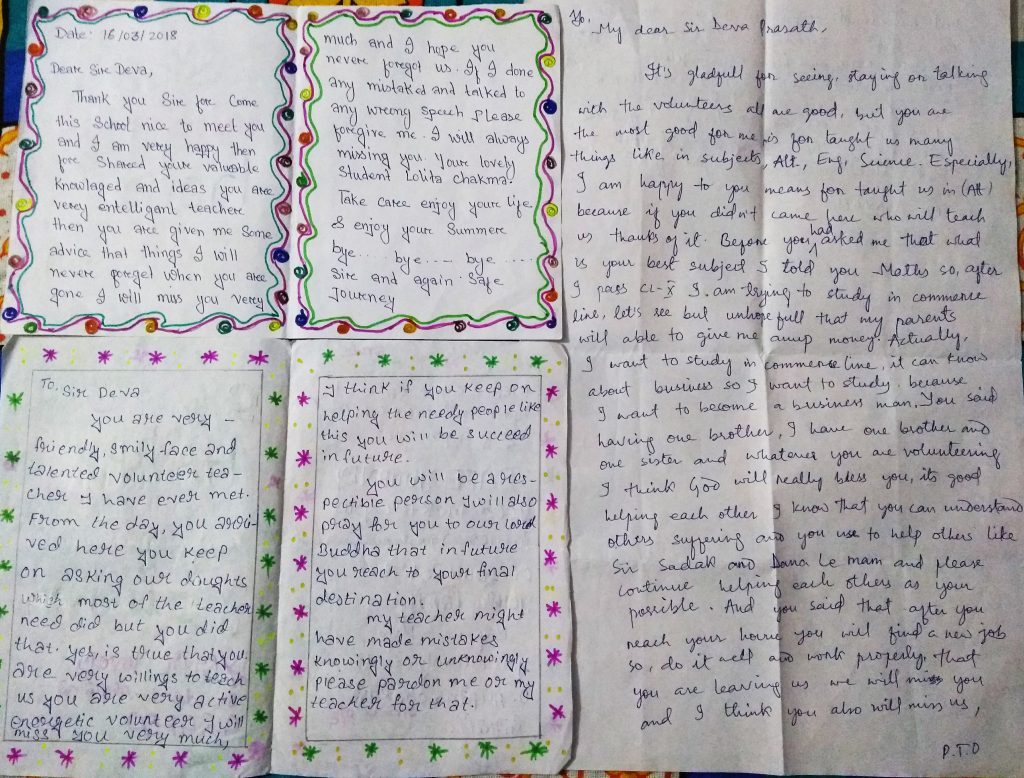 Messages from his students 
Teaching is another option to look for in India as well as in South East Asia. You need to be a subject specialist and must have a very good academic record, in addition to a few years of experience. To teach English abroad, one must have ESL (English as a Second Language) or called as TEFL certification to teach English in schools in many countries especially China, Taiwan, Korea, and so on.
Which websites/Applications have helped you the most while traveling?
I did Couchsurfing to stay with the locals, used Google maps to go places. I speak only Tamil and English, I do not know the Hindi or other regional languages. I used Google translator, dictionary apps to translate the words into their languages. Even if I cannot understand what they are saying, somehow it made things little easier. Most of the time I used the sign, universal language smile to interact with the locals.
For how long do you plan to continue as an urban nomad?
Lifetime.  Would also love to start my small farm life somewhere in mountains far away from the modern world.
His Best Experiences as a Nomad: Learning from the Indigenous Tribes of North East India
Through WWOOFing and WORKAWAYing, I had a wonderful opportunity to live with different types of tribes, like Bodos in Assam, Khasis in Meghalaya, Adivasis in Arunachal Pradesh, Angamis in Nagaland, Chakma's in Mizoram and Lepcha's in Sikkim.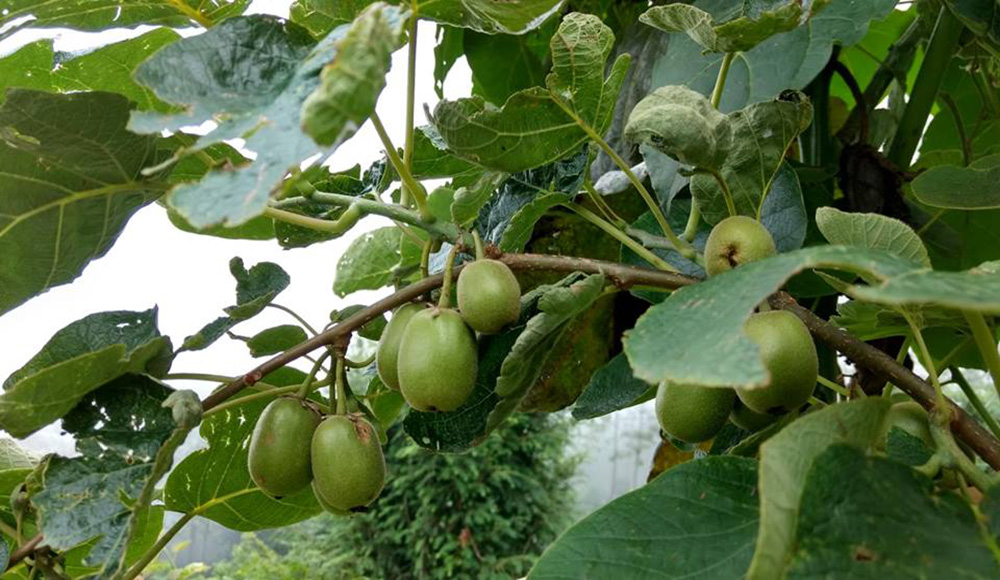 At Kiwi farms in Nepal
Working with the indigenous people in farms and schools, gave me an insight into their simple way of life and the joy of being simple. There were learnings during the travel which was not taught in my conventional education. Along with farming, I learned forgiveness, gratitude, compassion and much more. The simple lifestyle changed my priorities in life I realized about what matters in life. Far away from chaos and greedy souls, in a small remote village in mountains, the art of living is taken seriously. I felt the freshness in the air and purity in the hearts.
Witnessing Shops without Shopkeepers
During my travel in Mizoram and Nagaland, I saw the shops without shopkeepers. I wonder how could it be possible in this world where people rarely trust each other! When I asked the locals, they told me, the farmers will keep their vegetables, fruits, herbs with a price tag along with it and keep a money box in the shops.  Those who pass by can choose what they want and put the money into the box. No one will steal away the money or farm products.
I was so amazed by the trust and faith in humanity, the serenity of nature, witnessing kindness all around, altruistic nature and hospitality of the people living there. There are innocent people smiling at each other; seeing this brings so much inner happiness and peace of mind. Their smiles hide the everyday struggles they are facing. People are reflecting love and peace in their eyes and living happily with what they have in life. I found it intriguing how people were self-content with the limited resources and simple things.
I was so emotional at some time to receive the love and affection from strangers. I was so emotionally attached to the people and places. I wanted to re-live those moments again and I am hoping to go back as soon as possible.
Live Your Dream, But… Be Responsible and Helpful
Ask yourself what makes you stay alive and do not wait for too long, step out and the journey pulls you in and on.  You will find the courage as you take the next step. While traveling into remote villages, respect nature and try to help them in whatever way you can. Little things matter a lot. Once you are back from your journey, your life won't be the same again.
…Lets be a Wanderer, open your eyes and find yourself….
Read More, Straight From the Urban Nomads Traveling Full-time
How do I Afford to Travel as a Jobless Nomad – Purvi Kamaliya
How to Afford Full-time Travel: An Answer Straight From 'The Bhagvan' – By Bhagvan Das
A Nomad Working On and Off in the Himalayas – Arshiya Chauhan
Pin it Now, Read it Later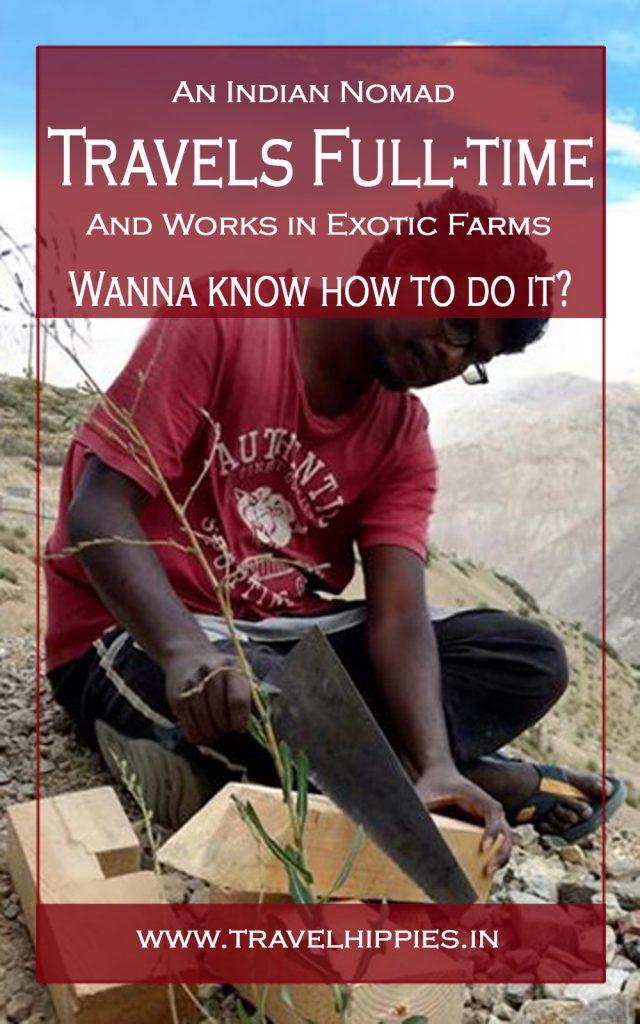 Follow Deva Prasath's Unusually Normal Life on Instagram
Follow me on