The Netherlands is a country with flat roads and grasslands all around. The country's excellent tracks for cyclists make it more convenient for even tourists to cycle anywhere in the country. I covered almost the whole of Holland just on a bicycle. While it sounds thrilling, you must consider a few points before opting for it. I cycled to the colourful Tulip fields from Amsterdam and I must say it was an experience of a lifetime.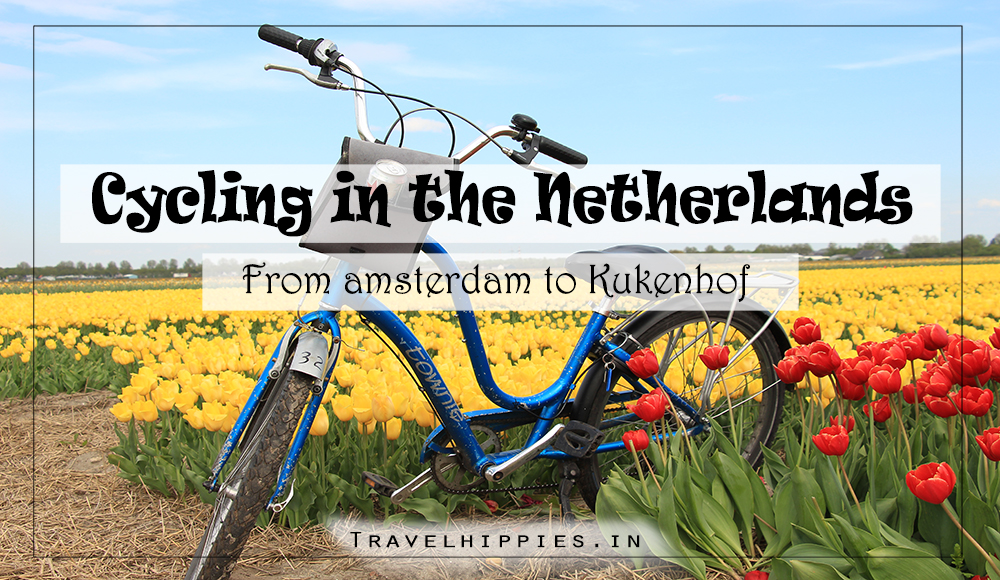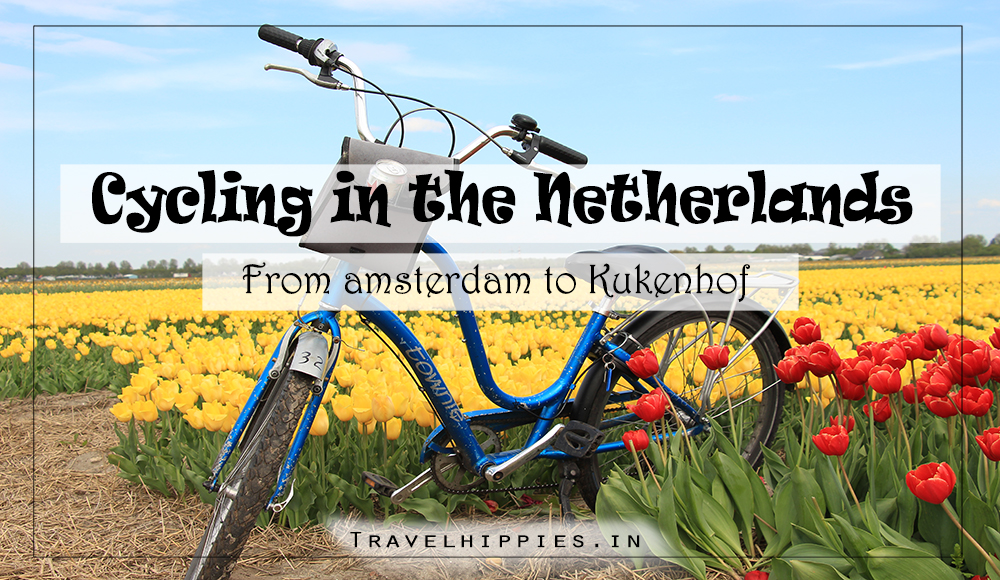 A Bike Tour to Tulip Fields: Is it possible to cycle from Amsterdam to Keukenhof?
If you have not cycled ever or not much into cycling, you may find cycling from Amsterdam to Keukenhof a bit difficult. However, I did it and I would certainly say it is not impossible. If you start early and cycle leisurely, you will reach the flower fields around Keukenhof by noon. If you cycle just 2-3 kilometres further, you will reach the Keukenhof Garden.
Howmuch Time does it take to Cycle from Amsterdam to Keukenhof
It took me around 6 hours with a number of halts and cycling. I am sure you can be faster than me. I wasted a lot of my time in just picturing and resting on the way.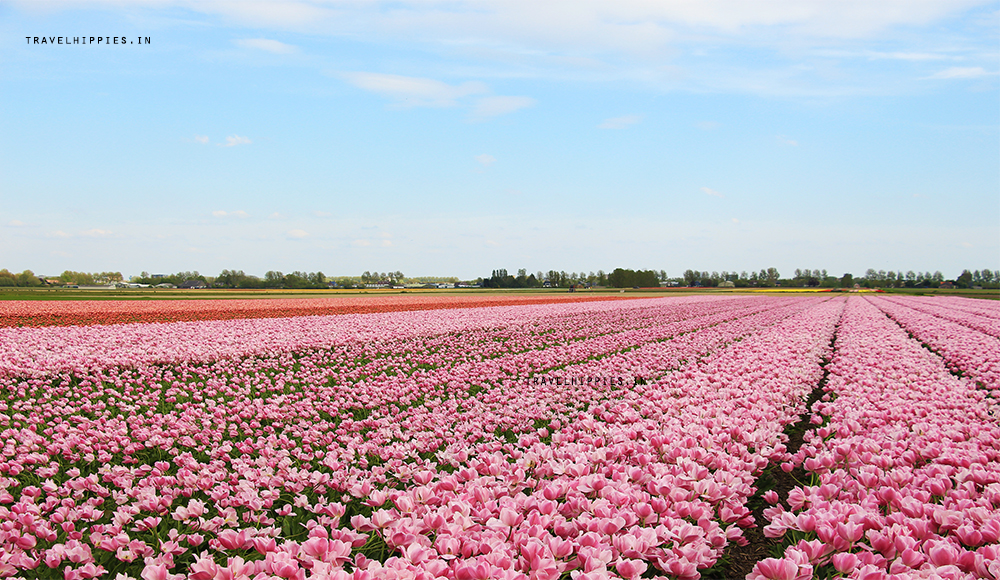 How to reach Keukenhof from Amsterdam by bus
The cheapest and the fastest way to reach Keukenhof is by taking a train to Amsterdam Schiphol Airport and then hop onto bus number 858(from outside hall no. 4) to Keukenhof. You can buy a combo ticket at the train station. Or, you can hop on bus no. 397 from Amsterdam Centraal and then change to Bus no. 858 at any junction. The direct transfer+ a fast track entrance ticket is 39 Euros per person.
Keukenhof Bike Rental: Rent a Bike in Amsterdam
What you need to check before renting a bike is that if it has proper gears if you wish to cycle in rains. The front pouch and side carriers or a basket are really helpful While. I got my bike from Mike's Bike Rental in Amsterdam and loved it throughout my five days biking throughout Holland. It comes with gears, pouch and carriers. Further, in my experience, you can read how Mike's Bike was the best choice I made for my cycle trip in Holland. You can either book them online or can just drop-in to one of their shops to rent a bike. Its full day cost is just 10 Euros with an Insurance against the theft and damage.
Travel Tips: A self-guided Bike Tour from Amsterdam to Keukenhof
Keukenhof opens from March to May every year.
Start as early as possible if the weather looks good.
The weather is unpredictable. If the weather forecast says it would rain near Keukenhof, don't opt for cycling unless you have an adventurous spirit.
Carry some food along if you are a vegetarian. There are no restaurants on the way until you reach the lake or Keukenhof Garden. No super Markets too.
Carry a rainwear and gloves if you are riding there in April/May. It might be too cold in the evening.
Don't enter the field without permission. Don't step on the flowers by any chance.
There is an entrance fee to the garden but if you buy a combo ticket it might be cheaper for you. (Enquire for the same at the Amsterdam Zuid Station.
The entrance fee to the garden is 18 Euros but you can always choose to be in the natural fields for free rather than just going for an artificial garden.
How I cycled from Amsterdam to Keukenhof Following the Bike Route all by Myself
A Bike Tour to the Fields of Dancing Tulip Bulbs
The road seems to be never-ending, I thought.  I wish it never ends either, said my heart. The day was bright and sunny. The irksome wind didn't deter my crazy aim of cycling 72 kilometres to and fro Amsterdam.  The water in the canal, that accompanied me throughout my journey, reflected the azure sky. Sometimes, the ducks and swans greeted me with a fairytale scene creating infinite ripples in the canal. Google Maps guided me through some offbeat trails where I seldom came across any other human.  And thanks to Mike's Bike, my Go Pro and Mobile phone rested in a pouch tucked in the handles.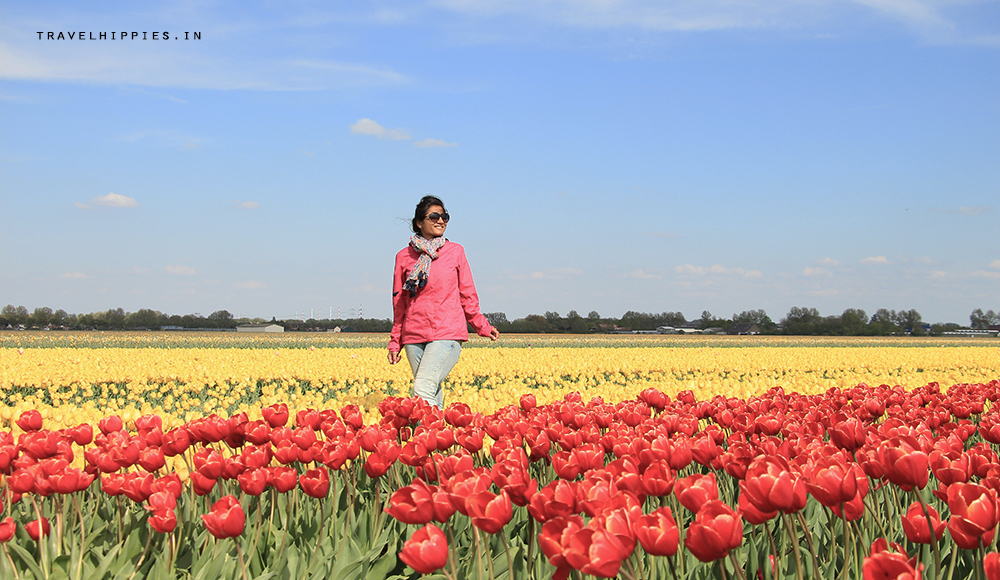 Due to the fear of not being able to complete the venture in a day, I started as early as possible. This worked in my favour as the weather was good and there was no traffic. (Though, as an Indian, I can't term even the worst traffic jam in the Netherlands as traffic jam hahaha).
The best part about this journey was that I could stop and divert wherever I wished to.  I left the city of Amsterdam behind and passed through a beautiful avenue of country-side houses. The green vistas were spread as far as my eyes could see. I took my first halt at an open field near the house which turned out to be somebody's private property. I took my cycle back to the main road when a neighbour started staring at me with a reprimanding look. 😛 And headed straight to the point where the flight lands in a minute after flying over you.
By now, I was totally in love with my cycle.  Especially, with the basket in front, from where the Google aunty kept directing me to the piece of heaven that blooms for a few days every year.

They said you must go for the Heineken Experience when in Amsterdam. But I chose to have my own Heineken Experience
After a few miles, the highway went off in a different direction but the Google aunty insisted that I should take a turn right away. Somehow I didn't trust it and waited for somebody to pass by on this trail that went into a plain grass field. I never knew that one diversion suggested by Google would just take me to another beautiful place. I landed in the society of horse farms. The ladies proudly riding and handling their horses while making them jump over the hurdles was such a motivating sight! I would never forget it in my life!
The farm trail further took me to a lovely lake hidden away from the site of the tourists. All those heading directly by train to Keukenhof surely missed a lot many things on the way. The moment I had the first glimpse of the lake, I knew that I had to be there for a while to devour its beauty. (This was the first ever beautiful lake I had seen out of India.) It's not that we don't have such beautiful lakes in India, but its beauty laid in its clean water and sanely behaving locals. Even the kids baffled me to a great extent. Why weren't they throwing stones or troubling the birds? How come they had so much mannerism?  Anyway, pausing the reel of weird thoughts, I cycled further.
"Hey, is this the way to Keukenhof?" An old man took a U-turn on his speeding cycle and I was sure he didn't exactly understand my question. Figuring out my confused and tensed look, he asked me where exactly I wished to go.  "Keukenhof", said I. He repeated what I said with a surprised look. It's too far, take a train, it's difficult to go by bicycle, said he. Nonetheless, he gave a detailed direction to go by cycle to the land of my dreams when he came to know that I was cycling all the way from Amsterdam till there. He hopped on his cycle and went off while wishing me luck with my venture.
That is another thing I like about these otherwise reserved Europeans. Everyone wished morning, noon and a good day irrespective of your acquaintance to them. And this is one thing you need to learn too, wish them properly before and after you ask for any help.
The scenery which I longed to see wasn't visible till far away. Thus, I had to keep on riding with all excitement to enter the Tulip fields. Though I was told that most of the tulips would have been harvested by now, I hadn't given up on my expectations.
And then suddenly I observed that the front glasses of the cars coming from the opposite direction had a faded colourful reflection. Yeah, my excitement had doubled now. And I was pedalling with double energy and enthusiasm.
And there I was. Right in front of a swaying carpet of pink beauties!
There were hundreds of similar other fields but it was difficult to reach there by road. And thus I too a diversion onto a farm trail that took me to the interior farms. Once, my cycle and I also had to cross over a canal with a jump.
All efforts seemed worth it when I got to run through those dancing shades of red, pink, white, yellow, purple and so on. It was obvious to be in awe with this sight after pedalling the whole day!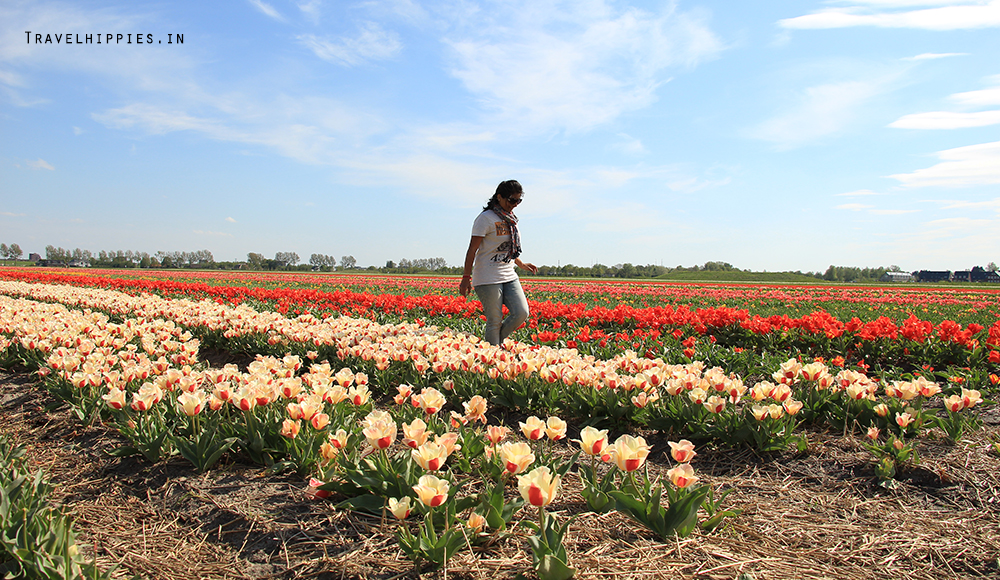 Though I was quite nearby Keukenhof, I didn't even feel like entering the garden seeing the number of buses and cars in the parking.
The sky was turning darker. It certainly suggested me to return before it showers and spoils my thrilling venture.  Yes, it did drizzle a bit with strong wind while I was on my way back. I was prepared for the worst like a crazy adventurer.
Pin it Now, Read it Later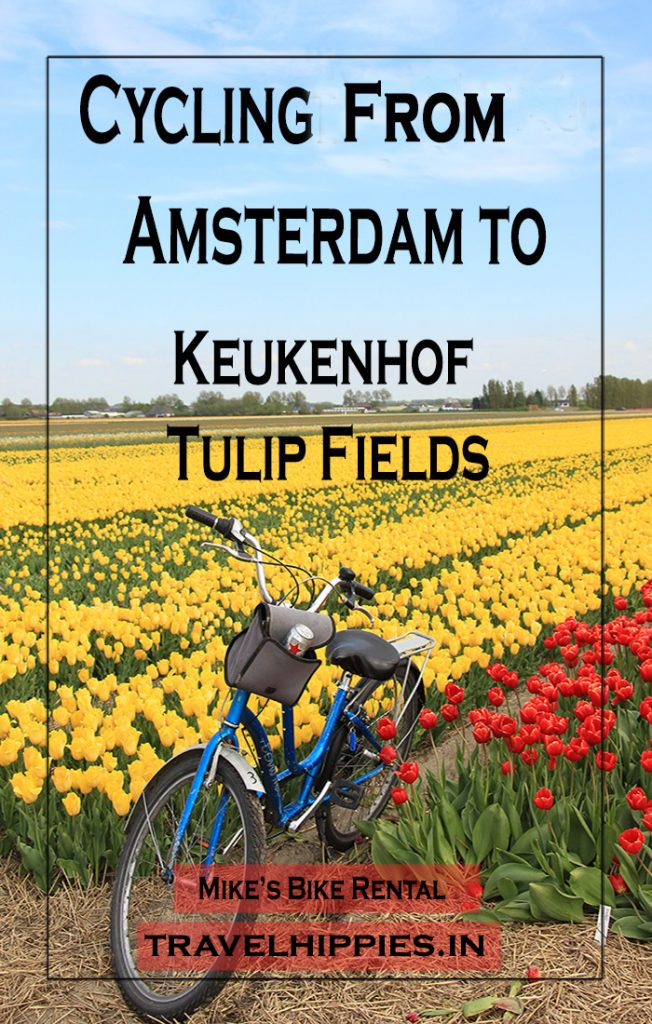 Follow me on
cycling from Amsterdam to Tulip Fields Keukenhof