There are a variety of opinions when it comes to Couchsurfing. I have had the best and even the worst of the Couchsurfing experiences in Europe. If I conclude my journey I can definitely say, Couchsurfing really helped me live a life of local. Had I not been Couchsurfing, my Indian soul would have definitely got bored of the 'space' given by the Europeans. I am much thankful to this platform for all the amazing experiences that I have had.
Here are some experiences worth sharing with you all. It would also help you understand the spirit of Couchsurfing irrespective of the country.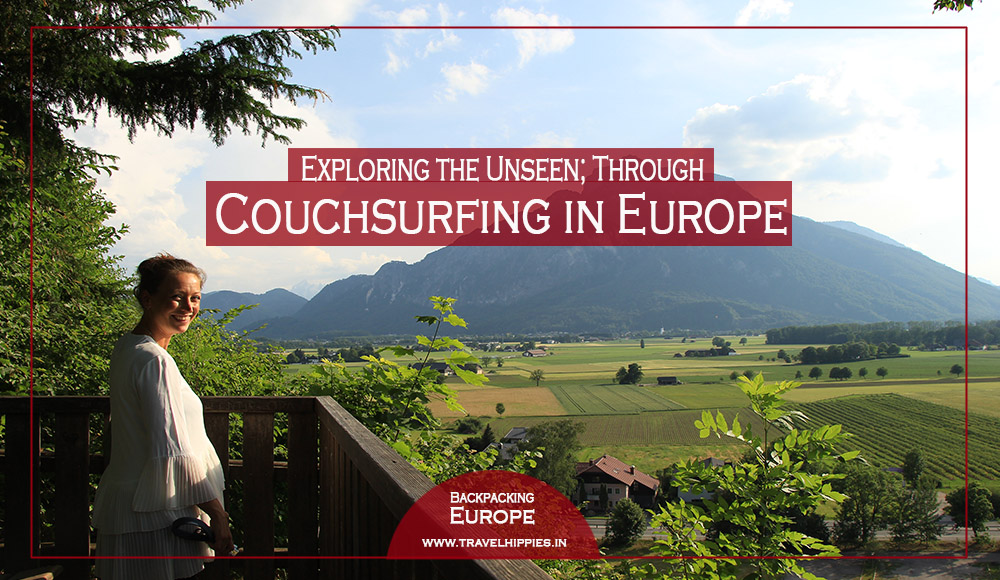 Want Tips and Suggestions for Couchsurfing? Click here… Couchsurfing in Europe – Tips, Request Samples and More
Exploring Madrid Like a Local with Jose
I still remember the first message of this kindhearted friendly man who invited me to his home in Madrid. He was one of the best Couchsurfers in Spain. In anyway Spain has been too kind and I had found the most amazing Couchsurfers throughout my journey.  With Jose, it was all the more fun as he accompanied me for exploration in Madrid.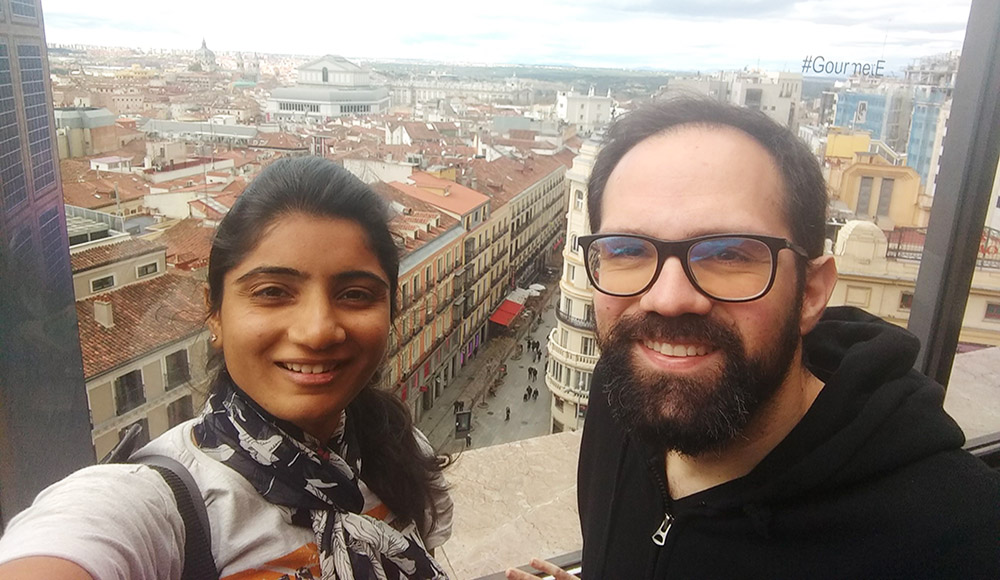 Window-shopping around Sunday Flea-Market, tasting local food and especially Gazpacho and Croquetas from the favourite place of the locals is something I would cherish forever. I would have never known that a building on a bustling city square has a restaurant at the top with a stunning view of Munich. From moving around the local markets to the oldest shops, from wall-art Street to a community area where the retired citizens grow food for the poor, Jose helped me uncover the best non-touristy stuff in the city.
He literally made a Google map of all the places to be visited on our Munich Walking Tour in a Day. We cooked Indian Food in the evening and watched a Spanish Movie while relishing it. We also shared our travel stories and some general talks. He was truly a good conversationalist. It was indeed a perfect Couchsurfing trip for me ( In short, my way of travelling in a foreign country staying with a local). Jose also joined my wedding this January in Mysore from where he continued on his journey in South India. Well, as I have written on in my review on the app, he is a friend forever.
Plucking Kuku Flowers with Alexander
Alexander was travelling in India when I landed in his city Colmar. He was hell tired after his long flight journey and thus, he decided to go to the hills back in his hometown and pluck some Kuku flowers. I threw my luggage in the backseat and off we went to the hills passing by some tiny beautiful villages. Before starting with our task, we relaxed under the shining sky talking about our trips to India and Europe.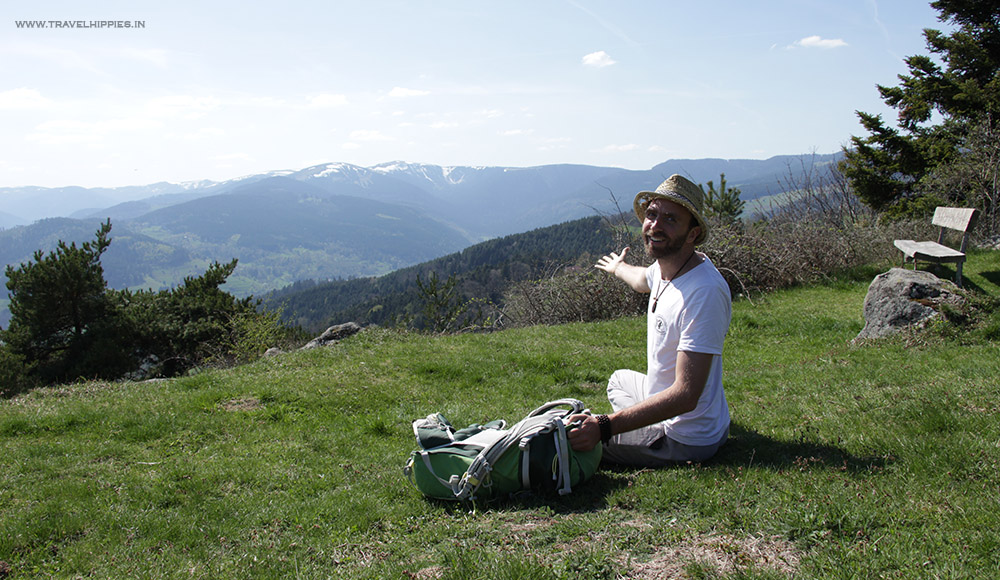 With Alexander in the hills near his hometown in France
The sound of cuckoo was giving music to our talks. This was for the first time I was listening to a real cuckoo sound! Earlier, I had only heard it in those dramatic cuckoo clocks and some movies. The mystery of the 'kuku flowers' was then resolved. The flower is named as 'Kuku' or 'cuckoo' flowers as they typically grow during the mating time of cuckoos. And a singing cuckoo is the most obvious thing while plucking these yellow flowers. They also have great healing properties. My host Alexander stocks up the dried cuckoo flower every spring.  That evening ended with some hot Kuku flower tea and Indian Classical songs in the background. (Alexander wanted some Indian vibes as I was there, haha)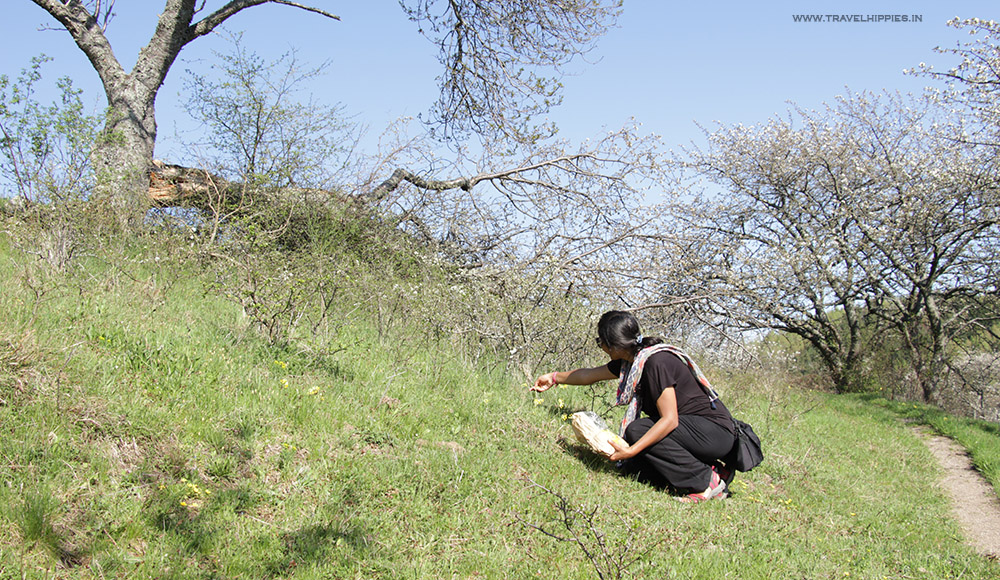 Plucking the Kuku Flowers
The next day I also ended up to an upcoming tourist spot in France which was to be shot by Alexander for its promotion. They were the cherry blossom tree fields of France. It was super-fun to drone-shoot the pink and white blossoms in the middle of nowhere in France. The ride was altogether another unique experience as we drove through the hills adjoining the Alps.
Brugge with an Expert Guide Felix
Felix was a sweet Russian Couchsurfer who had found his dream town in Bruges, in Belgium. Disappointed by my experience in Brussels, I wasn't expecting too much from Bruges. But, guess what, it turned out to be the most scenic towns in my trip. All thanks to our expert guide Felix who love sharing his trips and pictures with Google.
He had a Free Map of Bruge handy at his place. After learning about my way of exploration he marked two routes for me with different coloured pens. One was to be followed before lunch and the other one in the afternoon. Isn't it amazing to have your own expert route marked in the map? He had marked the ways that led me in the quiet lanes where I could hardly see any tourist. Through the red and pale yellow building, I kept wandering devouring some lovely sights till I reached the periphery of the old town.
In the evening, we had hot daal-chawal with cheese slices and some fresh wine. I wish I could stay for long and join him for his cycle tour the next morning. Sadly, I had kept only one day for Bruges.
Night Rides with Sitesh
Sitesh was a cool Indian guy living right near a scenic canal cross in Amsterdam. He had just completed his trip to the Balkan Countries and was interviewing for his new job. During the day, we both were busy with our own plans and the evenings were kept for the cycle rides and exploration around the city. Unintentionally comparing India with Europe, we many a time, ended up having some thoughtful discussions.
It was truly fun to explore the lit-up streets of Amsterdam, pub district and the Red-light Area with him.
Exploring Edam and Volendam on Cycle with Alex
Alex was an interesting guy with some great philosophical values. An interesting thing that I got to know from him is how the people North-wards need 'Cuddle Therapy'. While he went for a 'Cuddle' that develops an ability to trust and empathise with a stranger, I cooked some hot veggies and lentils for him. He willingly took me around Volendam, Holland's old harbour town. Then we both cycled to Edam, explored its Cheese market, old quarters and a Harry Potter store which had sadly closed down. The trip ended at an open camping space where Dutch come with their caravans, park it near the lake and enjoy their weekend.
In a short span of 2 days, Alex had become a very good friend with whom I could talk for hours.
Trying my hands at Graffiti in Copenhagen
My Couchsurfing experience in Copenhagen wasn't so great until I met Daniel, a teacher by profession and a graffiti artist by passion. I met him with my entire luggage at the Freetown Christiania in Copenhagen. After dumping my 22kg bag in his carriage cycle, I joined him to add some art to the wall. Of course, I didn't want to ruin his work and thus I kept my excitement limited to filling simple colours in his design. The next day we played football (I, for the first time) with complete strangers who kept on joining as when they passed by the graffiti wall. It, according to me, is a totally local thing to do when you are in Europe. It was so interesting to see the youth involved in such creative work during their recreational time. I wish, the kids and youth in India could also get such free space to showcase their art and talent.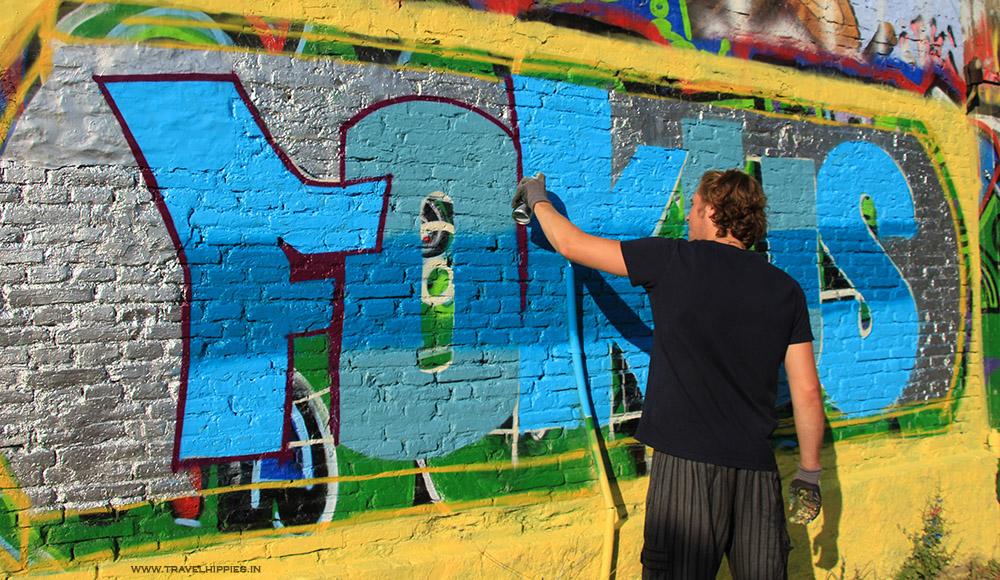 Did I tell You Daniel dropped me to the bus stop at 11 in the night in his carriage cycle! It was like a videogame ride in real life.
Winning 25 Euros in Vienna – With the Couchsurfing Team
"I am telling you the 3rd time, you must come to the Irish Bar today evening," insisted Majid, my Iranian host in Vienna. I didn't think an Irish pub was my thing and didn't really wish to join him. However, obliging to his insistence, I reached there in the evening. I met the whole bunch of Couchsurfers there, a Couchsurfers' meet, yes. The people were sitting in groups on each table. The space of Majid's table was full and thus I joined Anjali and another Viennese Couchsurfer. To my surprise, they were juggling with some questions. It was then when I was explained that the pub holds a quiz every Monday evening. One question after every song and a group needs to answer a total of 25 questions. The winner gets 25 Euros and a bottle of whisky! Hhahah, I never thought the 3 of us could ever win it. I was more interested in chatting with Anjali, an Indian CS in Vienna and Majid's friend.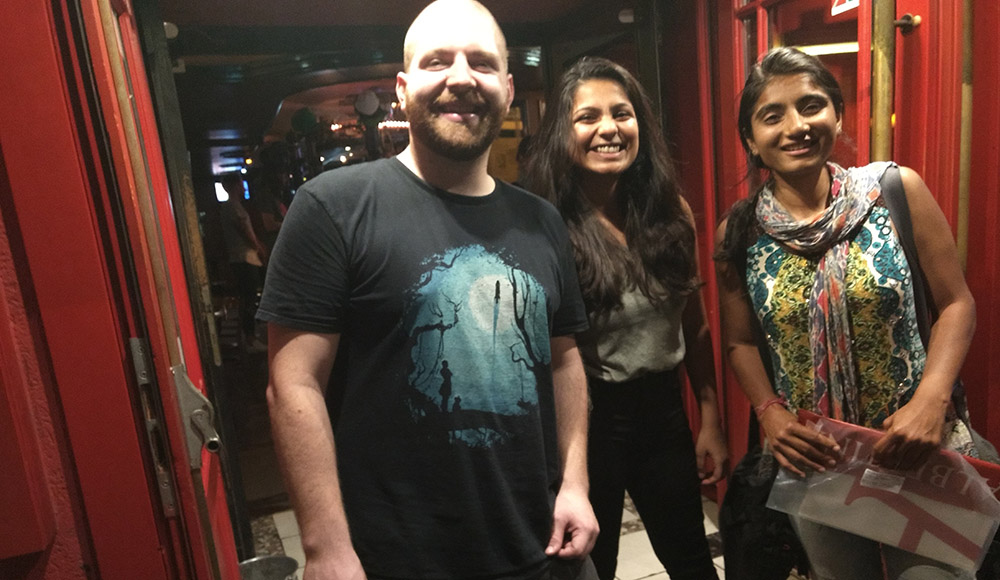 The winning team of the night
After some questions on Mathematics, Languages and some General Knowledge, I was all excited in answering with zero expectations of winning at it as we didn't know most of the answers. The last song was left before they announce the winners and us, Majid, a Ukrainian CS and I were about to leave when Anjali asked me to stop as she was expecting us to win something! It was funny for me (I haven't won any freaking quiz ever).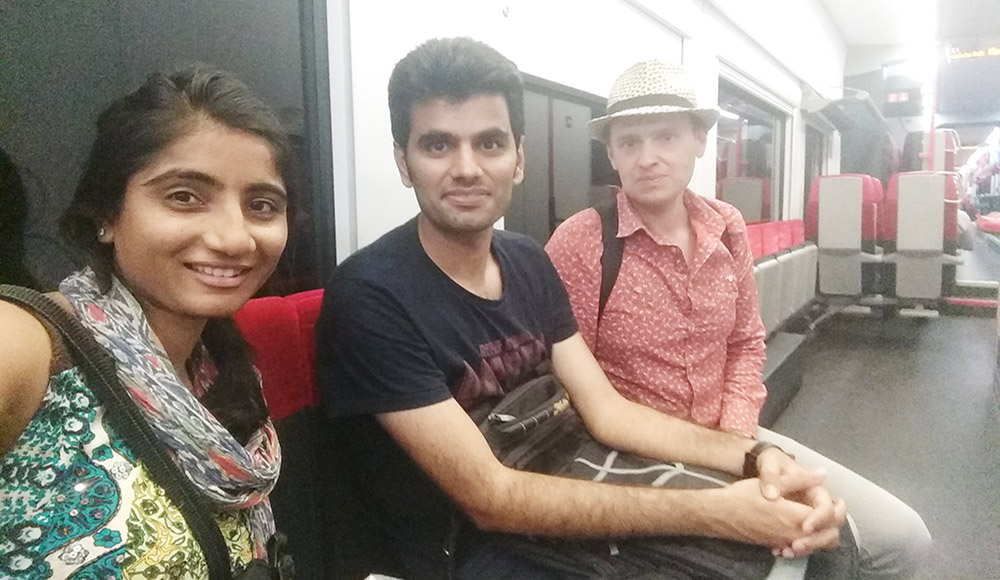 With Majid and the Ukrainian Couchsurfer who did the whole of his Europe trip by hitchhiking and Couchsurfing only. I can say he was an expert budget traveller who spent only and only for food. However, he was quite tired and was already homesick (Just like me) the same night when this picture was taken. It was so kind of him to hand over his hitchhiking placard for 'Salzburg' before leaving for his home. Despite all odds, he really encouraged me to opt for hitchhiking. 
The quiz master then announced the scores of the teams that had funniest of the names. (Ours was, 'No Time for a Group Name' 😀 ) The funniest team name also got free Tequila shots.
Oh! We didn't win the first place, but we could score the Second. Yeah!! We won 25 Euros which are still with me as a memento of this crazy evening.
Also Read: Couchsurfing in Europe – Tips, Request Samples and More
Walking Around the Hidden Gems of Salzburg with Tamara
Tamara is one surfer whose profile itself is so interesting that you want to be a guest to her. She is an independent smart girl living in a beautiful house with her dog Filou. She was pregnant during my stay at her place but this didn't stop her from enjoying a sporty exploration with me.
She carefully guided me with all the viewpoints in Salzburg. It was only because of her that I could make the best use of my Salzburg Card.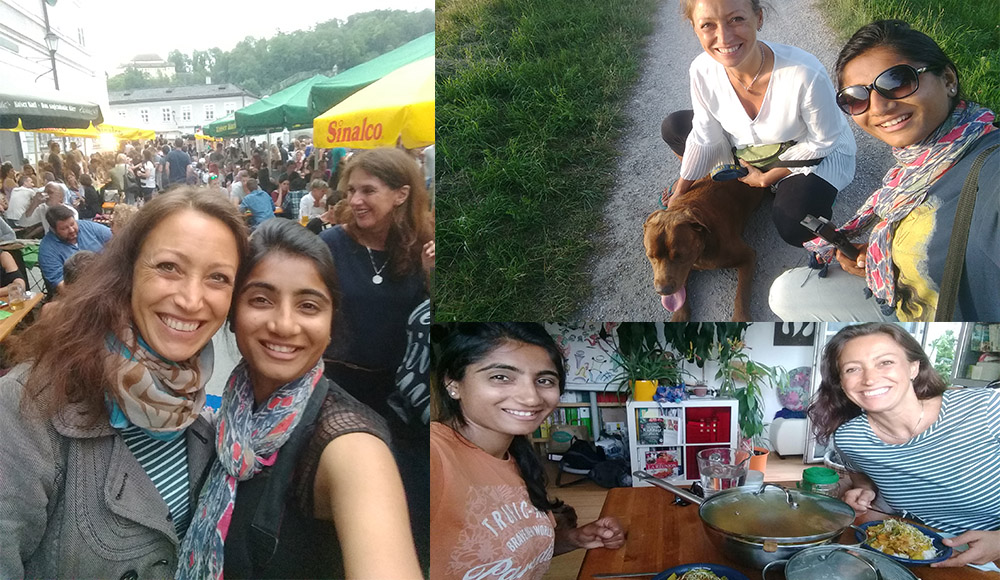 We went climbing up a hill for an amazing view of the Hellbrunn Palace. The less-frequented stone theatre where a flute player was running a one-man show was one of the highlights on this desolate trail. Only 3 of us were strolling around in this silent forest where we could hear the birds and some bucks sprinting among the bushes. While moving through the forest trail she kept on explaining to me about the herbs that provided her with all required nutrition as a vegan. We even tried eating few of those leaves which didn't taste so delicious but I am sure they might have done some good to my body. She carried some leaves back home for a healthy salad.
She was a kind of my dream version who lived a plastic-free life and collected all dried herbs in her kitchen. A small garden in her balcony with a stunning view grows her organic food. From huge pumpkins to tiny cucumbers, the garden produced all fresh veggies she needed. The most surprising thing was that she knew everything about India and its food without ever being to India. The recipes that I shared with her were much known to her from her previous Couchsurfers. She herself had been on a great backpacking trip along with her dog Filou. She was indeed an inspiration for many reasons.
We also attended a festival in Salzburg. It was another of unique Couchsurfing experiences in Europe.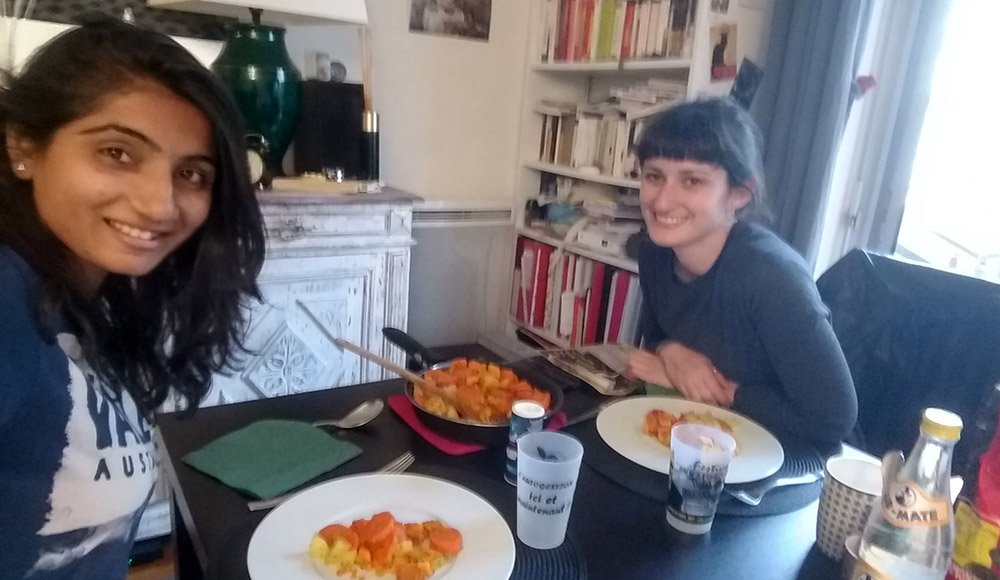 Julie was a great host who met me through Suman Doogar, a blogger and an active Couchsurfer in Delhi. She almost left the whole of her apartment for me. We had Parisian dinners and Indian tea together. It was indeed an experience to cherish forever.
If I didn't have any help from Suman, it would have been too difficult to get a host in the middle of the city in Paris.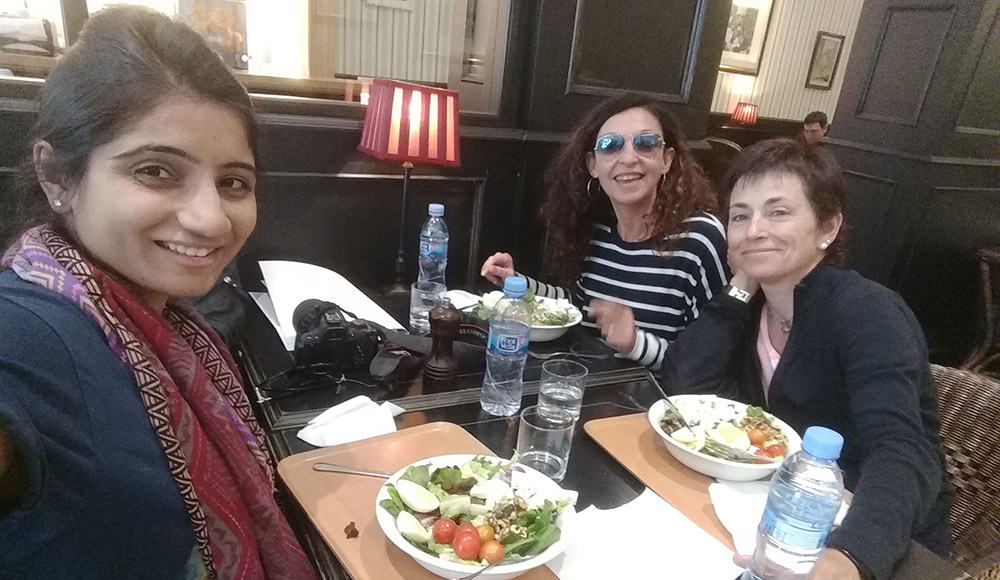 And these are the sweet girls Carmen and Sylvia. They were my company on the first day in Europe (Barcelona). They met Vinod(Who the hell is he??? My then fiance and now life-partner) during their flight from Leh to Delhi in India and became quite good friends. Carmen was kind enough to pick me from the airport and take me around for a quick ride through the city. It was an utterly unforgettable experience to wake up the next morning in Carmen's house right in front of the blue sea in Barcelona. I can't thank them enough to make my first day stay so fantastic. 🙂
Pin it Now, Read it Later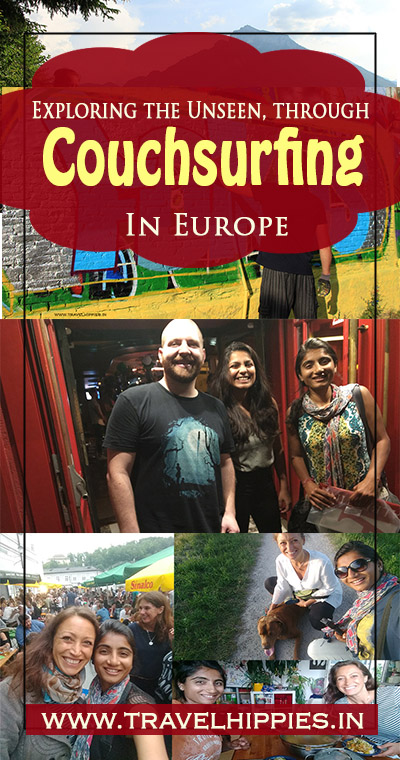 Follow me on