The Arthur Lake or Bhandardara Lake was formed when Wilson Dam was built on Pravara river. It serves as the most beautiful landscape for admiring a beautiful sunset followed by overnight lakeside camping and stargazing. Bhandardara camping has recently become very famous owing to the comfortable stay option in hotels and MTDC Bhandardara. This beautiful lake is certainly one of the best options of lakeside camping near Mumbai and Pune.
Best Time to Visit Bhandardara
Winter season or September to February is the best time to visit Bhandardara Lake and camp on the lakeside. Early summer nights are also cool for camping but the day and evening can be quite hot. Nowadays, monsoon camping in the compound of MTDC Bhandardara.
Get tents on Rent in Bhandardara: Contact Details
Contact No: To set up tents (Rs. 600 per tent )+ food (Rs. 200 dinner+breakfast+ lunch on request) Café Dam Corner: (Sanjay Bhau Bhajji Vala) 09423749953
Bhandardara Nisarg Paryatan: 07057730214, 09657476571.
Bhandardara Camping Price
Rs. 800-1000 including public transportation and tent + food expenses. If you opt for a hotel stay in Bhandardara Town then the cost may vary depending on your choice of hotel.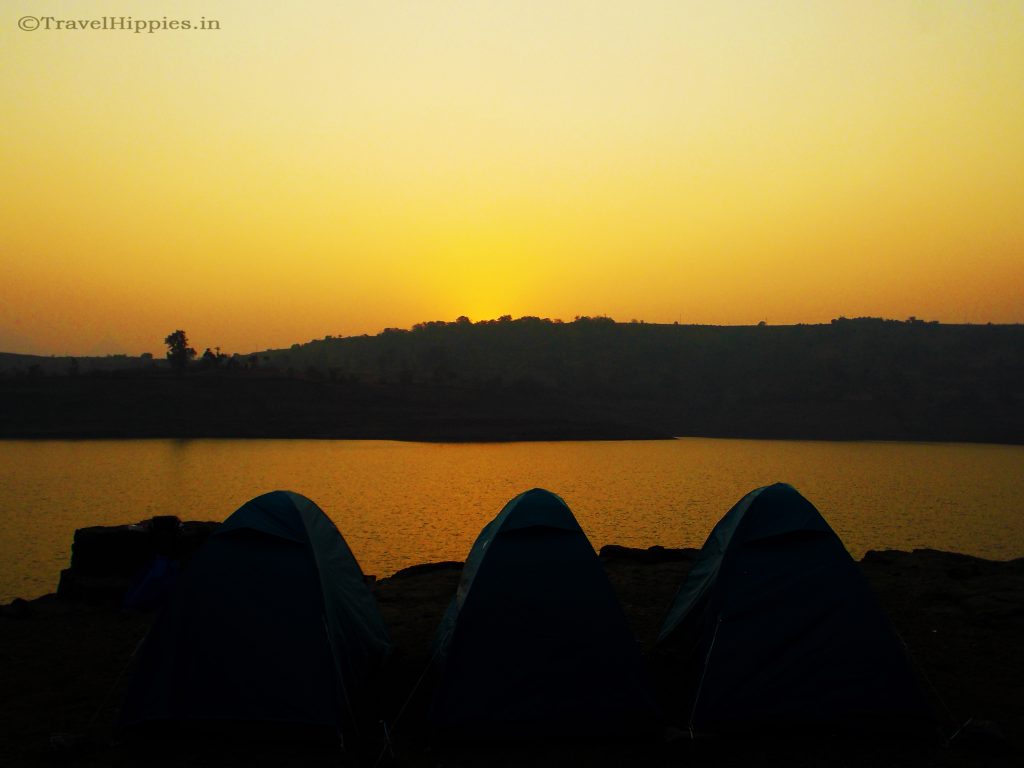 How to reach Bhandardara from Mumbai 
By Train: To reach Bhandardara from Mumbai, take a local train in Central Line till Kasara. Bus/ Taxi to Ghoti (Rs. 40 per person), Ghoti to Bhandardara Lake another sharing taxi (Rs. 40 per person). The Taxi will leave you at the market square with food stalls where you can buy the required things and then take a 5-minute walk to reach the lake.
By Bus: Direct Bus to Bhandardara from Kasara is available at 9:00 am only.
By Road: Mumbai- Nasik Highway till Ghoti and then take a right turn from Ghoti- the straight road will take you to the market square. Direct sharing cab might also be available in the morning. (Rs. 100 per person). You can also opt for a personal direct cab. (Rs. 1200 minimum)
Also plan a trek from Bhandardara to a nearby Peak of Kalsubai the next morning 
Where to Stay in Bhandardara
Option 1 Hotels in Bhandardara
Option 2 MTDC Bhandardara
Bhandardara Lake Camping Sites
Option 1 Right near the lake, beside the water. For this site, you will have to get down the trail and search for a flat land for your tents.
Option 2 Across the village on the flat land below the green color rest house from where you get a dramatic view of the water body. (Will have to travel by a local boat).
Option 3 Near the gates of the dam which has a waterfall after the rainy season.
Option 4 Garden across the dam wall. The garden isn't well maintained and is usually littered by visitors. Don't feel ashamed to clear up and leave the place cleaner for the other visitors. Help not to make it a garbage dump yard.
Option 5: There many small islands across the dam. You can opt for it if you have a large group. (Will have to travel by local boat).
Food Options in Bhandardara
Option 1 Get your food parceled from any of the eateries located in the market. (Eg. Trupti Veg Restaurant)
Option 2 Order for food at Bhandardara Nisarg Paryatan/Café Dam Corner. They will serve the dinner at your camping site at your desired time.
Option 3 Carry cooked rice and cook veg pulao/ fried rice the traditional way on the wood fire. You can make your own make-shift stone chulha and buy wood worth Rs. 200 from the market and cook yourself.
Option 4 Carry your barbecue skews,  and some veggies and enjoy barbecue party.
Places to Visit in Bhandardara: Explore the Lake and the Surrounding
Wilson Dam
Built in 1910 across River Pravara, Wilson Dam is situated at a height of 150 m above sea level. It's one of the oldest dams in the country. The opening of gates creates two 60 to 80 feet cascades of water that plummet to the rocks below creating Umbrella Waterfall. It's a spectacular view. Tourists can amble in the circular garden located at the base of the dam.
Arthur Hill Lake – Bhandardara Lake
The clear and placid lake (on the banks of which you would be camping)  is bounded by thick canopied forests of the Sahyadri hills. The Lake gets its water from the Pravara River.  The sunset view across the lake provides a perfect colorful composition to the photographers.
Randha Falls
The roaring river Pravara descends down from a height of 170 ft creating Randha Falls. However, the waterfalls are magnificent only during monsoons and are not so great in another season.
Mount Kalsubai
From Bhandardara Tourist can see the highest peak of the Sahyadri range, mount Kalsubai. Kalsubai with its height and view is popular for trekking and so are the hills near Kalsubai. The trek is physically demanding, as Bhandardara is located on a hill and to reach this place one has to do lots of trekking. Get a detailed guide for the trek.
How to Reach Back to Mumbai from Bandardara
Option 1 Buses direct to Kasara: 9:30 am, 10:30 am, 12 am.
Option 2 If you are lucky enough you might get a sharing taxi directly to Kasara. (Rs. 100)
Option 3 Taxi to Ghoti –> Kasara
Don't forget to check whether you are leaving the place as beautiful and clean as it was. Natural places don't look good with human traces.
Also, Read 
Rajmachi Trek in Sahyadrids: Trekking through the clouds
Sandhan Valley – The Valley of Mighty Rocks in the Sahyadris
Follow me on