Belgium is a European country that hides many beautiful gems for a traveler's soul. During my 8 days of a short exploratory trip to Belgium, I took some of the best day trips from Brussels. These towns can really make you fall in love with this country. Though Brussels has some grand architecture and the most celebrated flower carpet to offer, the towns like Ghent, Brugge, and Antwerpen show you the different hues of the country.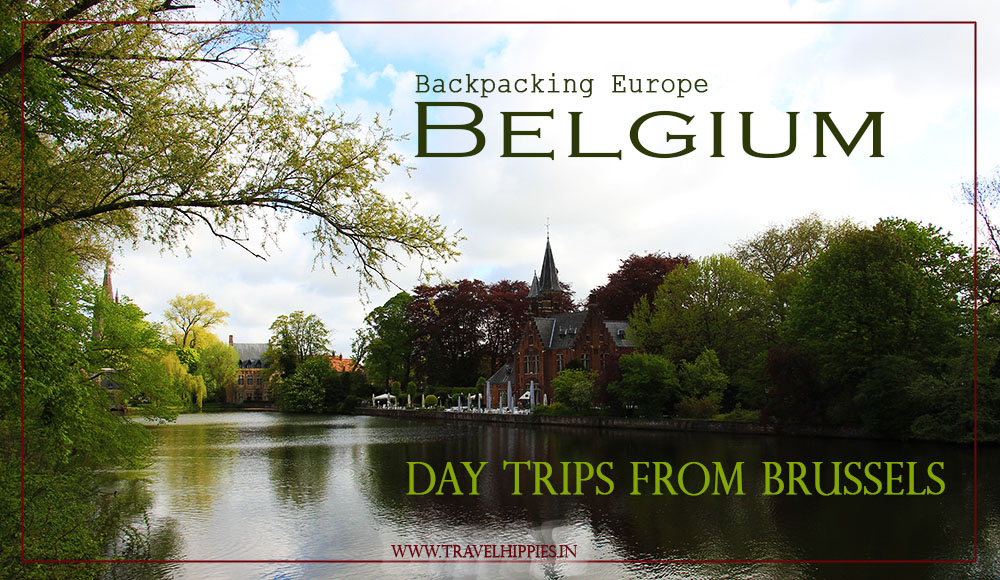 Transportation within Belgium
Oui Bus for the long distance and Flix Bus for some short distance would be good options. Considering I had kept Brussels as my base to take day trips to other towns, I would be mentioning further in my blog about the best and the cheapest way to travel from one city to the other.
My first and foremost recommendation for a Belgium itinerary or for the Best Day Trips from Belgium would be….
Brugge
My experience on my day trip to Brugge from Brussels was super amazing all thanks to my Couchsurfer who is an official guide in Brugge. The first thing that you must do in Brugge is finding a free map. Mark the walking path in your map and go explore this city on your foot because that is the best way you can soak in the beauty of this little town. The bus station is located diagonally opposite to the railway station's back gate and here is where you would start your city-walk after crossing the main road on the front side of the station, on your right. Here starts the ancient part of the city hiding in the solitude. Further, the trail takes you to the main cathedral of the city which you can quickly finish to stroll through the quiet lanes that are avenues of the old Belgian houses. Finally, you can stroll along the main outer canal of the city dotted by old windmills that are now the picnic spots.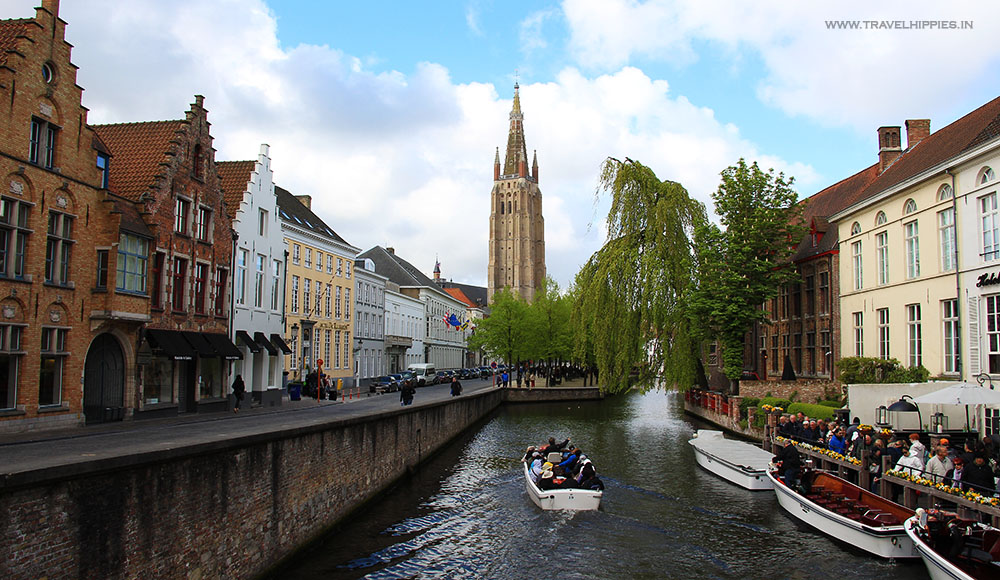 Some of these interior areas resemble little Venice. I call Brugge the 'Red Town' owing to the red bricks used in their houses which pops out against the bright blue sky on a sunny day. Some of the canals here have lovely gardens with a stunning view. Lucky are the house owners who can spend every evening here!
Duration: One day is ok for Brugge even if you explore it completely by walking. The green route can be covered before lunch and the orange route post-lunch. You would be free by evening to head to your next destination. Just remember to start with Brugge earliest in the morning.
Commute: by Flix bus which surprisingly has a very cheap rate to reach Brugge. I got an early morning bus at around 4:30 am from Brussels to Brugge and by 7:30 am I started with my exploration.
Ticket Cost: It keeps varying based on demand and availability. I got mine for just 4 Euros on Flix bus app at the last minute.
Ghent
Yet again, my Couchsurfing host in Brugge had marked me a route to explore Ghent which is a little old port town located on the bank of the river Leie. Your walk starts right at the station, through the Citadel Park to the old town area. The Palace of Justice marks the beginning of the ancient town. I personally found the Belfry and the old quarters 'Paters Hol' as the must-visit places here in Ghent. Sauntering along the river will take you to some of the iconic monuments and scenic walkways.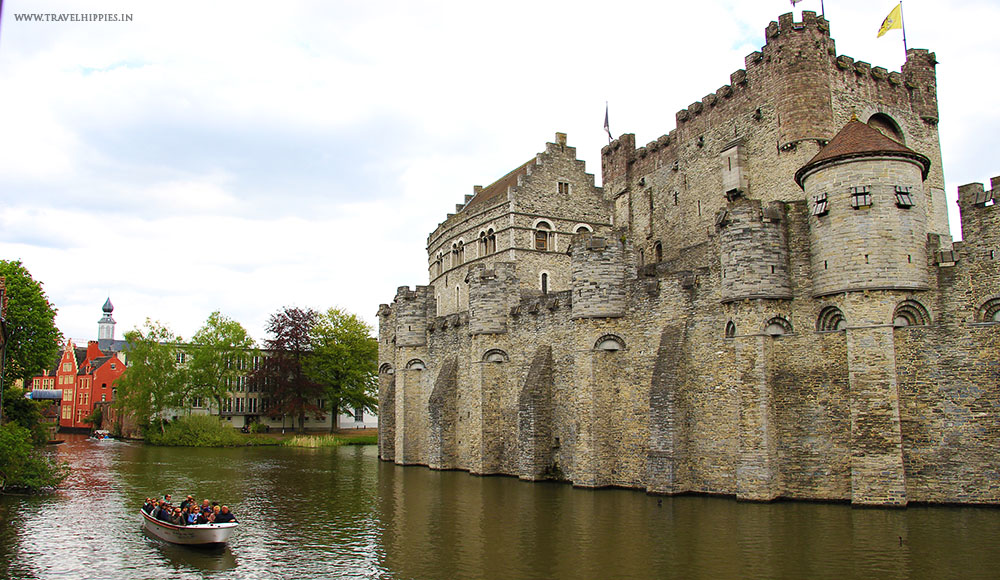 While strolling in the alleys you may stumble upon the stalls selling dark colored cone shaped sweets. And that is what is called the Nose of Ghent or a special candy filled with berry syrup that was invented in Ghent by a pharmacist. Savoring chocolates or say chocolate hopping can also be done easily here. The famous chocolatier's shops are located right in the tourist area unlike in Brussels where you need to walk a little too much to taste chocolates.
If you are sure of taking a train to Antwerp, you can end your city-walk at Dampoort station and can catch the train. Even your Bla Bla Car rider may stop there.
Duration: One day can be enough if you don't want to explore it too leisurely. It can easily be explored by walking.
Commute: A local bus to Ghent is available directly from outside the railway station in Brugge. Though it takes 2 hours to reach Ghent, it is a beautiful journey through the countryside Belgian Villages.
Ticket Cost: Train will drop you there in around 7-8 Euros in half an hour whereas the bus from Brugge to Ghent would charge just around 3 Euros.
Antwerpen
The city that fling opens its hands for business, friendship, celebration and almost for everything. In fact, their official flag also has a symbol of hands flung open as if welcoming or embracing something or someone. The main square surrounded by ancient architecture a grand City Hall sings the glory of the city through a significant fountain. The Sculpture shows Bravo, an Antwerpen hero who cut off the hands of a devil who collected huge taxes from the ships moving in and out of the city. He is shown as throwing off the hand into the sea and thus, this event became a much-cherished phenomenon in the city of Antwerp. And now "Throwing the hand" has become a famous jargon or saying for a number of gestures. The tales and offbeat setup of Antwerp make it one of must-visit town in your list of "Best Day Trips from Brussels" .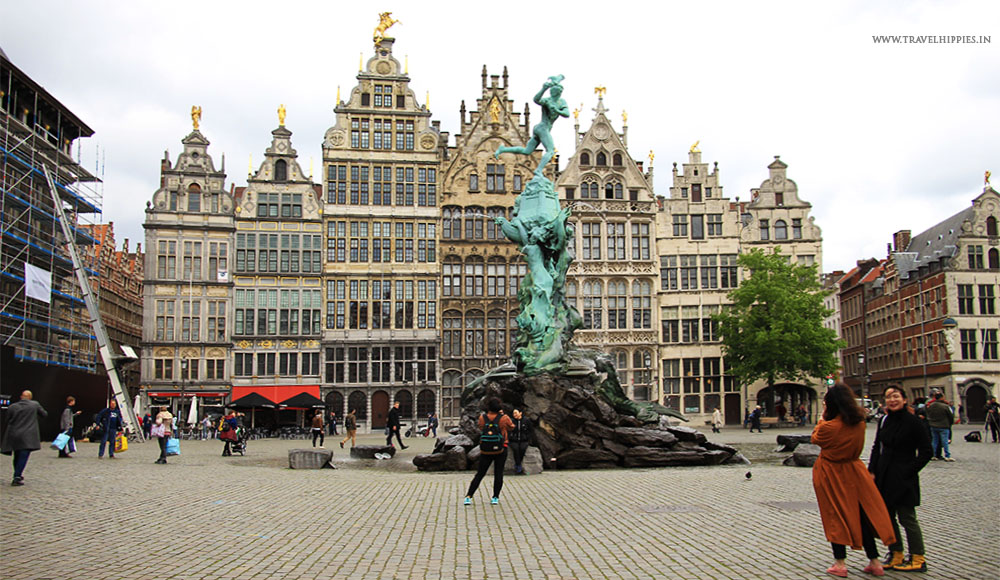 It is the second largest port in Europe that flourished owing to its trade with other European and Asian countries. Till date, it is one of the busiest ports in Europe that mainly trades in diamonds. The city has a flourishing diamond district which is often compared to the city of Surat (Gujarat, India). The district has its own Gujarati community management that organizes almost all the Indian festival celebration. The Jain restaurant named 'Aahar' is liked by all tourists and locals. They serve an unlimited buffet for 10 Euros. If you are craving some Indian taste, you can pacify your taste buds right here.
Duration: Not more than a day is needed to explore Antwerp but if you wish to have some experience of living like a local then you must stay for longer.
Commute: There are no buses available from Ghent to Antwerp and thus, trains become the only way to reach Antwerp from Ghent. Flix bus plies directly from Brussels in case you are planning. The ticket is mostly 5 Euros from Brussels.
Ticket Cost: I opted for Bla Bla Car for 4 Euros to travel from Ghent to Antwerp. The train ticket is around 9 Euros.
Dinant
Located quite near to Luxembourg, Dinant is frequented for its idyllic location along a hilly wall on the bank of the river Meuse in the province of Namur. Dinant is a birthplace a musical instrument Saxophone. The inventor Adolphe Sax' statue is a tourist attraction in Dinant.  Right in front is his museum. Recently, the Charles de Gaulle bridge is dotted with artful funky Saxophone Sculptures on its each side. Another remarkable architecture in Dinant is its 13th-century Gothic cathedral. It looks quite unique from all the usually carved cathedrals all across Europe. I personally feel it looks more like a structure from Arabian Nights. The Citadel of Dinant gives you a bird's eye view of the city. It is indeed a perfect gateway for small-town lovers and indeed one of the best day trips from Brussels by train.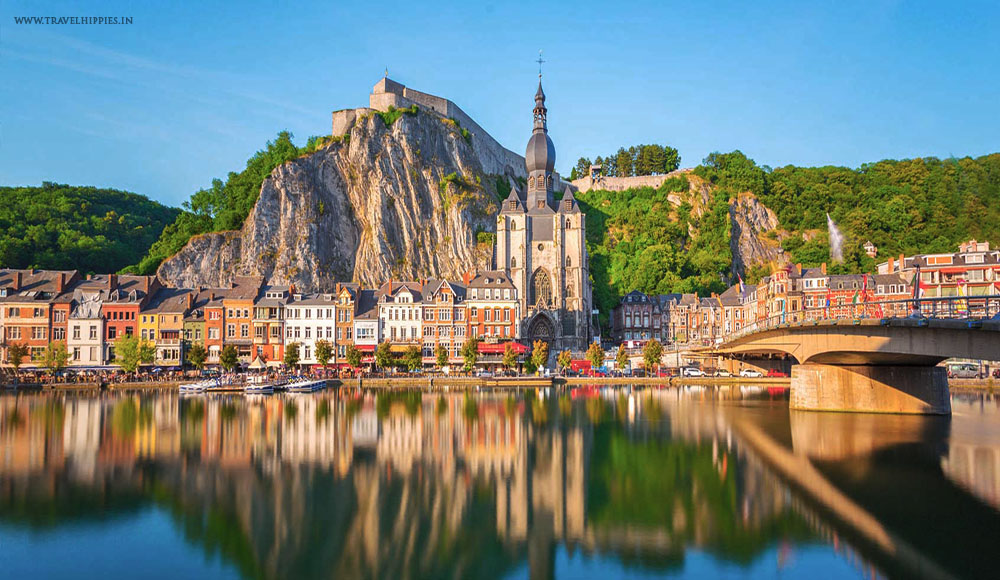 Duration: Dinant is apt for a one-day trip from Brussels. The town is really small and can be covered just in half a day.
Commute: There are direct trains from Midi station in Brussels to Dinant.
Ticket Cost: 17 to 24 Euros.
If you have enjoyed any of these best day trips from Brussels do comment below.
Pin it now, Read it later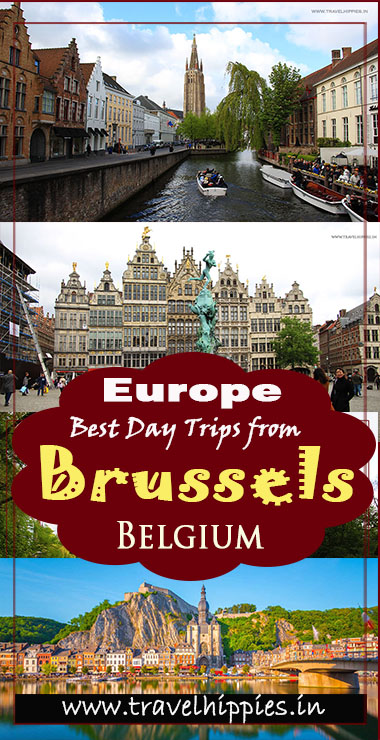 Follow me on