When I landed in Europe, I realized how difficult it is to travel my way when I couldn't take a random deviation as my buses were booked. There was no chance I could explore something off the beat. Opting for day trips from Amsterdam on cycle to the nearby villages seemed to be the best way to explore this cycle-friendly country. And that is when I opted for Mike's Bikes in Amsterdam that didn't only have some alternative cycle tours but had a good option for renting bikes for even more than a week.
I picked up my cycle and dumped my luggage at my base camp. That is Amsterdam. Being in the heart of the Netherlands, Amsterdam was a perfect base for me. I added all the beautiful villages that I wished to explore in Google map and in no while my route was all set.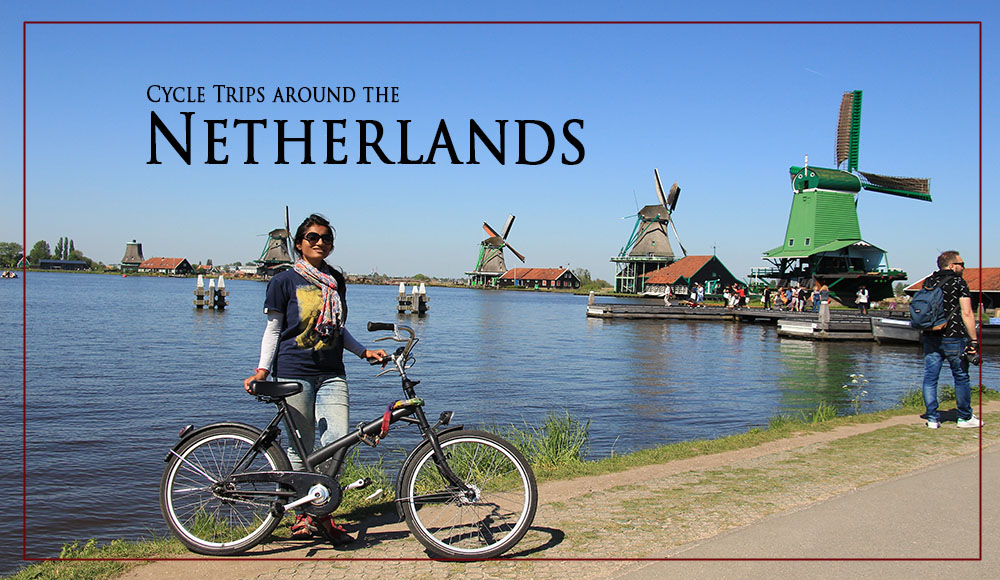 The best part about exploring the Netherlands on cycle was 'Bike Way'. Yeah! Move over highways as the Netherlands has specially designed cycle routes that allow a cyclist to ride amidst nature. I shall be talking about it further in this blog. As of now, you can check the cycle route to explore the Netherlands that I followed and you can do it too.
Here is my 7 Days Cycling Itinerary from Amsterdam
Day 1: Explore Amsterdam on Cycle (A day for warm-up)
Day 2: Amsterdam – Keukenhof – Amsterdam
Day 3: Amsterdam – Volendam via Broek in Waterland and Monnickendam
Day 4: Volendam and Edam Exploration on Cycle (Night Stay at Volendam)
Day 5: Volendam to Amsterdam via Marken and Zuiderwoude
Day 6: Rest Day (Visit Giethoorn by Train – You can carry your cycle too)
Day 7: Amsterdam – Zaandam – Zaanse Schans – Amsterdam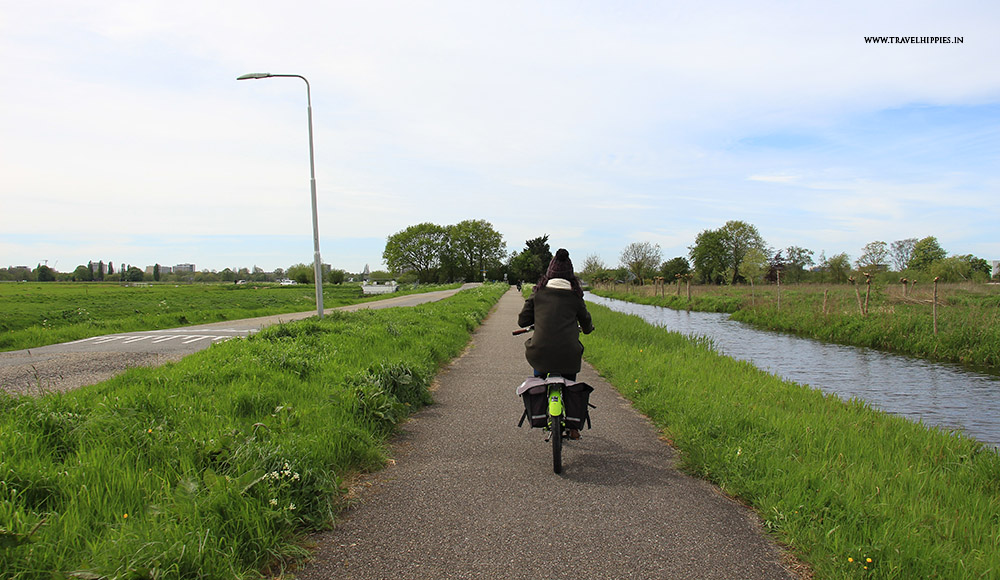 Travel Tips
All these rides would take up an entire day including exploration and some photography stops.
Some of these routes are totally desolate and you will be the only human while riding through some countryside areas.
Carry enough water and even food if you are on a budget. However, it would be fun to try some of the street foods in Volendam, Zaandam, and Monnickendam.
If you are a vegetarian then you must arrange your own food. The best way is to stock up from a supermarket and then have lunch in the deserted green fields beside some canal.
Grab a free map of each village from their tourism office before heading for an exploration. Many of them have a self-guided walk guide which you can follow for just 1-2 Euros.
Day 1: Explore Amsterdam on Cycle
This is very crucial if you are not regular with cycling. I made a mistake of starting with the Keukenhof ride on my first day and my legs were hurting throughout the journey. If you want to enjoy Amsterdam, just pedal away from the city center and it would take you for an amazing ride to the river Amstel and beyond. You may discover the oldest buildings or some roadside food stalls that are not mentioned in any of the travel guides. Amsterdam is quite huge to cover in just one day. If you get tired, Vondelpark, Ooster Park and Westerpark would be the right place for a siesta in nature. On my last day in Amsterdam, I just rode to these parks and enjoyed some beer near the little lakes inhabited by swans and other local birds. Cycling in Amsterdam is quite an experience to have.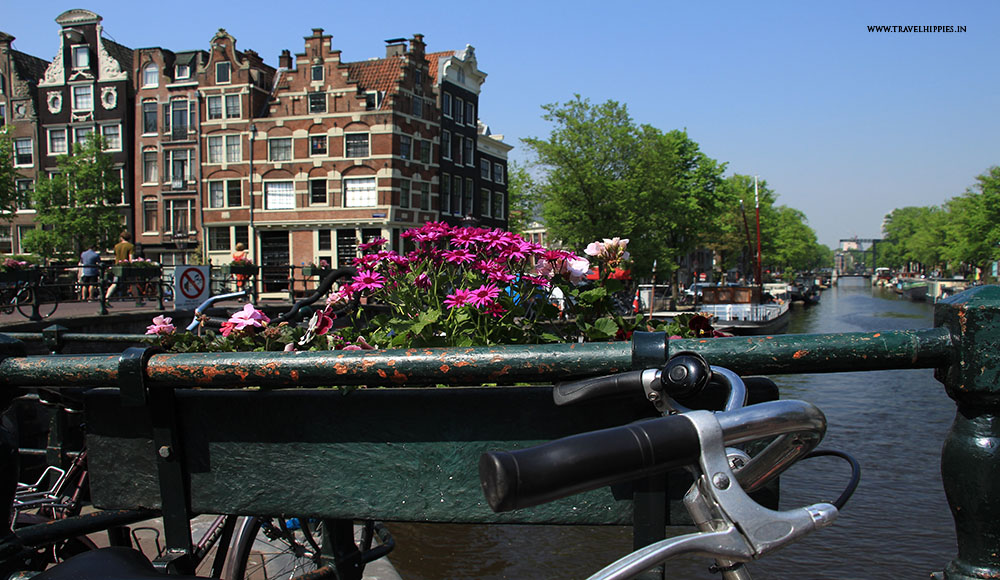 You can opt for a day rental by Black Bikes who have a number of centers across the city. You can pick it up from anywhere and drop it wherever you stop. However, a prior registration or booking of the bike is needed.
In case you want more adventure, you can go for a Country Side Cycle Tour by Mike's Bike. They also have many other day trips from Amsterdam on cycle. You can check their website to know more about it. The Tours goes along the river Amstel towards an old windmill and cheese factories that are open for tourists. The guide takes an entertaining lead with all interesting facts about the city and its cultural history.
Day 2: Amsterdam – Keukenhof – Amsterdam
It is probably the most scenic ride from Amsterdam (only if it is a sunny day) and also one of my favorite day trips from Amsterdam on cycle. And while I was cycling, I did come across 1-2 other cyclists heading towards the glowing tulip bulbs. Thus, it is absolutely not so 'impossible' to cycle to tulip fields even if you are not a hardcore cyclist. You can keep your target to reach Keukenhof Gardens, however, even if you reach anywhere nearby it, you will be able to relish the sight of vast colorful fields. If you are planning for it then read my travel guide for cycling from Amsterdam to Keukenhof. The Gardens are open from April onwards and the fields bloom till mid-May.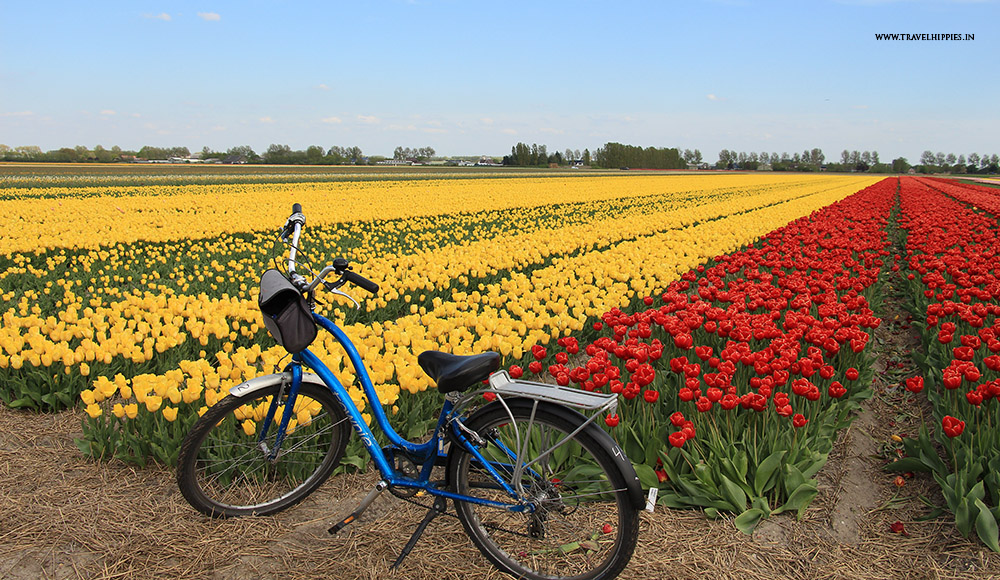 Read a complete guide on Cycling From Amsterdam to the Tulip Fields in Holland
Day 3: Amsterdam – Volendam via Broek in Waterland and Monnickendam
If you like desolate cycle-paths in plain grasslands then you will rejoice the moment google map takes you off the road. There would be hardly any human passing by your way if it is a weekday. On a sunny weekend, most locals cycle from Amsterdam to Marken by this route. If you are lucky, you may spot some birds on the way. And far away would be seen some tiny houses. Those are the little villages you would be passing by to reach your destination.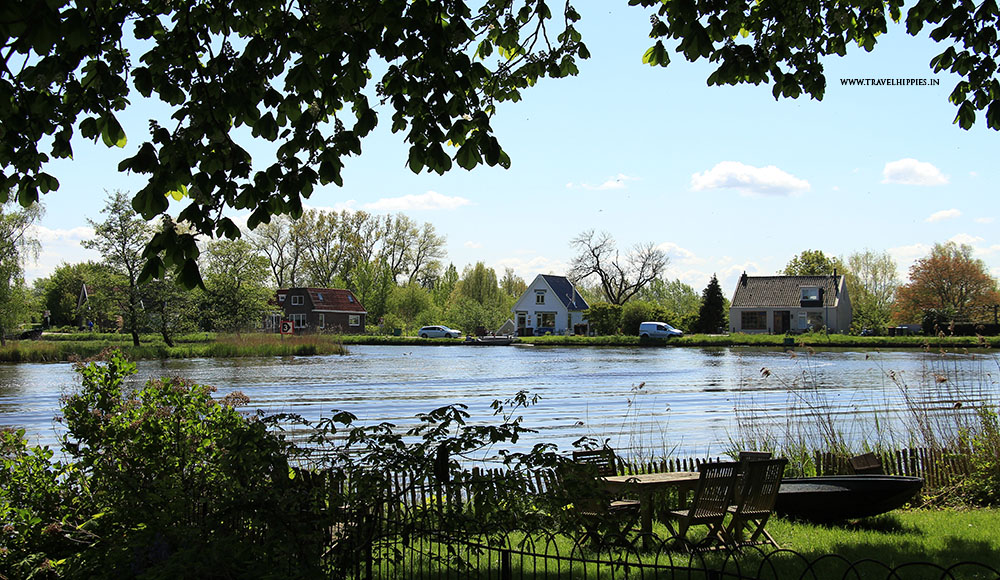 Broek in Waterland has got an interesting history attached to it. The village was once the rich sailors' and merchants' countryside villa destination. The village is supposed to have been established in the 17th Century. The name Broek in Waterland etymologically means 'pants in Waterland'. It is a cute little picnic spot for the city dwellers. There is not much to see apart from the monument houses but a lake in the center is a perfect place for some rest after a tiring ride. The houses of the then merchants in this village are now occupied by the artists of from across the country.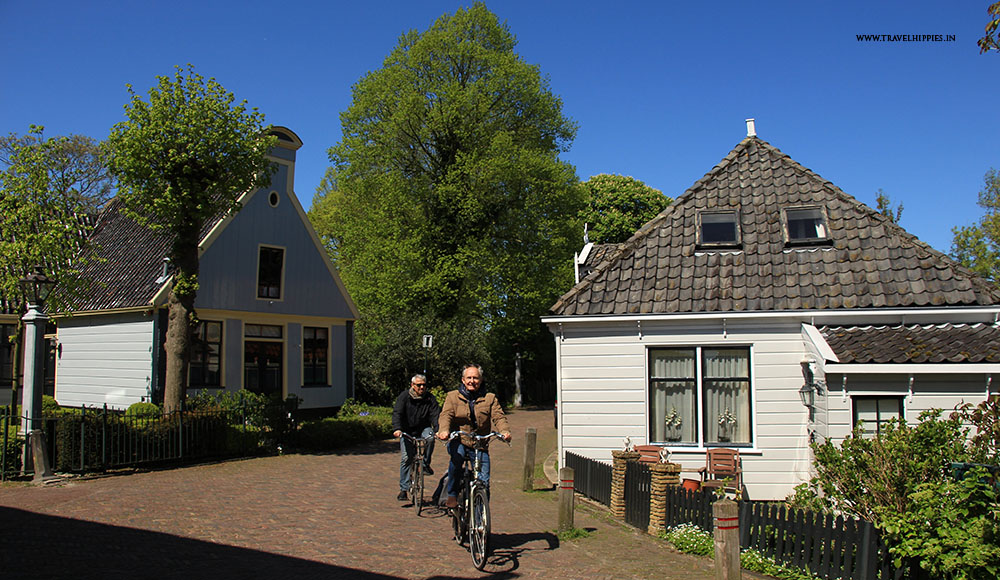 The elegantly opulent interior of the gray shaded Dutch houses is restored and thrown open for the public visits. The original Broeker Gray shade of the houses here gives it a unique look and also denotes its monumental status. They have beautified and maintained it so well that these houses are unofficially considered the 'Cleanest houses' in the Netherlands. Just 2-3 km away is this fascinating harbor town named Monnickendam. The first thing you need to do is to get a self-guided walk guide from the Tourist information center, rest you will automatically go with the flow. There are centuries-old houses famous for the gable stones denoting the profession of the house owners. They are so creative and beautiful that the town itself is known just for these stones. The guide also has a history of the village and would also take you to a small workshop of a famous sculptor whose work can be seen on the main harbor square bridge. It is not usually much frequented by tourists, only the Dutch come here for a weekend outing.
This can certainly be one of my most memorable day trips from Amsterdams on cycle if you love desolate grasslands.
How to reach Volendam/Edam by bus from Amsterdam?
From Amsterdam Central: 316,312,314
From Amsterdam South (Zuid): 378, 379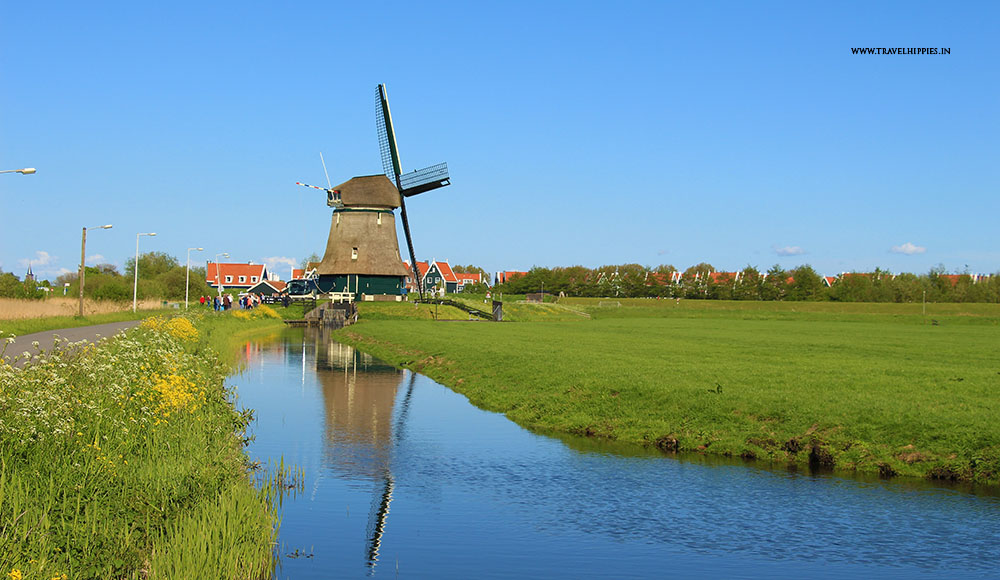 Scenes while entering Volendam through a cycle route. So, if you come by train or bus, this is definitely what you miss. 
Day 4: Volendam and Edam Exploration on Cycle (Night Stay at Volendam)
Volendam is another lovely Holland town that has, to an extent, preserved their beautiful culture. I went there thinking it to be an offbeat place. Well, the number of Chinese and other Asian tourists will tell you why it's not!! Every other shop is a studio showcasing the culture of Volendam. The town traded in fish and cheese till the dam was built and the seawater was no longer accessible for fishing. I loved this town for the culture it put forth for the tourists. From their hats, colorful dressing to knitted table cloths and curtains, everything is enchanting about this town.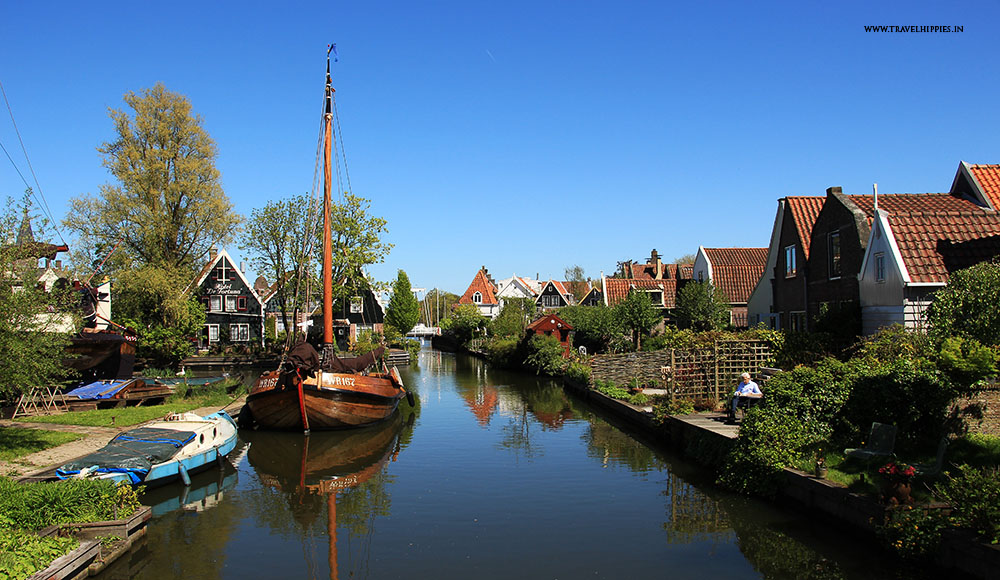 Note: If you are not much keen on cycling to Marken on your way back to Amsterdam, you can also take a day tour to Marken by waterways from Volendam. The cruise takes around 12.50 Euros to and fro.
3 km of a cycle ride will take you off to the Cheese Town of Netherlands. Edam is famous for its open-air cheese market that was in operation until very recently. Currently, there only one shop that is preserving the traditional art of cheese work. They have many of their ancient weighing machines and cheese preparation machines on exhibition at this place. If you are too curious, you can also visit their cheese factory located on your way back to Marken from Volendam.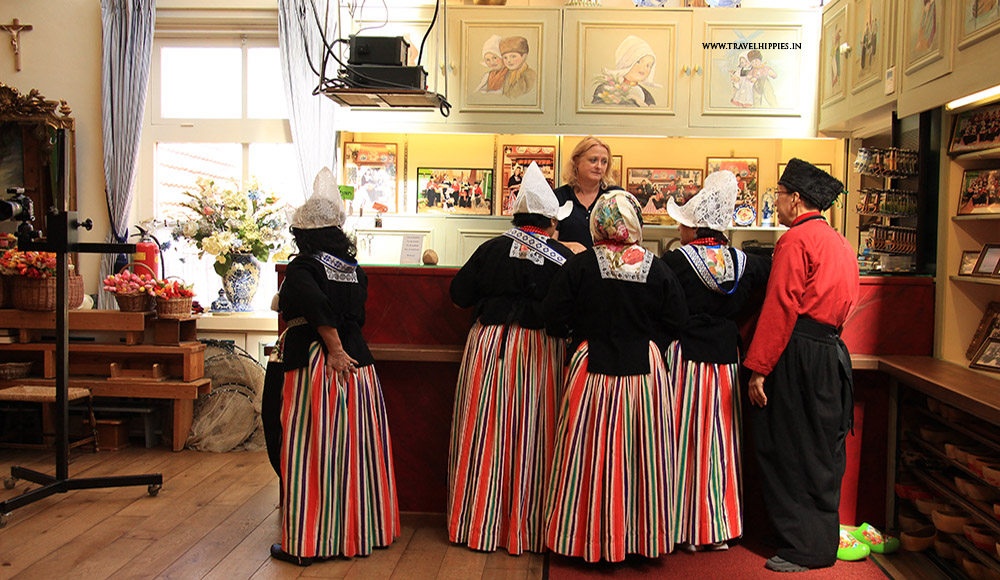 Main tourist attractions in Volendam and Edam are:
Cheese Museums
Cultural Museums
Volendam Experience (A 3D tour to the olden days of Volendam)
Photo Studios with traditional setup and Cloths
Edam cheese Market and
If you are not too keen to explore these towns extensively, you can easily cover both Edam and Volendam on just one of your weekend day trips from Amsterdam on cycle.
Day 5: Volendam to Amsterdam via Marken and Zuiderwoude
The route from Volendam to Marken is slightly different and most of it takes you along the giant lake. Marken is a little harbor with very less population. This island can be reached by a long bridge constructed over the sea to connect with Marken. Earlier this village was reachable only by waterways.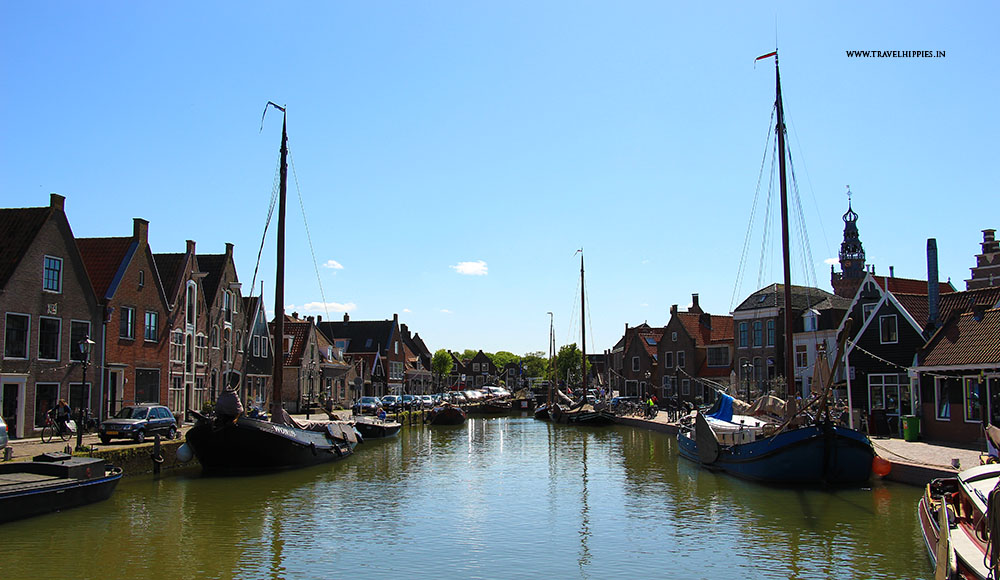 There is only one house that has preserved its ancient charm and is now open as a little museum that works on a donation basis. The kitchen, living area, and the dining room are set exactly the way it used to be years before this house was abandoned. Other houses (there are only a countable number of houses) are located quite in the vicinity of each other, probably to stay safe during any attacks. The colorful houses are built on wooden plinths to be safe from the rising sea levels. The houses in all these villages of Edam, Volendam, Marken, and other surrounding villages have this strange tradition of putting their ultra-white cloths to sun-dry on a high string in their compound. Though it looks quite cute, it is very strange that these people wear only white clothes! Apart from this, if you are a non-vegetarian, you will enjoy the food stalls. There is also a wooden shoe making factory and museum that can be explored if you haven't done so anywhere near Amsterdam.
How to reach Marken by bus from Amsterdam?
From Amsterdam Central: Bus No. 611, 315
Day 6: Rest Day (Visit Giethoorn by Train – You can carry your cycle too)
Giethoorn turns into a crowded weekend destination on any sunny day. Visit Giethoorn only if you wish to tick it off your list. It is a little town where the only mode of transportation was its canals. And now, the very same canals are the point of attraction for the tourists. Even the houses here are an interesting piece of architecture. Each of these houses owns a boat and traverse around only in their boats.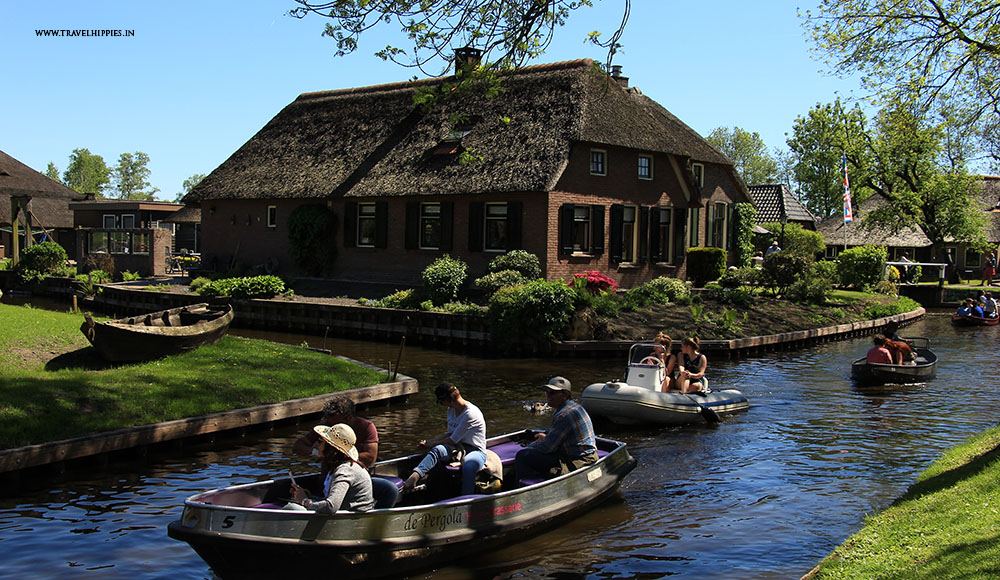 How to reach Giethoorn by Train from Amsterdam? Check 9292this website called 9292. You need to take a train till Zwolle Station and then take bus no.70.
Day 7: Amsterdam – Zaandam – Zaanse Schans – Amsterdam
Moving from Amsterdam to Zaanse Schans, you will have to take the ferry to cross the Amstel river and then cycle for about 1.5+ hours to reach the town of Zaandam. The hotel at the end of its shopping street has become an iconic attraction for the travelers to land up in Zaandam. The historic Inntel hotel is built with a unite arrangement of Dutch houses one upon the other. Thus, it looks like a vertical mound of Dutch houses painted with dark hues of green, blue, red and black. The Zaandam Museum and Tsar House are two of the interesting stuff for the history buffs. The Tsar House is located in the center of the city and is visited by many personalities owing to its status of being the oldest house in Holland.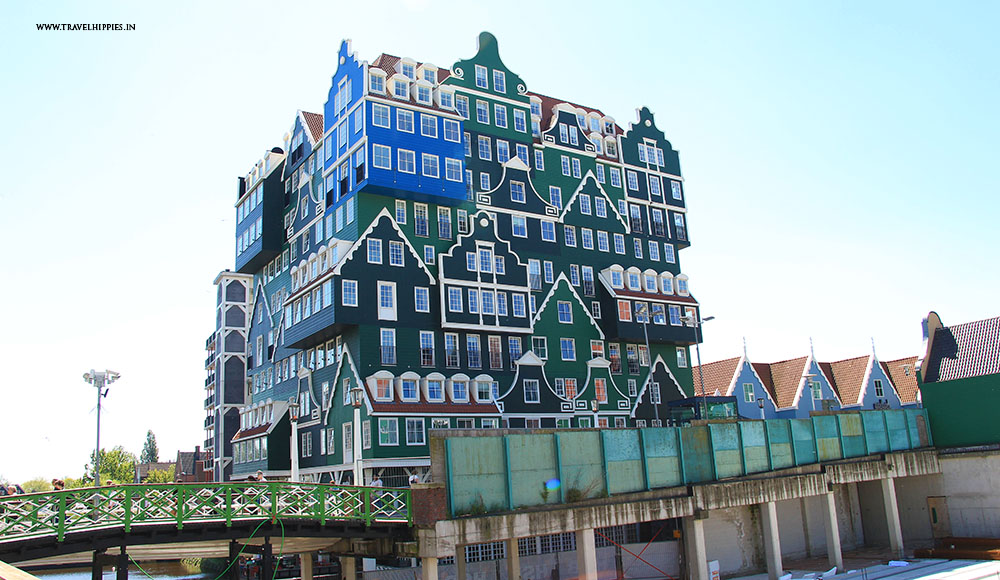 Just a few kilometers ahead of Zaandam lays a fairytale windmill town of Zaanse Schans. The windmills located on the water were once used to draw water, grinding flour and spices and for making oil. One of these windmills still functions to grind flours and spices. You can take a tour of this windmill by paying an entry fee. The picturesque location of the town itself is enough for the tourists to throng this place, but it also provides a chocolate making experience. You can make and carry your own chocolate the way you like it. The chocolate museum in this town gives you this opportunity to learn to make chocolates, the Dutch way.
If you are really keen on entering all craft workshops, windmill, weaver house, and the museum, you may want to check out Zaanse Schans Card for 12 Euros. And if you have already taken the Amsterdam Card then it is free for you.
If you have been drooling over the Albert Heijn outlets for its variety of ready-to-eat food, don't forget to visit its first-ever original outlet in Zaanse Schans.
How to reach Zaandam and Zaanse Schans by Bus?
Bus from Amsterdam Central to Zaanse Schans: Bus No. 391, 891
Bus from Amsterdam Central to Zaandam: Bus No. 392
Further, you may continue your cycle trip to Utrecht or Harlem. However, these towns would help you cover most of the must-visits of Holland.
Further Readings
Cycling From Amsterdam to the Tulip Fields in Holland

Why Cycling in Amsterdam is the Best Mode of Transport

Pin this Now to refer it later