This place which inhabits the people of all Indian cultures, states and religion speaking different languages in complete harmony. Fascinated with the clean blue waters of Andaman and Nicobar Islands, we had planned an exploratory trip that turned out to be the best trip of my life in India. We could even manage to complete the trip on a pocket-friendly budget. Andaman is essentially a great alternative to any of your foreign trips.
Here is the best Andaman Itinerary and Travel Guide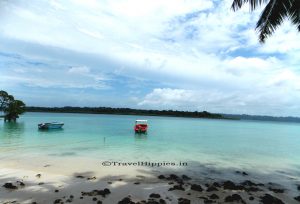 General Details about Andaman and Nicobar Islands
Best Time to Visit: During winter or during off season between 5th to 15th September.
How to reach: The best advisable option is to take a flight to port Blair so that you can spend more time on the island rather than on the cruise.
Where to stay in Port Blair
Opton 1: If you are looking for a low-budget hotel than you can reach Port Blair and can book any low-budget hotel in Aberdeen Bazar.
Option 2: Become a member of the Youth Hostel Association of India and get the discounted stay at Ripple Resort located at Corbin's Cove Beach.
Option 3: You can also opt for a little high budget stay at hotel Guru International located at Aberdeen Bazar. It is advisable to check online offers as it would be cheaper to prebook online.
Day 1: Port Blair
The first day as you land on the island should be spent at the capital Port Blair. The places to be visited are:
Cellular Jail
 The epitome of cruelty and sacrifice. It is an opportunity to visit a place where a few of the great heroes spent the last days before their martyrdom. The walls and the cells still seem to be singing the songs of freedom sung by our national leaders who preferred extreme torture rather than accepting the foreign rules.
Located at the shore, the building originally resembled the structure like spokes in a wheel with none of the front parts of the wings facing each other, thus, disabling the communication among the prisoners. Out of the six wings build by the British three were destroyed during the First World War. One wing is open for the public which also includes the cell of the great Vir Savarkar.  From the center tower, you can have the view of all the three wings of the jail, the part which is converted into a hospital, Rajiv Gandhi Water Sports Complex and the Ross Island.
The information about the building and the inmates can be derived from the two halls at the entrance which are converted into museums.
Right in front of the jail is a beautiful garden with the statues of the freedom fighters.
Timings: 9:00 am to 5:00 pm
Entry fees: Rs. 25 for Indians
Closed on: Mondays and Public Holidays
Light and Sound Show: When in Cellular Jail, you must not miss the light and sound show and know what the jail had witnessed and what does it have to tell you. You would be definitely moved by the saga of patriotism.
First Show: 5:30 pm to 6:30 pm (Hindi)
Second Show: 6:45 pm to 7:45 pm (English)
Rajiv Gandhi Water Sports Complex
 You can visit this complex for all kind of water sports activities like jet skiing, sea walk, snorkeling and parasailing. Moreover, the tickets of the ferries for Ross, Viper, Hudbay, North Bay will be available in this complex.
Timings: You can enter the complex even early in the morning by 6 am. But the activities and the ferries start by 9 am. There is no entry fee for same.
Samudrika
If you wish to see a few fossils and the replicas of the fossils, you can visit Samudrika. It is meant to spread awareness about marine life and is maintained by Indian Navy.
Timings: 9:00 am to 1pm and 2 pm to 5:00 pm
Entry fees: Rs. 50 for Indians
Closed on: Mondays
Aquarium
 The beautiful aquarium located near Rajiv Gandhi Water Sports Complex exhibits the beautiful sea creatures, shells, and corals of Indian ocean and Bay of Bengal.
Timings: 9:00 am to 1:00 pm and 2:00 pm to 4:45 pm
Entry fees: Rs. 5 for Indians
Closed on: Monday, second Saturday and Public Holidays
Chatham Saw Mill and the forest museum
 It is one of the biggest wood cutting mills which comprises of a small island connected to Port Blair through a bridge. There is a small museum inside the mill showcasing wooden art. It is a great opportunity to see how a few of the most durable woods are processed. The guides in the mill will be guiding you the best and giving all the knowledge you wish to gain. A crater formed due to bombarding during the First World War can also be seen.
Timings: 8:30 am to 2:30 pm
Closed on: Sundays, Public Holidays and Industrial Holidays
Entry Fees: Rs. 10
Anthropological Museum
Located near Bengal club the museum is a great source of information on the tribal people and culture of Andaman and Nicobar Island. It is a must visit on the list if you wish to know about the island before its modernization and development. I assure that you would be amazed to see the mesmerizing lifestyle of the tribes like Jarawas, Sentinelese, Great Andamanese, Shompens, Onge, Nicobarese and many other tribes of the island which are not permitted to be seen actually.
Timings: 8 : 30 am to 1:00 pm and 1:30 pm to 4:30 pm
Closed on: Thursdays and Government Holidays
Entry Fees: Rs. 20
Where to eat: Best Restaurants in Andaman
Anando Reastaurant: at Aberdeen Bazar- Must have: Tangri Kabab
Annapurna Restaurant: Pure Veg Restaurant (Located near Anando)
Bengal Club Restaurant: Opposite anthropological Museum
Light House Restaurant: For Sea Food of your choice (Taste: Average) Behind Rajiv Gandhi Water Sport Complex
Morning itinerary:  Anthropological Museum –> Samudrika  –> Lunch
Afternoon itinerary: Chatham Saw Mill –> Aquarium –> Cellular Jail  –> Light and sound Show
If time permits you can also visit Corbyn's Cove Beach, Science Centre and Zoological Museum. (If you are already visiting Havelock than you can skip it as you would be visiting more beautiful beaches there)
Day 2 : Havelock Island, The Blue Beauty
How to reach: Prebook a government or a private ferry depending on your budget.
The ferries for Havelock runs from Phoenix Bay Jetty
Government Ferry Ticket: Rs. 650
Private Ferries: Rs. 900 – 1500 (varies as per the boats)
Mackruz and Green Oceans are preferable private ferries.
Where to Stay
 Eco Villa: located right near the blue sea is one of the best places for your stay in Havelock. It is located at Beach No. 3, Govind Nagar Beach, at five minutes distance from the market.
Most of the resorts and stay options are available on the road going towards Kala Patthar Beach from the market place. During off season you can directly go there and get a villa for yourself depending on your requirement.
Other good options: Dolphin Resort, Silver Sand Beach Resort, Sea Shell
How to commute
 The best way to commute on this island is on bikes. (Do not forget to carry your license) However, if you are in a large group you can also opt for a car.  Get bikes from Baby Travels: Contact Person – Mr. Sushil Kumar – Contact No: 09474205081, 09933265573, 09775184165
What to Visit: If you have taken the first ferry from Port Blair which is at 7 am you would reach the island by 10:30 – 11:00.
Govind Nagar Beach
This can be the first place you can opt to visit the moment you arrive and get your vehicles. You can take a walk along the shore, eat the chaats and swim or take sunbath over here. It is better not to waste much time here and move ahead to Radha Nagar Beach post your lunch.
Radha Nagar Beach
 If you take the left road from the circle in the market area the straight road will take you to one of Asia's most beautiful beaches. You can enjoy it sitting with your group on wooden benches or towers on the beach. You can also visit the Radha-Krishna and the Shiva Temple located among the coconut plantation on the beach and can also meet the Bengali settlers of the village.
If you wish to spend some time away from the touristy beach area than you can take a little long walk towards the right side of the beach and sit on the rocky area enjoying the natural fish spa and a beautiful sunset.
Evening at Kala Patthar Beach Road
 Due to the difference in longitude, the sun sets a little early on these islands and by 5:30 the blanket of darkness would start covering this Blue Beauty.
This time can be best spent on one of the good restaurants on the road towards Kala Patthar Beach.
Recommended restaurant: Anju Coco Resto Bar
Day 3 : Havelock Island, The Scuba Diving Hub
As you would land you would find many posters advertising scuba diving activity. It is one of the best places for scuba diving due to the clarity of the water. Usually, it is preferable to prebook your diving activity as it might provide you the stay at a cheaper rate.
What did we opt for
We chose Eco Diver's diving school for our diving activity which was to be conducted in the morning as per the best tide position.
We got to see a large variety of colorful fishes and blue corals. The sight here is not much frequented by seahorses, turtles or any other variety of sea creatures. The maximum depth a first timer can cover is 12 meters. Being a first timer, it would be a good experience to be among the underwater creatures which would eventually leave you with the feel of not spending much time underwater.
Kala Patthar Beach
 The most beautiful beach in my opinion if visited at noon as the water turns perfect emerald at this time. The beach is extremely clean and the water id crystal clear as it isn't visited much by the tourist. The road provides you with a few of the scenic spots perfect for photography. You can witness the golden sun rising off the blue water early in the morning at this beach.
You can be back at Port Blair by evening and can explore a few stores and eateries there.
Day 4: North Bay, Ross, and Viper Island
How to reach:
Via ferries from Rajiv Gandhi Water Sports Complex
Option 1: To avoid standing in queue and to prebook the ferries to the island: Contact:
Option 2: Reach Rajiv Gandhi Water Sports Complex by 8:30 am and buy the tickets of your preferred boat yourself. After Buying the tickets you can enjoy the water sports of your choice
Ross Island
 It is a beautiful island with ruins of British Era. Once upon a time it was the capital of the British and was developed like Paris. This is why it was known as the Paris of the East. The clubs, swimming pools and the bungalows of the officers on the shore with excellent architecture and flooring is worth seeing on this island. It is better to spend most time on this island rather than going to North Bay or Viper as there is hardly anything to see on them.
If you have pre-booked the light and sound show held at this island at 4:30 pm you can spend the afternoon here. Food items are not allowed inside the island as it is populated by many animals. The deer of the island are used to the human beings. Thus, you can enjoy with them as you do with your pet. Offering food items to them is not allowed.
Ross island Memorial Documentary Timings: 9: 30 am to 9:45 am and 11:30 am to 11:45 am
Ferry Ticket: Rs. 100 to and fro
Timings: 9:30 am to 4:30 pm
Closed on: Wednesdays
Entry Fees: Rs 50
North Bay
 It is a private island. It is for the tourists who have not opted for underwater activities elsewhere. Being a coral island snorkeling can be the best activity over here. If you do not wish to get wet glass bottoms boats will take you for a round allowing you to see the corals. You will not be able to see any sea creature as the engine of the boat scares them away. Scuba Diving or Sea Walk can also be done.
If you do not opt for any of these activities, you will have enough time to walk till the house on this island. Visiting the temple is also an option.
For shopping freaks, the reasonable price store is located right in front once you enter and take right (landmark: It's on the way from where you can get to the shore for activities). Do not miss eating amazing fishes cooked by Mr. Sushil who runs a fish stall at the entrance and also provides packed lunch to the visitors.
Ferry Tickets: Rs. 300 to and fro
Timings: Need to stick to the ferry timings which starts at 9:00 am
Close on: Open on all days
Entry Fees: Rs. 0 if you have taken the ticket for all the three islands.
For others: Rs. 10
Viper Island
 It takes around 45 minutes to reach this island. Unless you want to spend much time travelling on water ans seeing the Navy Yards and ships, you can skip this island. You would have just 25 minutes to see the Gallows and the jail on this island.
Ferry Tickets: Rs. 120 to and fro
Timings: Need to stick to the ferry timings which starts at 9:00 am
Close on: Open on all days
Entry Fees: Rs. 0
Ferry Tickets for all the three islands: Rs. 520 (Lunch included)
Day 5 and 6: Barataang Island, Parrot Island , Rangat, Hut Bay  Island and The Little Andaman(Returning might take one extra day)
How to reach
It is advisable to book a private cab if you have a big group. Otherwise you can also opt for the Govt. or a Private bus that starts from Aberdeen Bazar Depot at 4 am to join the convoy of 6 am.
Private Vehicle Charges: Rs. 3500
Govt. Bus Ticket : Rs. 80 Per Head
Closed on : Mondays
The vehicle will take you first till the check post where it has to stay in line for the convoy to start (at 6 am). Here you can have breakfast at Parmesh's stall who is from Tamilnadu and provides delicious idli-vada and chutney-sambhar and lemon tea.
The Convoy System
The convoy system exists as the road to this island passes through the Jarawa Tribe area. If you are lucky enough you can spot a few Jarawa Children and people on the way. Though they are much civilized now, they are popular for their primitive lifestyle of wearing least possible tribal clothes, hunting and enjoying music and dance. They are supported and taken care of by Adi- Janjaati Samiti.
Photography is strictly prohibited. Stopping the vehicle on the way or conversing with tribal is not allowed too.
Once you reach the backwaters (Middle Strait Jetty) again you would be transferred by a ship across the backwater to the Barataang jetty. Here you can decide which tour package you want to opt for. Options are available for stay and visit the North Andaman (Parrot Island, Rangat, Hut Bay Island) the next day.
If time permits, it is worth spending a day or two visiting North Andaman. This will give you the experience of the real Andaman.
Lime Stone Caves
 It is certainly a natural marvel. Limestones forming different designs creating a dark cave is a must visit in Barataang. Keep your camera ready as soon as you set off in a speedboat as you would pass through mangrove canopy and would walk through a wooden bridge set on the lagoon filled with mangroves. The path till caves is naturally beautified by huge years old trees. Keep observing the names and the features of the tree. The information about certain trees is also given on a separate display board.
Once you reach the caves you will need a torch-light to see the inside of the cave as it is completely dark. Your boatman would serve as a guide and will show you the different shapes naturally formed in the caves.
Mud Volcano
 If you wish to walk and travel more, you can opt to see Mud Volcano which isn't that active now. Or else you skip it and enjoy sitting under the canopies at Barataang Jetty till it's the time for the next convoy which takes you back to Port Blair. (12:30 pm)
Package tour charge for Limestone Caves and Mud Volcano: Rs 475
Lunch Time: While coming back you can have lunch at Mr. Boss' place, who is a retired forest man and has great knowledge about the same. You would love the food too, as he feeds you like his 'Bachcha' (a child) and even calls you the same.
Note: This area should be visited by explorers and not if you want to visit just the typical tourist places of Andaman.
Complete Contact Details for your Andaman Trip
Port Blair:
Hotel Guru International:
Add- Aberdeen Bazar, Opp. CE Office, Port Blair 744 101
Contact No. 9933208489, 9434262082, 8001313000, 03192 231441
Website: www.guruinternationalandaman.com
Ripple Resort:
Add- Plot No. 17/1, 17/2, Corbyn's Cove Beach, Chakkar  Post, Port Blair, 744112
Contact Person: Mr. Sanjay Choudhari/ Ms. Rasna
Contact No: 03192-220134, 09434284175
Email : [email protected]
To book ferries for Havelock, Ross, Viper, North Bay and Barataang (Car Rental):
Contact Person: Mr. Jagan
Add: New Pahargaon, Near PBMC Community Hall, Port Blair 744 105
Contact No: 09933222181, 09474288181
Email: [email protected]
(Self-driven cars to any of the places out of Port Blair is generally not available)
Havelock:
 Eco Villa:
Contact Person: Mr. Sajan
Beach 2, Havelock Island, Andaman 744 211
Web site: www.havelock.co.in
Two-wheeler Rental: (Havelock)
Baby Travels: Contact Person – Mr. Sushil Kumar – Contact No: 09474205081, 09933265573, 09775184165
This might also guide you well:
Scuba Diving – An Underwater Journey
Barataang – An Encounter with the Tribesmen
Havelock, The Beauty of Andaman and Nicobar Islands
Follow me on Instagram and Facebook for more guidance and some interesting travel stories.